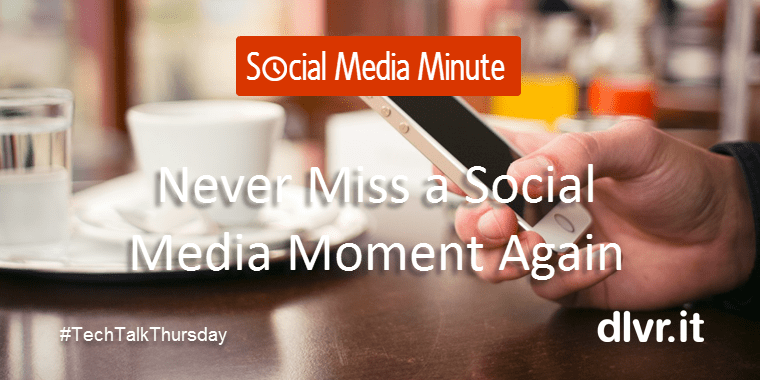 Why Email is Still a Killer App for Instant Social Sharing from a Smart Phone or Tablet
(#TechTalkThursday) Have you ever been standing in a long line at Starbucks and suddenly, a great idea or the solution to a taxing problem pops into your head? You make a quick mental note to remember but then you hear, "Welcome to Starbucks. May I help you?" As soon as you can say, "A grande iced sugar-free vanilla latte with soy milk, please," POOF, the idea disappears.
Whether you're on the commuter train between clients, standing in line at Starbucks or at your kid's baseball game, you're not always in front of your computer. Your customers don't work around your schedule; you have to work around theirs. In today's social media world, this means being active 24-7.
Social media moments strike at any time and any place. You need a quick way to share these moments when you're on the go.
Here are a few examples to consider:
You own a coffee shop. You just did the best coffee art ever. How do you quickly snap a picture and share across all your social channels?
You're in the bleachers watching your 10-year olds second game of a doubleheader. Your mind drifts (of course, that never happens to me) and you suddenly remember you forgot to replay a blog post. How can you copy, paste and send before the next at bat?
You're at the register in your retail store. Not a customer in sight. You would like to share a special offer to boost foot traffic. How do you send a quick instant coupon to your social media audience?
Miss these moments of inspiration and it could impact your bottom line.
Never Miss a Social Media Moment Again
The number one killer-app is still trusty old email. In fact, nearly 75% of people used email on a smart phone in the last month according Nielsen. Email is not perfect but it is a great tool to bridge the old and the now (i.e. social media). Email is one of the few apps pre-loaded on every phone. So, why complicate things?
An important feature dlvr.it created for us mobile mavericks is the ability to update all your social media accounts in a few clicks using email. Whether you need to share instantly or schedule using Q, you'll enjoy the ease of use that email-to-social brings. No longer will you be tethered to your computer.
Follow these easy instructions to setup email for instant social sharing:
1. How to schedule content from mobile phone or tablet
2. How to format your email for social sharing
Once you create your private email address, add dlvr.it as a contact in your address book. That way we'll always be there when you need it.
Now it's your turn. Next time when you're sitting in the bleachers of your child's doubleheader, grab your smart phone or tablet during the 7th inning stretch and start pecking away at the keyboard. Be sure to look up for foul balls!