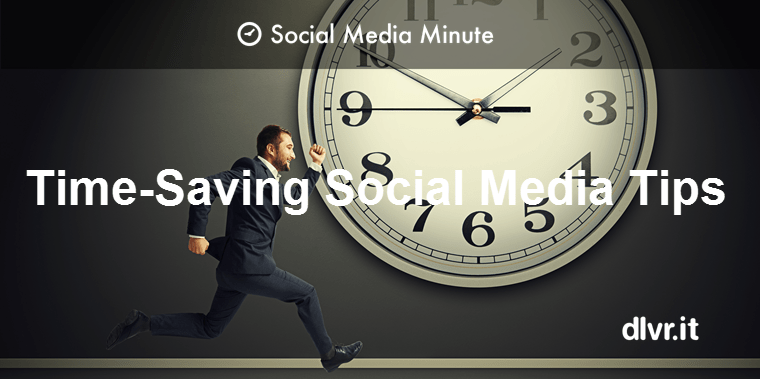 7 One-minute Social Media Marketing Growth Ideas When You're Pressed for Time
We put together our favorite list of social media time saving ideas to help you grow even while pressed for time. These tips are from small business owners and entrepreneurs – folks in the trenches. Like you, we are always looking for ideas to be more productive in the limited time we have each day. These are a few handy tricks to make the most of your social media marketing efforts.
1. Get Influences to Notice You
"Write down a list of the 20 people you most want to interact with in social media. Starting tomorrow, spend 15 minutes total per day interacting with some of these 20 people."
– Jay Bayer, Convince & Convert
2. Distribute Your Content
"Register your blog with relevant RSS Directories to drive relevant traffic."
– Ian Cleary, RazorSocial
3. Check your Site Speed
When was the last time you checked your site or blog loading speed?
"A slow site turns customers away. It has a direct impact on your wallet. In fact, "a 1 second delay in page response can result in a 7% reduction in conversions. I've even seen tests where a 500ms delay dropped conversions by 10%. Ideally, you want a page load time of under 2 seconds."
– Lars Lofgren, KISSmetrics
Check your speed now with this free website speed test.
4. Add a Picture
"Increase twitter click/retweet rates by 94 percent by attaching images to your tweets."
– Denis Duvauchelle, Twoodo
5. Give New Life to Old Content
"Already have a bunch of great content? You can repurpose and repost content over time and on different networks. Go over your Google Analytics stats and see which content has trailed off in traffic over the past few months. Reshare with new graphics on different networks and watch the traffic spike back up."
– Jon Armstrong, InboundUX
6. Promote Reviews and Twitter Favorites
"It is no secret that consumers are drawn to reviews. eMarketer reports that 86 percent of consumers feel that reviews are trustworthy. With so much emphasis placed on reviews, why not take advantage of the opportunity to share your reviews on social media? An easy way to do so is with tools such as ServiceKick or GetKudos, both of which provide the opportunity to collect and share reviews online."
– Brett Relander, Launch & Hustle
Learn how to turn your Twitter Favorites into a customer acquisition tool.
7. Spend time on Quora
Go to Quora.com and spend a few minutes each week answering questions in your wheelhouse.
"Right now Quora is the secret weapon for building visibility for more than one Silicon Valley startup. Quora users are often early adopters of new technology which can make it a good place to find the first customers for your startup."
– Karol Pokojowczyk, Colibri.io
Bonus
Read more social media time saving tips for busy business owners.