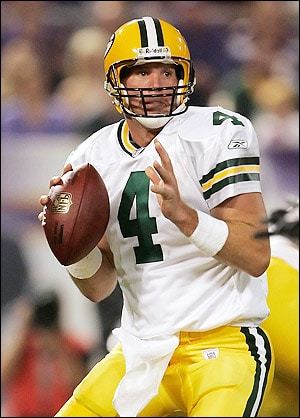 The Strange Truth of Brett Favre and Traditional Media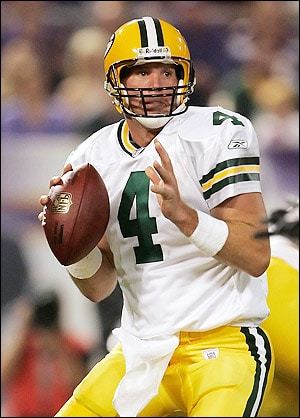 Doing a bit of catch-up on reading while watching one of my favorite quarterbacks – Brett Favre. I am a Packer fan but since they are out of the playoffs, I will cheer for Brett Favre all the way through the Super Bowl (notice I didn't say I was going to cheer for the Vikings. I couldn't post Favre in a Viking uniform either.)
Brett Favre is Like Traditional Media – He Just Won't Go Away
While watching Favre throw a few touchdowns in today's game (4 at the time I wrote this), I was reading Paul Gillin's piece on "The Decade that Transformed Media." What struck me after reading Gillin's post are the many correlations between Brett Favre (traditional media), today's transformation of media and Aaron Rodgers (new media.) Since I am Packer fan, I had to throw Rodgers into the discussion.
Favre is one of the most durable and decorated quarterbacks to play the game while playing 17 seasons with the Packers. There are plenty of stats that proves that claim including career touchdown passes and completions. He is a surefire first-ballot Hall of Famer.
Gillin says in 1999, traditional media was at its peak. Traditional media posted impressive numbers and was never better.
"In December, 1999, few people had heard of Google. Online advertising was banners and e-mails. Big media brands dominated the Web.  US newspaper ad revenue would hit record levels in 2000. Newsroom employment would peak in 2001 as newsstand sales of the top 100 magazines approached 30 million. No one had heard of blogs. People used mobile phones to talk."
However, in 2007 after a 17-season career in which Favre (old media) dazzled fans with his grit, heart and rocket of an arm, he retired. The Packers (you, the reader) were forced to go in a new direction – Aaron Rodgers (new media).
In 2007, for the first time in 17 seasons, the Packers had a new quarterback under center. Rodgers has big shoes to fill. How could the rookie quarterback replace such a legend? Flash forward to 2009, the Packers made the playoffs and Rodgers was selected for the Pro Bowl. Rodgers is showing lots of promise. Packer fans rejoice.
In 2009, Social media pundits rejoice too. Gillin posts some pretty impressive numbers for the rookie media.
"This year, people spent six billion minutes on Facebook, downloaded one billion YouTube videos and logged over 1.4 million blog entries every day. The iPhone became the first mobile phone to be used more for data than for voice. The Internet became the second most popular news medium behind television. Wikipedia posted its three millionth article."
Obviously, the Favre story didn't end with his retirement in 2007. Favre 're-invented' himself and is still throwing touchdown passes in a playoff game in 2010. He is having one of his best seasons ever. He is the oldest quarterback in history to play a divisional playoff game at 40. His numbers this year are impressive for a quarterback at 40.
As durable as Favre is, he won't be around in the NFL forever.  Is the writing on the wall for traditional media too? It is not looking good according to Gillin, "…US newsroom employment fell to a 25-year low and magazine news stand sales dropped to 63% of their 2001 peaks. Reader's Digest declared bankruptcy. Comcast said it would buy NBC."
How will the story end for traditional media and Favre? Will traditional media re-invent itself? Maybe e-readers like the Kindle will save traditional media companies. The numbers look impressive so far in their short history.
And maybe Favre will hoist the Vince Lombardi trophy one last time to end his storied career. Just as everyone thought Favre couldn't do it at 40, look for traditional media to make a comeback in some new form.
As far as Rodgers is concerned, time will tell.  It sure looks promising.