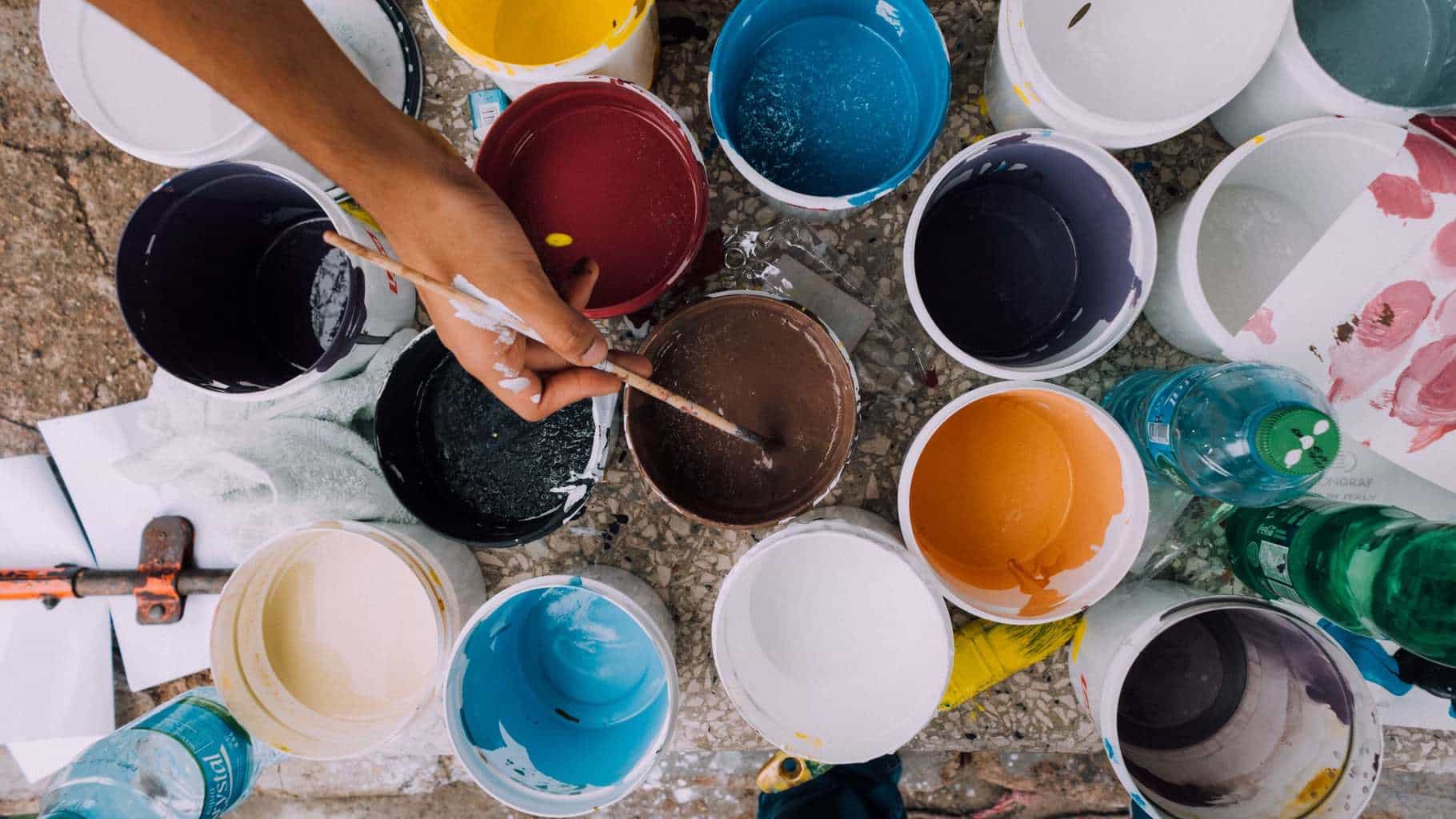 5 Powerful Benefits of Content Curation (and why it's important)
NPR's tweet, Pressed For Time? Try Hiring A Body Double recently caught my eye. Imagine the possibilities? Being in two places at one time – attending a board meeting while proudly watching your kid's piano recital. Home writing a term paper while sitting in an economics lecture. Serving your customers while researching best fair trade practices. The imaginary list of benefits goes on and on. Have you heard about content curation? Read more.

What if the benefits could be real?
Content Curation: Real Benefits
Silence on social media is one of the reasons fans unfollow your social streams. An essential element to a successful social media presence is a consistent flow of content to remind your fans that you are still relevant. Content curation becomes your body double. The key is to find reliable sources of industry-specific content that your audience will enjoy, that you don't have to create.
According to content marketing expert, Mark Schaefer, the amount of available web-based content doubles every nine months. Why not help users shift through this ocean of information by being a go-to resource for the best sources?
Instead of worrying how you're going to compete with all this content, it's time to embrace it.
Here are five benefits that just might encourage you to get started by Emily Bailey:
1. Establishes credibility and trust
It's no secret that consumers rely on recommendations from their peers, but they also crave information from other reliable sources. Providing them with this information improves your brand's credibility. It gives you the opportunity to back up your claims with outside research that supports them. Over time, you'll build a stronger relationship with your readers as they learn to trust the knowledge you have to share.
2. Builds brand loyalty
Content curation shows your audience that you care about the problems they're facing. You're taking the time to share information with them that doesn't just toot your own horn. Consumers feel loyal to brands that have their best interest at heart.
A Real Example: On May 12, we shared an article posted by Ragan.com titled, The right way to respond to negative online reviews. The article was spot on for our audience of small business owners who may face the same Yelp review issue.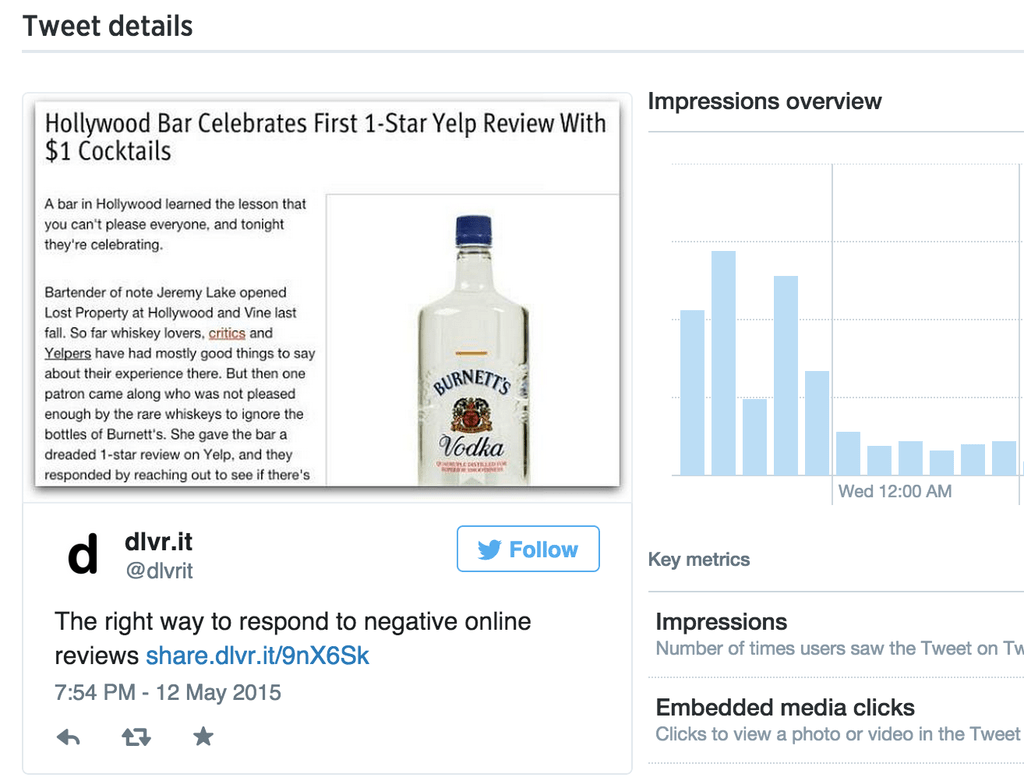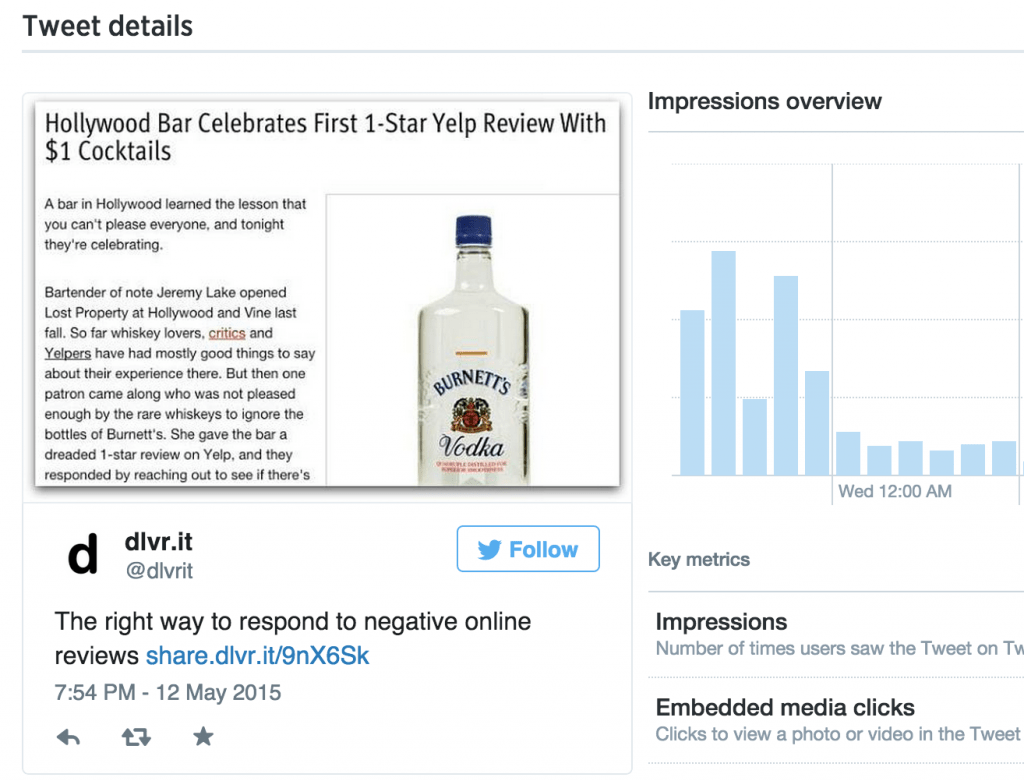 As a result, engagement on the tweet and click through to the article was 2x times greater than the typical engagement rate on our own posts!
3. Improves brand voice
A brand with a personality is much more likable than a brand that isn't much more than a logo. As you curate content, it's important to remember your own commentary, whether you share through your blog, social media or email newsletters. Your audience will begin to understand where your brand stands when it comes to industry tactics or best practices.
4. Inspires and delights
You don't have to be all business all the time. It's okay for a brand to share content solely for the purpose of entertaining its community. As long as you truly understand your audience, you'll be able to delight them with content that still makes sense for your brand.
5. Increases brand awareness
As you curate content from other brands and bloggers, it won't take long for them to notice that you're sharing. Often, they'll repay the favor by thanking you in front of their audience or sharing your content as well. However, it's important to keep your content recommendations genuine. Don't let ego stroking be your sole motivation or you'll quickly lose the benefits of content curation. Content curation has been around for a long time, yet many brands have not taken the time to supplement their content strategies with this effective tactic.
A Real Example: Here's an example of prominent social media thought leader and blogger Mari Smith, mentioning one of our posts in her Top Social Media Picks – May 15, 2015 Issue #149. We've been following Mari for years and have shared many of her useful social media tips and tactics.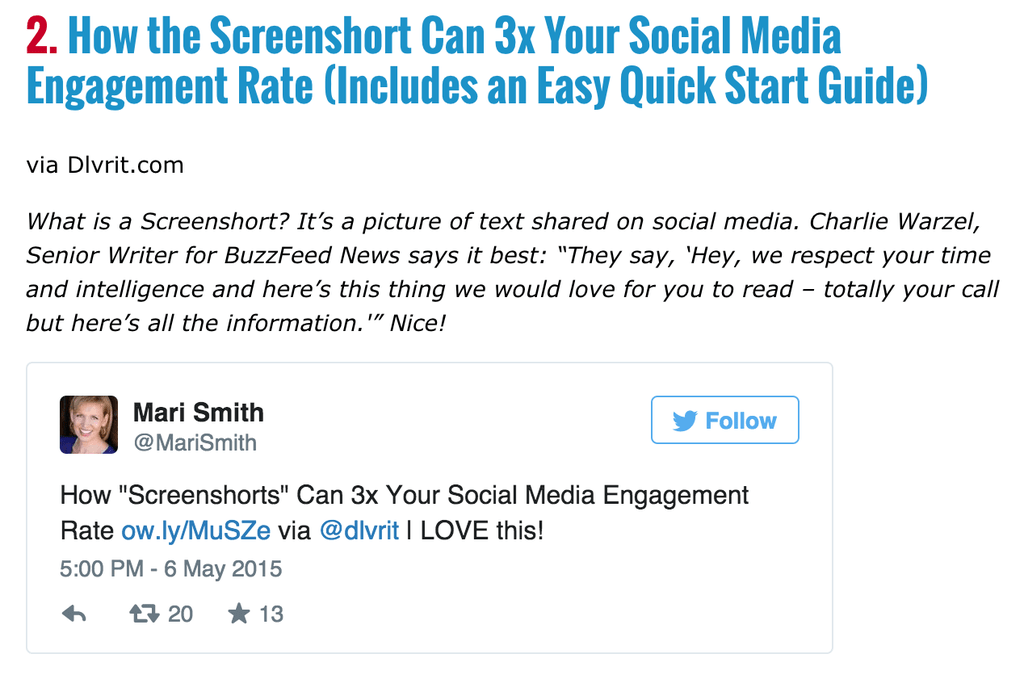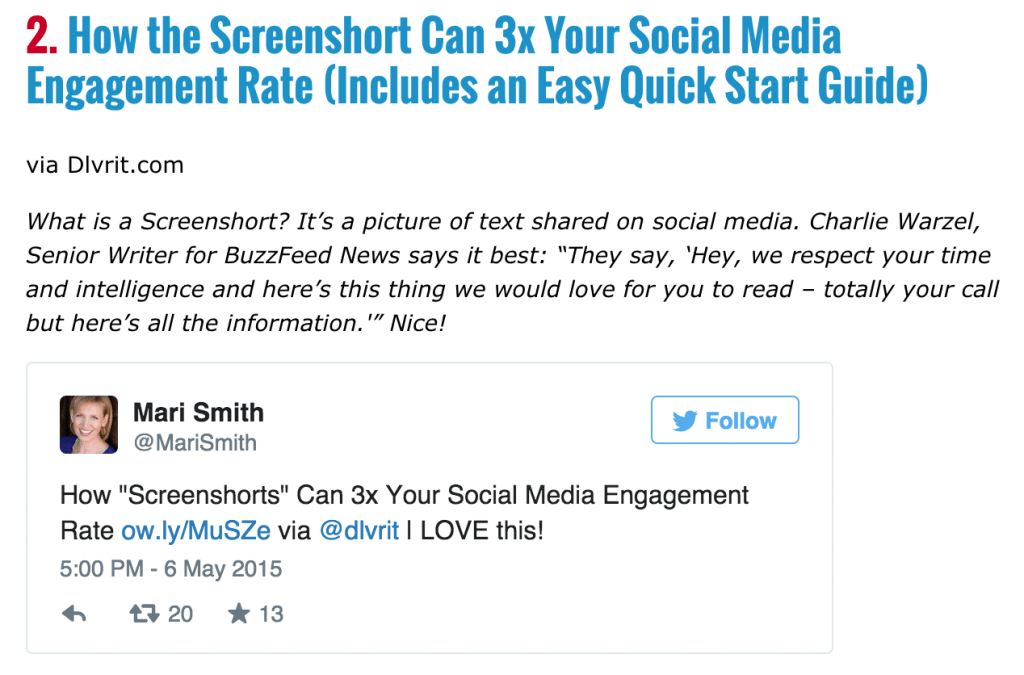 As a result of Mari's post, our web traffic soared over the weekend and our newsletter signups tripled in one day.
Content Curation: Basic Tips
Over the next few weeks, we'll be following up with more blog posts on content creation best practices, tips, and tools.
For example, in the infographic below, Curata outlines 6 best practices you should follow when curating content. You will find easy but essential tips in case you decide to use content curation as your body double.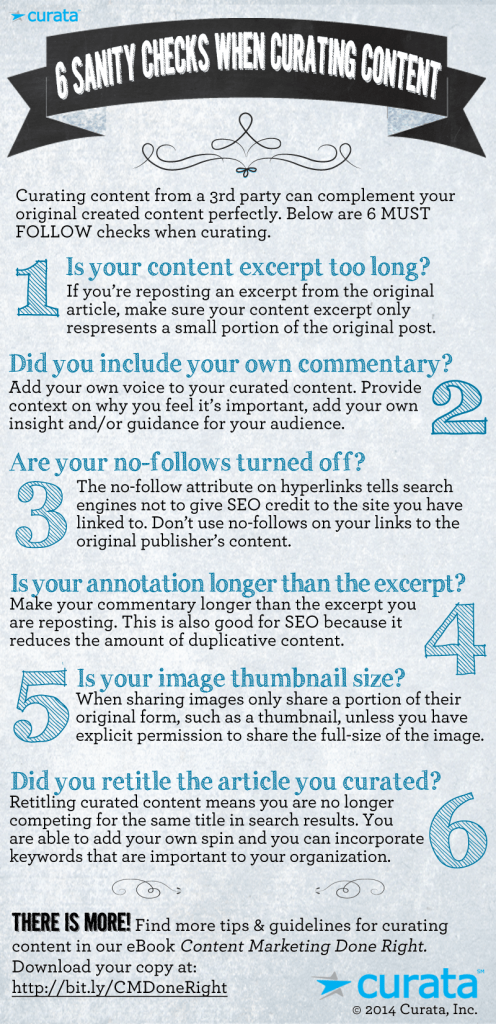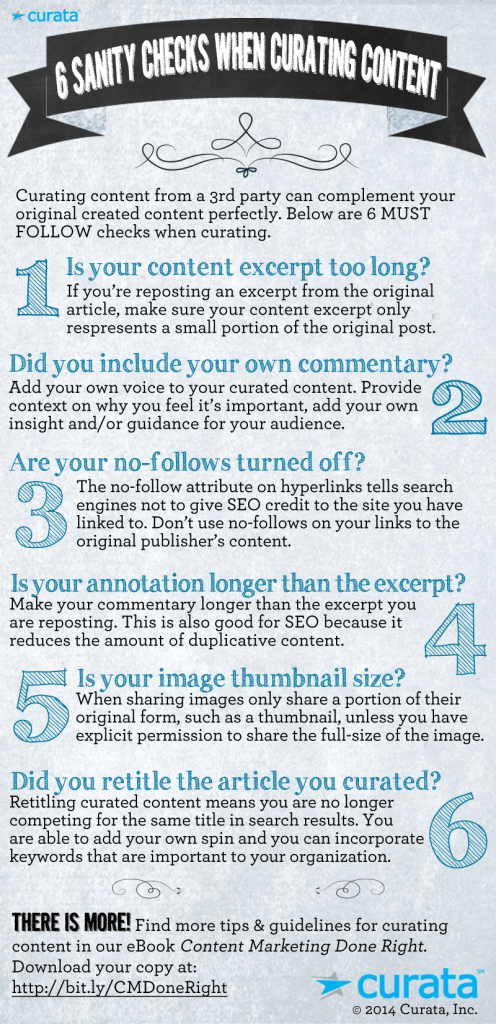 Debra Garber
VP of Finance & Operations, Chief Content Contributor, and backyard chicken farmer. I happily share my experiences traversing the wilds of social media. Will trade social media tips for fresh organic eggs. Motto: "Live the life you love, love the life you live."