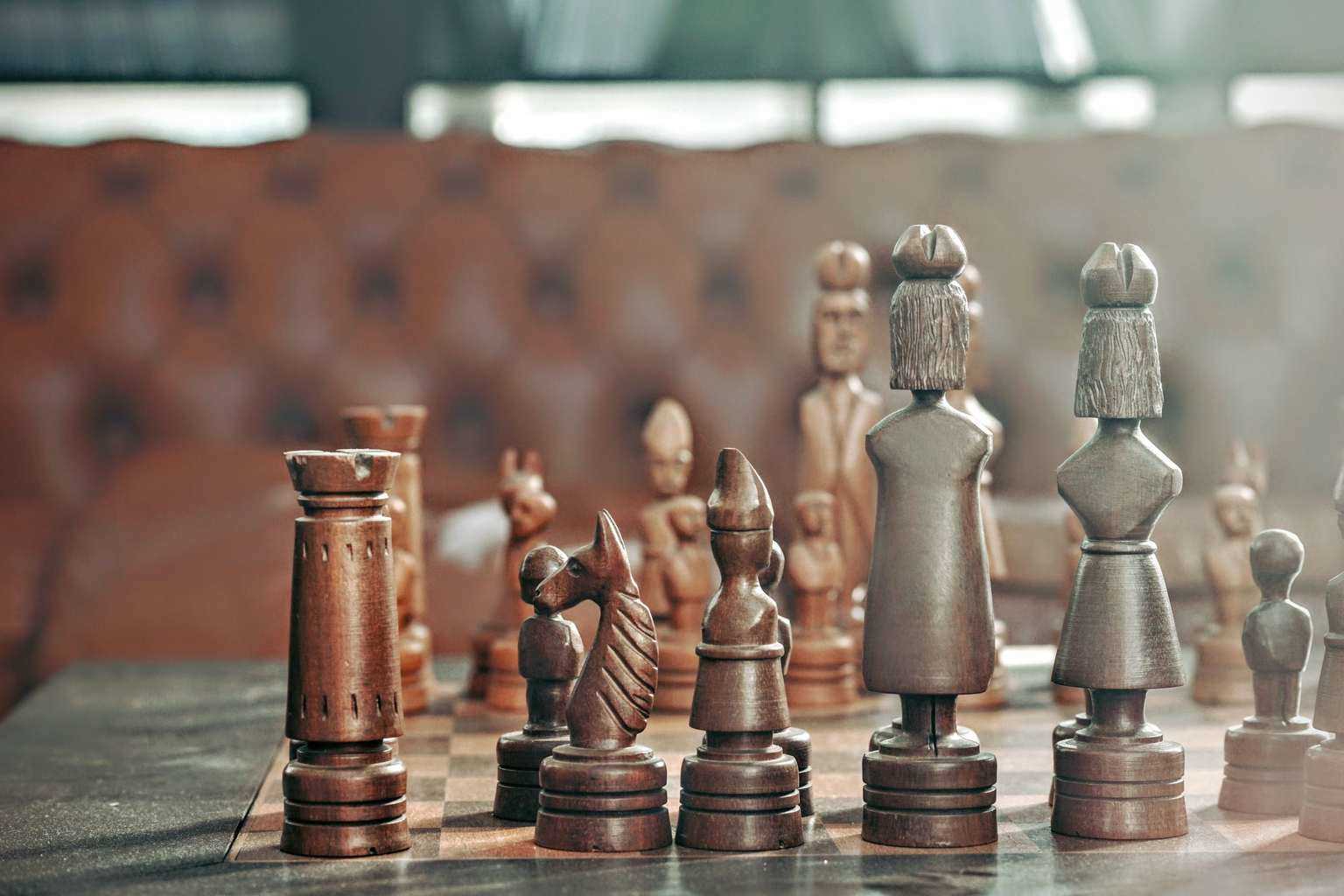 We've Tested All The Best Pinterest Tips: Look at What Works
Whether you use Pinterest for fun or business, these tips, tricks and facts from the experts will show you how to build a following, optimize your pins and boards, and when best to promote your pins with smart automation.
With the ultimate goal of saving time, use our Pinterest quick guide to click on the following:
First, here are some Pinterest facts to keep handy in your memory bank (or if you're like me, print them out or "pin" in a prominent place):
Pinterest Quick Facts
→Super fact: Pinterest users skew female and are most active in the evenings.
Best…
Days to Pin: Saturday
Times of Day to Pin: 2 am – 4 am and 8 pm – 11 pm
Pin Frequency: 5 times per day
Engagement Facts: Directly from the Pinterest blog, here's a look at the most popular categories on each day of the week:
Monday: Good intentions in fitness (CrossFit is becoming a Pinner obsession, along with Paleo challenges and Tough Mudder Boot Camps)
Tuesday: Gadgets are all the rage in technology
Wednesday: Inspirational quotes to get you through the week
Thursday: Threads lead Thursday with fashion
Friday: GIFs bring comic relief to the end of the week with humor
Saturday: Vacations are top of mind with travel (Recently popular: Hiking trails in Portland, museum crawls in DC, and summer road trips through Boston)
Sunday: Sunday Funday with food and craft ideas

Read more: The Unscientific Guide to Determine Best Times to Post on Facebook, Twitter, Pinterest, and More
What in the World are People Searching For
In late-2015, Pinterest made some improvements to how search works wherever people use Pinterest. As a result, here are the top 10 ideas people are searching for around the world…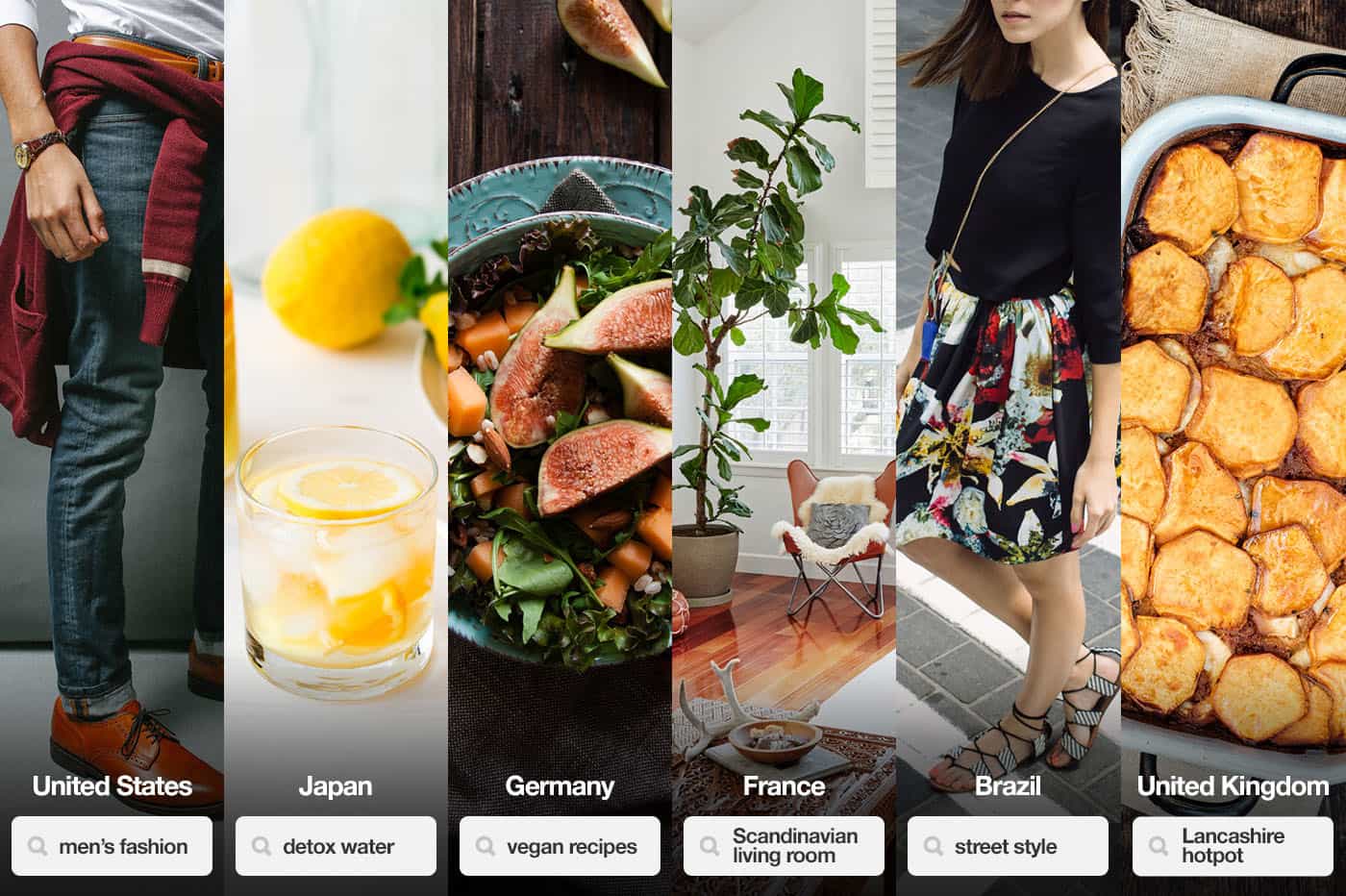 Top 10 searches in the United States: Harry Potter, Lob hair, Iceland, Men's fashion, Pallet projects, Bathroom storage, Small tattoos, Scandinavian interiors, Vegan recipes, and Alice in Wonderland (this being the book's 150 anniversary!)
In…
Japan: Eggs Benedict, New Year's cards, Detox water, Glamping, Botanical, Marsala, Cheese fondue, Christmas decorations, Lifehacks, and Wedding welcome boards
France: Scandinavian living rooms, Small bathrooms, Firno clay, Easy recipes, Sewing patterns, Short bobs, Street art, Bohemian weddings, Woodwork and Small tattoos
Brazil: Natural makeup, DIY decor, Tapioca, Braids, Street style, Men's bracelets, Men's haircuts, Small kitchens, Summer drinks and Delicate tattoos
The United Kingdom: Pork pie, Broken-glass nails, Alternative Christmas trees, Dr. Who crafts, Toad in the hole, James Bond, Meat-free Mondays, Alexa Chung haircut, Men's undercuts and Lancashire hotpot
Germany: Crafting with kids, Sewing patterns, Sloths, Thermomix recipes, Filofax, Sunrooms and winter gardens, Baking bread, Racing bikes, Vegan recipes and Watercolor tattoos
And in every corner of the world:
We've also noticed some new trends that are spanning the whole globe, from vegan recipes to all kinds of tattoos, and Scandinavian everything.
→The word "ideas" also cropped up over and over in our list of global search terms, which makes sense because (really) that's what Pinterest is all about: Discovering common ideas to try.
Read: What in the world are people searching for?

Optimize Posts on Pinterest to Boost Repins
Unlike Twitter or Facebook, success on Pinterest is less about growing massive followers and more about creating compelling Pins that generate Repins. Pinterest puts more emphasis on the content rather than the person who created it. 
Here are nine proven ways to boost Repins on Pinterest:

1. Post at the Right Time
According to new data from HubSpot (Janaury 2016), the best times to post on Pinterest are:
2 AM – 4 AM and evening hours every day
5 PM on Fridays
8 PM – 11 PM on Saturdays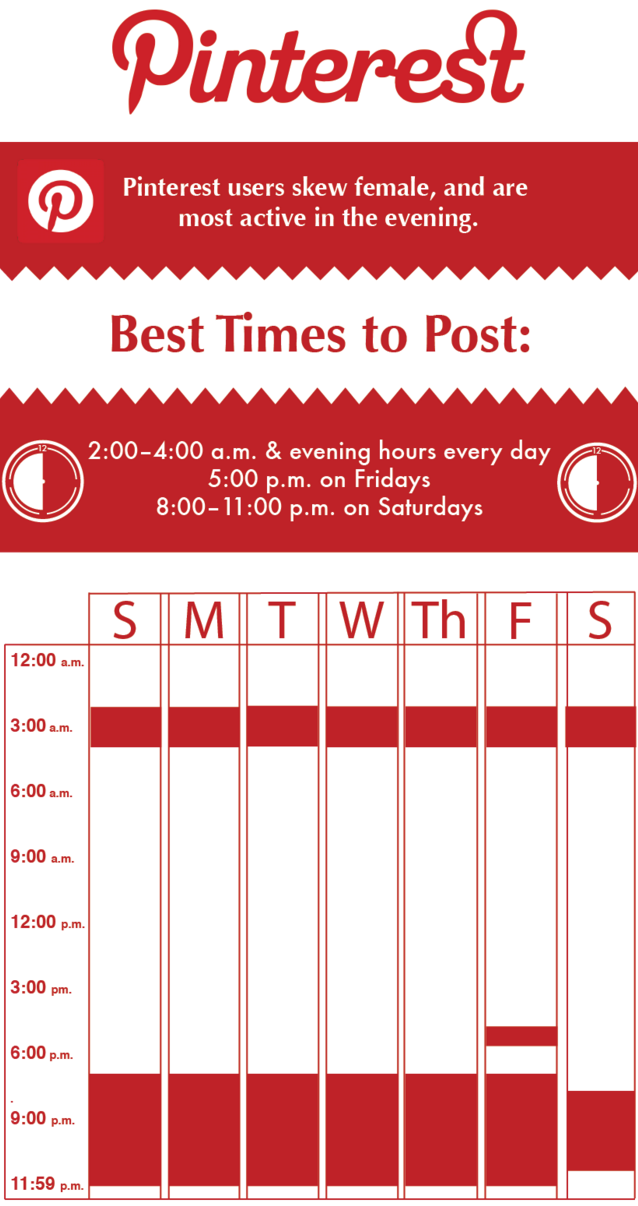 2. Post Often
To get more followers, you should post between 5-30 new pins every day.
→Keep in mind quality content is key.
3. Create the Right Sized Pin
Pins over 800 pixels tall get more repins. A typical Pin size is 736×1102 pixels.
4. Don't Forget Males
Pinterest is not just for females. The male demographic is the fasting growing demographic. One-third of new signups are from males. In some countries, there is a 50/50 split between males and females.
5. Use a Call-to-Action
In your Pin's description, add a call-to-action. You'll get 80% more engagement.
Examples you might add:
Download the free ebook
Read more ways to…
To learn more…
Sign up online
For more details…
Please submit ideas and questions to ______
Call for a complimentary consultation
Get a free quote
Tell us what you think
Watch a video of _____
6. Create More Content
Creating more Pins and boards are essential factors in determining your growth on Pinterest. The University of Minnesota's study found that the three top factors that Pinterest users take into consideration in the "should-I-follow-or-not" decision-making process are:
how many accounts you are following /are following you
how many pins you have
how many boards you have
7. Use Rich Pins
The Pinterest marketing firm, Piqora, found that there was an 82 percent jump in the Repin-Pin ratio with brands using Rich Pins.
There are six different types of Rich Pins: app, movie, recipe, article, product, and place.
8. Include a Price Tag
Pins with prices get 36% more likes than those without.
9. Keep Pins Short and Informative
Pin descriptions under 200 characters are the most re-pinnable. Furthermore, according to Pinterest, informative Pins receive up to 30 percent more engagement than other Pins.
A few tips on making your pins more informative:
Add advice in the description
Include instructions or how-to's
Write detailed descriptions to give people a clear idea of what the Pin is about
Play around with using simple text on top of the image to quickly describe the Pin
Read more: 9 Proven Ways to Boost Repins to Increase Sales (Backed by the Latest Research)

Pinterest Tools
1 – Free tool: Add the Pin It button to all of your images
The 'Pin It' button lets people save your content back to Pinterest. You can add the(free) button to all of your site's images. The button is also available on WordPress, Tumblr, Blogger, and Wix, plus iOS and Android apps.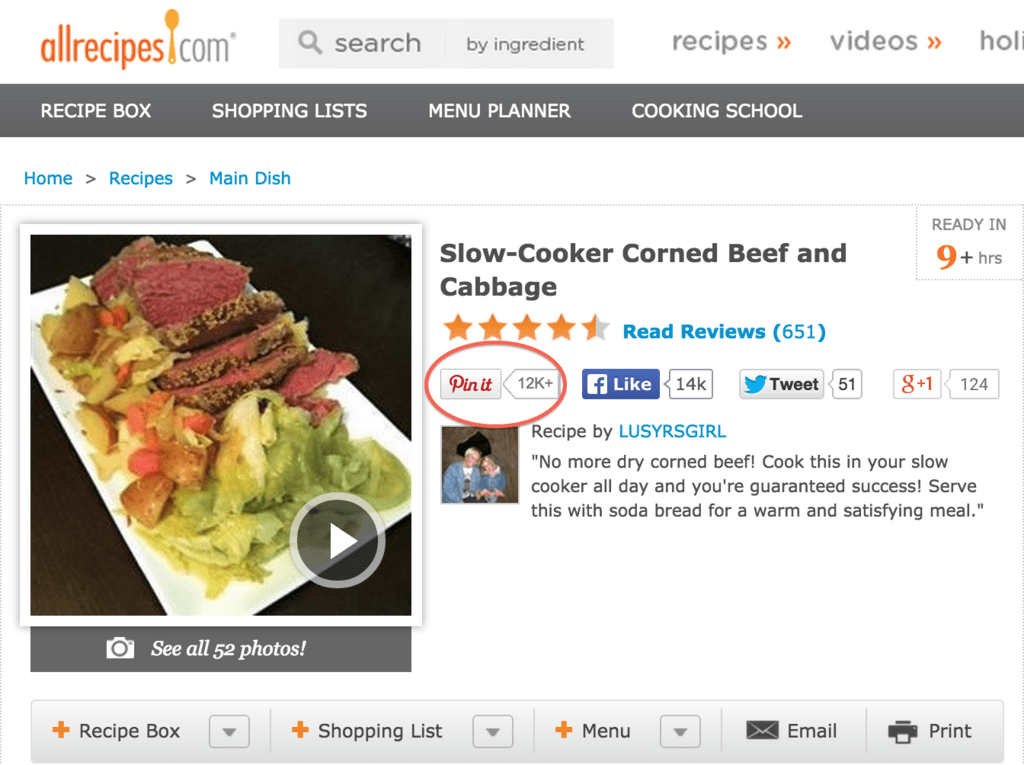 2 – Tool: Pinterest Analytics. Pinterest offers their own analytics for businesses. You can use these insights to find out what people are pinning from your website, see what pinners like, what gets most repined or most clicked as well as other interesting information.
3 – Tool: Rich Pins. Rich Pins, also known as 'Super Pins' or 'Enhanced Pins' are a relatively new addition to Pinterest features for business. These enhanced pins include extra information right on the Pin itself.
There are currently six types of rich pins:
App Pins: Includes an install button, so Pinners can download your app without ever leaving Pinterest. (For now, App Pins are compatible with iOS apps only.)
Product Pins: Includes real-time pricing, availability and where to buy. Pinners also get notifications when product Pins they've added, drop in price.
Recipe Pins: Includes ingredients, cooking times and serving info to get cooks excited to hit the kitchen.
Article Pins: Includes headline, author and story description, helping Pinners find and save stories that matter to them.
Movie Pins: Includes ratings, cast members and reviews to help Pinners learn about new flicks.
Place Pins: Includes a map, address, and phone number.
Read more: How to Use Pinterest to Achieve Dramatic Marketing Results (includes Real Stories)

Perfect Pinterest Post
Can your remember the exact specifications and nuances for posting to all of these social media platforms? From MyCleverAgency, here are the elements needed for the perfect Pin: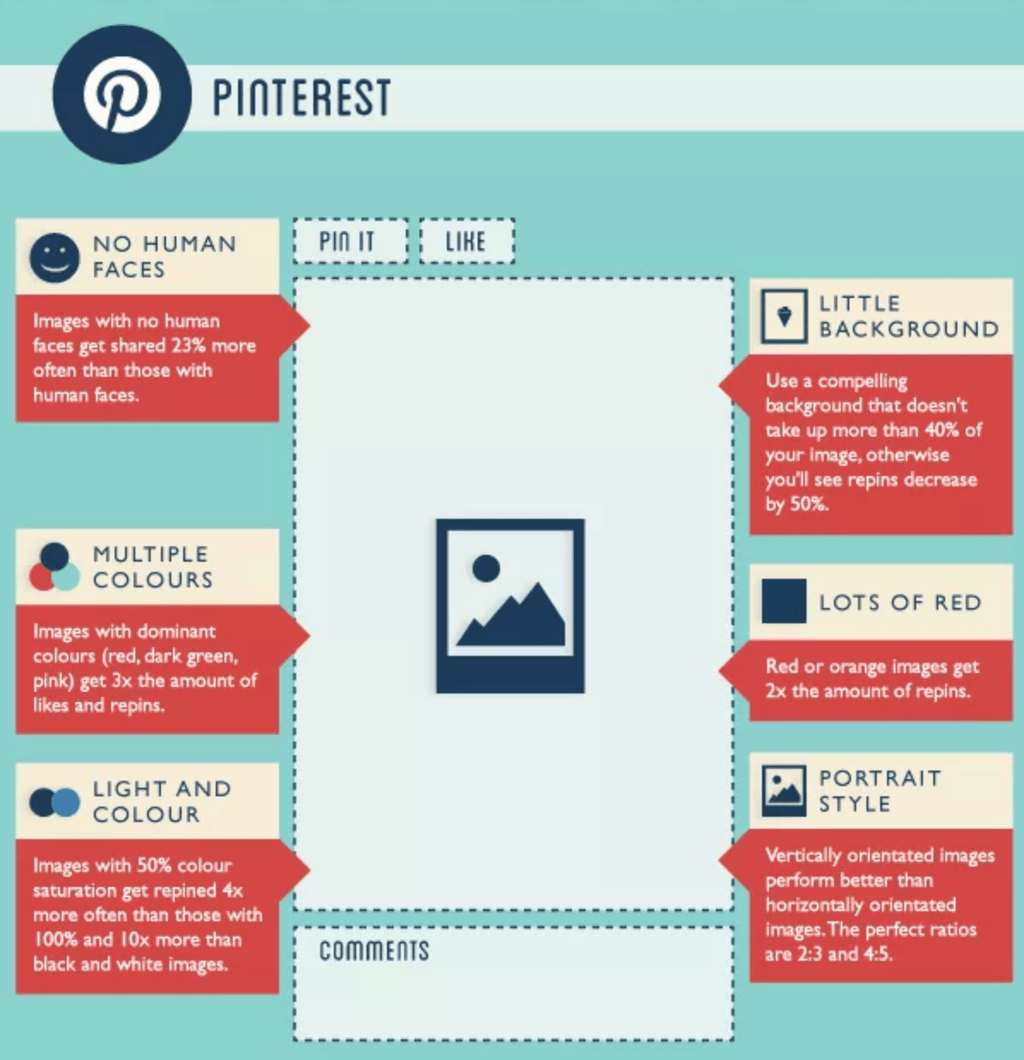 Read more: Create the perfect posts for every major social network [Infographic]
Sharing images to Pinterest is seamless with dlvr.it. All you need is an RSS feed and a little creativity.
Benefits:
Cuts Pinning time in half
Instantly creates Pins in one click while browsing
Can share immediately or schedule later
Can share Pins across social media
Read more: Introducing dlvr.it for Pinterest: Automatically Create Pins from RSS
___
Debra Garber
VP of Finance & Operations, Chief Content Contributor, and backyard chicken farmer. I happily share my experiences traversing the wilds of social media. Will trade social media tips for fresh organic eggs. Motto: "Live the life you love, love the life you live."