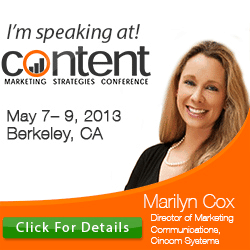 Transform your sales team into thought leaders with content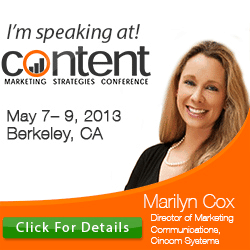 Are your sales and marketing strategies aligned? Discover ways to involve sales in the creation of marketing materials to make sure it reflects what they hear during their conversations, and they will actually utilize it. Guest speaker Marilyn Cox, Director of Marketing Communications at Cincom Systems, will be presenting a content strategy case study on "How to Overcome Content Inertia to Create a Sales and Marketing Juggernaut" at dlvr.it's upcoming 2013 Content Marketing Strategies Conference.
Marilyn tells a great story below. To hear the detail behind the steps, attend Marilyn's session at the conference on May 7-9, 2013 at The Claremont Hotel & Spa in Berkeley, CA.
Understanding the Value of Content by Empowering Your Sales Teams
Inspiration hits you at the oddest moments. Our marketing team recently decided to submit for an award. The award recognizes marketing teams that have worked to strengthen the relationship between sales and marketing. For those that have worked in either, or in my case, both departments, you know that there often exists animosity. Sales feels like marketing doesn't do enough to support them and marketing feels like sales is lazy and doesn't follow up on hard earned leads. Of course, neither is often the case and usually poor communication is the root of the problem.
As I often do, I looked to my kids for some insight on how to play well with others.  Walking through the door I was bombarded with their stories about that day's events. Most of these stories centered on the friendships my kids have at school. Listening to my 4-year old relay his day I began to develop ideas about what makes a best friend. Activities like sharing, playing, providing a purpose, and making someone feel important were all key relationship building blocks.
Content, constructed to the needs of your sales team, can aid in building this relationship.
Oftentimes content is created by marketing, with very little input from sales.  Sales is left without an understanding of what content is available, why it was developed, and how to properly position the information. The work of content creators can be incorrectly used, or left dormant.  Very little activity and engagement results from the hard work of many. Both camps are left frustrated and rendered ineffective.
Marketing must learn to align and collaboratively develop content with their sales organization.

Content should educate and empower sales.
Sales can leverage the knowledge that your prospects and customers crave.  Your sales organization must transition from a transactional and reactive team, to thought leaders who challenge the mindsets of customers.  To do this you must have a strong understanding of your sales process.
You need to audit what content is currently in use with both marketing and sales origins.
Content should be mapped to the buy cycle of the customers and new content should be managed with input from both sales and marketing.
Most importantly you need to ensure your sales teams understand the value of the content so they can communicate the value to their prospects and customers.
Empower your sales teams and realize the benefits through improved engagement, increased revenue, and a happier work environment.
Hear more from Marilyn at the Content Marketing Strategies Conference, May 7-9, 2013 at The Claremont Hotel & Spa in Berkeley, CA.
About the Author:
Marilyn Cox is the Director of Marketing Communications at Cincom Systems.  She classifies herself as a left brain mind living in a right brain world.  Her focus is content development to enable and align marketing and sales strategies.  While not geeking out over marketing analytics she enjoys Ironman training in solitude and Ironmom conditioning with her two children.
Debra Garber
VP of Finance & Operations, Chief Content Contributor, and backyard chicken farmer. I happily share my experiences traversing the wilds of social media. Will trade social media tips for fresh organic eggs. Motto: "Live the life you love, love the life you live."