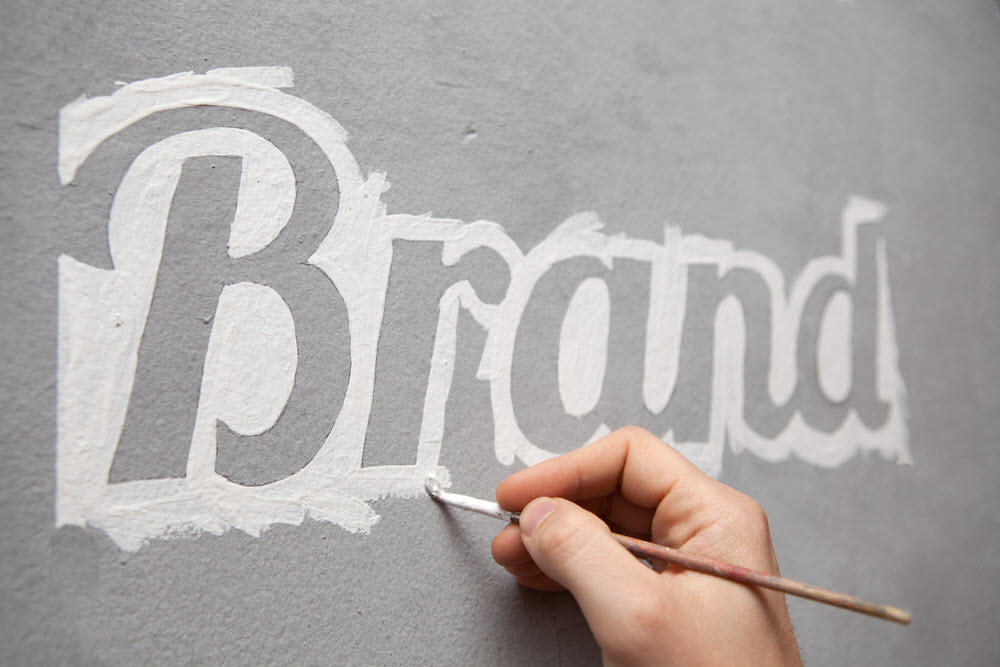 How to Boost Social Media Engagement Using a Custom URL Shortener
Have you ever thought you'd like to add a little branding or personality to your short URLs? Now, dlvr.it makes it easy (and free) for you to create a custom URL shortener with your own personalized domain.
dlvr.it supports many popular link shortener services including  su.pr, migre.me, cli.gs, is.gd bit.ly, bit.ly pro and the google url shortener.
What is a Custom URL Shortener?
Customizing your short URLs adds a powerful brand element to your distributed content and lends added professionalism and personality to your social media efforts.
Other benefit to having your own custom URL shortener or branded short URL is increased link trust. No one likes clicking on random links, so knowing it comes from a trusted source goes a long way towards increasing the likelihood that users might engage with it. And bit.ly, a popular URL shortener, found branded short URLs increase CTR on links by 34%.
URL shorteners not only help clean up unyielding long urls, but they can also help you track leads, offer insight on the best time to post to social media or even determine which channels are best for promotions.
A custom url shortener is the domain that replaces the default "dlvr.it" short URL in a shortened link. For instance, "http://dlvr.it/123bcd" becomes "http://your-custom-domain.com/123bcd".
Major publishers and brands who use their own custom short domains:*
The New York Times: 'nyti.ms'
Amazon.com: 'amzn.com'
Tech Crunch: "'tcrn.ch'
dlvr.it now makes it easy and accessible for bloggers, publishers and brands of all sizes to take advantage of the branding and personalization power of a custom URL shortener
dlvr.it users may use one free custom short domain per dlvr.it account.
How do I Create a Custom URL Shortener to Social Media?

If you already have a dlvr.it account read the guides below otherwise sign-up for free.
1.) Register a domain. Learn how
2.) Update your custom domain's DNS settings. Learn how
3.) Set up your custom domain in dlvr.it. Learn how
A – Click the Socials tab
B – Click Short Links
C – Click + Add a Shortener


D – Click the drop down menu to expose the link shortener options
E – Click Custom Domain


F – Follow the onscreen instructions.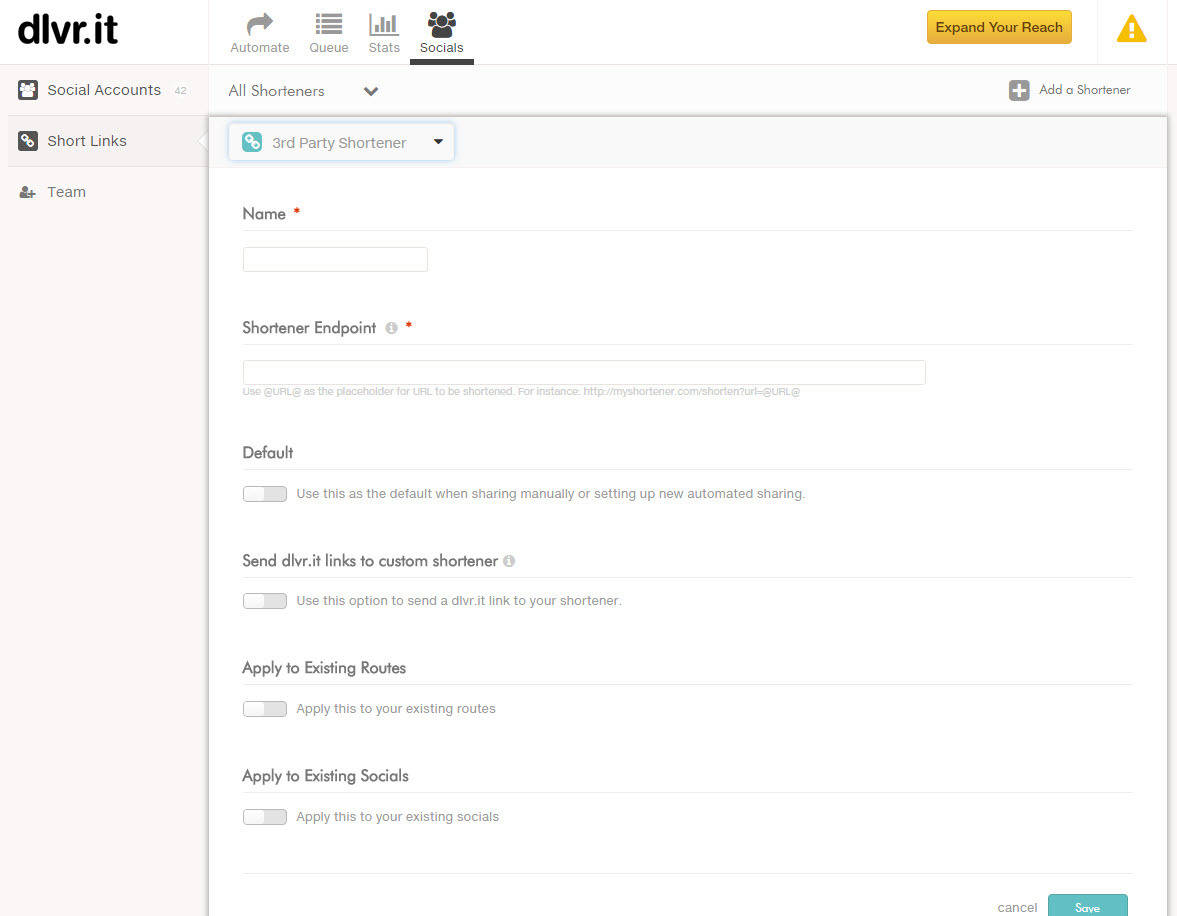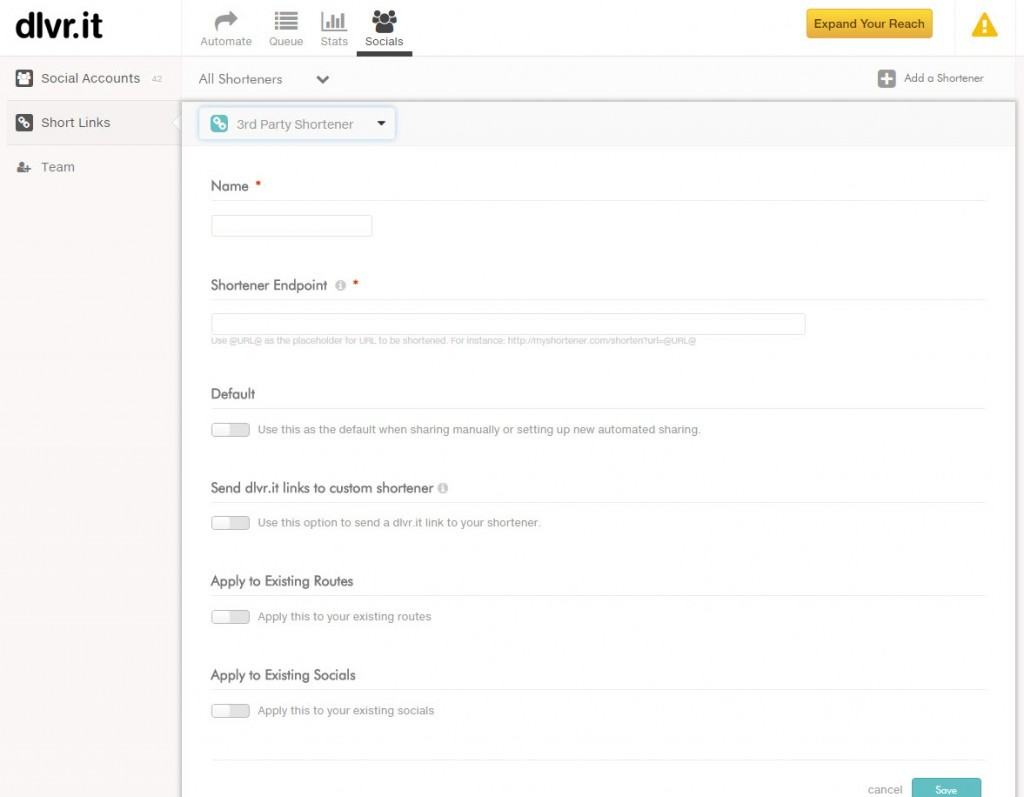 Charles Smith
Entrepreneur, Technology Enthusiast, Anthropologist / Evolutionary Psychologist.