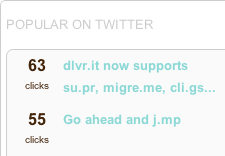 Display Your Popular Content with a dlvr.it Widget
You can now display your popular tweets or facebook posts on your website with a dlvr.it widget. Not only will your website visitors see your popular / trending content, they can also quickly follow / friend you via the 'Follow Me' link. This is a great way to both promote your content and increase your followers.
Here's a screenshot of dlvr.it's new widget (you can see a fully active widget on the right side of this page):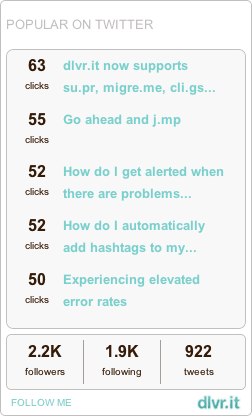 dlvr.it's widget is highly customizable — you can set the colors, size and the number of items to include. If you are using dlvr.it to shorten your links, the widget will display the items with the most clicks over the last 14 days. If you are using a 3rd party shortener, we'll display your most recent items.
For Twitter accounts, we'll also display the number of followers, the number of people you are following and how many tweets you've posted.
To set up a new widget:
1. Log into your dlvr.it account
2. Click on the "Widgets" Tab
3. Select "Destination Widget"
4. Configure your settings (colors, size, item count)
5. Click "get code"
6. Copy and paste the code into your website.
Charles Smith
Entrepreneur, Technology Enthusiast, Anthropologist / Evolutionary Psychologist.