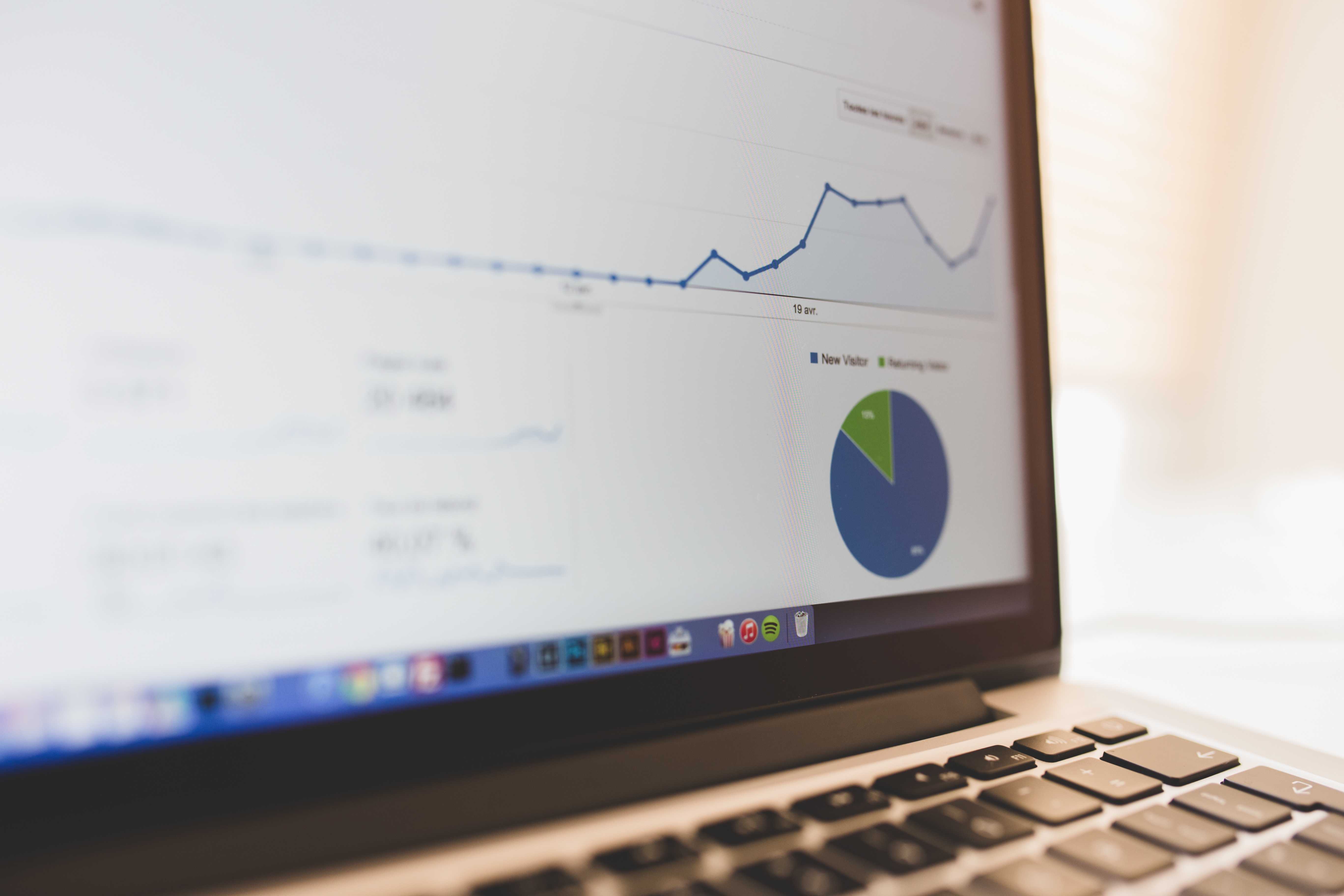 How to Prime Your Facebook Page for Epic Success
Are you capitalizing on all the potential traffic from your Facebook Page? After reviewing our Google Analytics stats to determine that Facebook was our best performing social network, I wanted to be certain we were maximizing traffic on our Facebook Page. Below are 14 items we checked and optimized to further enhance our performance on Facebook.
For a Better Facebook Page, Check Facebook Search
To create a better Facebook Page you need to know where it might be broken. One of the first things to check is how your page appears in Facebook Search.
Facebook uses 44 ranking factors in its EdgeRank algorithm to determine what appears in user feeds. According to TechCrunch, there are approximately 200 factors that establish the order of the search results including:
Like history
Previous points of engagement
Previous searches
Geography of searcher
Similar to optimizing your website for search, there are a number of things you can optimize to improve your search presence within Facebook search.
How to optimize for Facebook Search
1 – Post Timely Information
Past: In the past, to see your update, I had to be following you.
Present: Now (based on your privacy settings), when using Facebook search, I could surface your updates.
Facebook includes public posts into search results, so if you're looking for information about a current event or trending topic, you'll likely see results from people outside your network alongside posts from people you know.
PRO TIP: As a small business, you want your post settings to be public so potential customers outside your network can find you.
Facebook promises, "As you type, we'll highlight things that are happening right now so you can follow popular stories as they unfold."
It's important to keep in mind how fans use Facebook. For example, they want to be:

entertained
to find timely news
to find where their friends are
and where they visited

Your Facebook updates should mirror this information.
According to a study from TrackMaven, posts with 80+ words garner 2x's as much engagement.
Facebook users are willing to read! Also, this gives you more opportunity to include relevant keywords in your updates.
2 – Include Photos and Videos
When you search on Facebook, you can view the results in four different categories: Top, Latest, People, and Photos. What this means, to get noticed, is that a compelling photo increases the likelihood.
And don't forget about video posts on Facebook. Video posts have 135% greater organic reach than photo posts.
3 – Optimize Your Facebook Page
Your actual Facebook page is probably not going to turn up in the search results, but it is a good practice to keep your page in order because when you do surface in a search query, and that user clicks to your posts, you want to make a great first impression.
Read the following for more Facebook optimization tips:
Call-to-action: Make it easy for visitors to get to your site or add their email.
4 – Participate in Popular Conversations
"When a link gets shared widely on Facebook, it often anchors an interesting public conversation," Facebook said. One click will display the most popular public posts connected to a specific link, therefore allowing users to jump into the conversations on those posts.
The more actively you participate in discussions related to your niche the better the opportunity you will surface in the search results.
5 – Use Facebook Instant Articles
Facebook's goal is "… to connect people (quickly) to the stories, posts, videos or photos that matter most to them."
What's more, is that 50% of their users access Facebook mobile so it only makes sense that Instant Articles has the potential to be a ranking factor.
Instant Articles allows any… "publisher to tell great stories, that load quickly, to people all over the world," according to Facebook.
Facebook wants to keep users on their platform and will likely give preference to businesses who use Instant Articles.
Facebook Page Tweaks
Now that we have traffic coming to our Facebook Page, the next step is to make your page appealing, keep visitors longer and give them something to do. Below we offer a few on page tweaks we have found to have the greatest impact on making a page sticky.
 1 – Add Facebook Page Authorship
By implementing the Author Tag on your website, you can make it easy for your Facebook readers to start following the author of an article they just read. This is very similar to Google Authorship (now dead) you may have implemented in the past. The nice thing about Facebook's implementation is they use the "article:author" metatag that you may already have in place.
Once the Author Tag is in place, you will see the author is hyperlinked in the base of an update. When clicked it reveals the author's Facebook Page: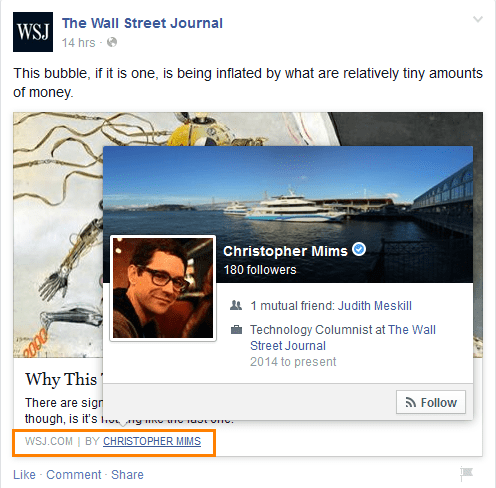 Implementing the Authorship metatag:
Step 1. Go to any of your blog posts, right click your mouse (PC users) and view source. Search for "article:author." If it's on the page, you are set.
Step 2. Check that you have "follow" turned on in your profile.
Step 3. No "article:author"? This article provides a detailed overview of how to enable the Authorship metatag for various blog platforms.
2 – Implement a Facebook Call to Action
Facebook has a call-to-action feature that will help Pages drive business objectives. Check that you have this feature enabled.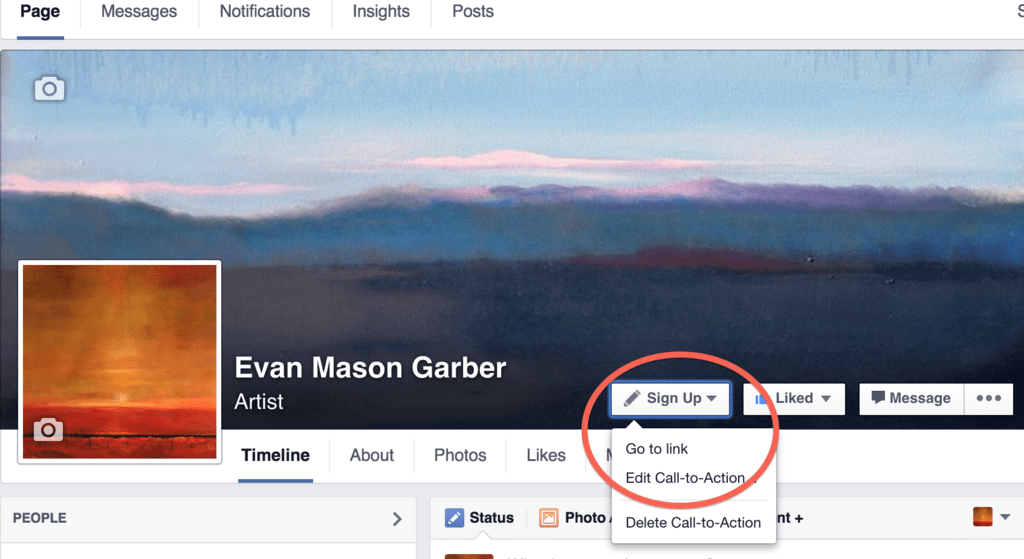 3 – Post to Facebook via Email
Do you have an email address that sends updates to Facebook? Inspiration strikes at any moment. Email a Facebook update right from your mobile device. It's convenient, easy and productive.
4 – Enable Facebook Open Graph Tags
Think of Open Graph Tags (OG tags) as a translation service that helps your website speak with Facebook. When OG tags are properly enabled, your website takes on characteristics of a Facebook Page which means your site is enhanced with additional features seen only on Facebook. Are they active on your site?
Learn more about Open Graph tags and how to enable them.
5 – Update Facebook Privacy Settings
Are your Facebook privacy settings optimized to maximize reach? Follow this Facebook tutorial to conduct a privacy check-up to ensure the settings are where you want them. You could be limiting your traffic potential with the incorrect settings.
6 – Update Sharing Schedule
Imagine removing all guesswork when you schedule your Facebook updates. Knowing the times that work for maximum clicks and engagement is easy. Facebook tracks when your fans are online and thus, the best time to post.
Step 1. Go to "Page Insights" page
Step 2. Click on the "Posts" tab
Step 3. Select the "When your fans are online" section. You will see a graph similar to below
Step 4. Match your posting scheduling to the Facebook data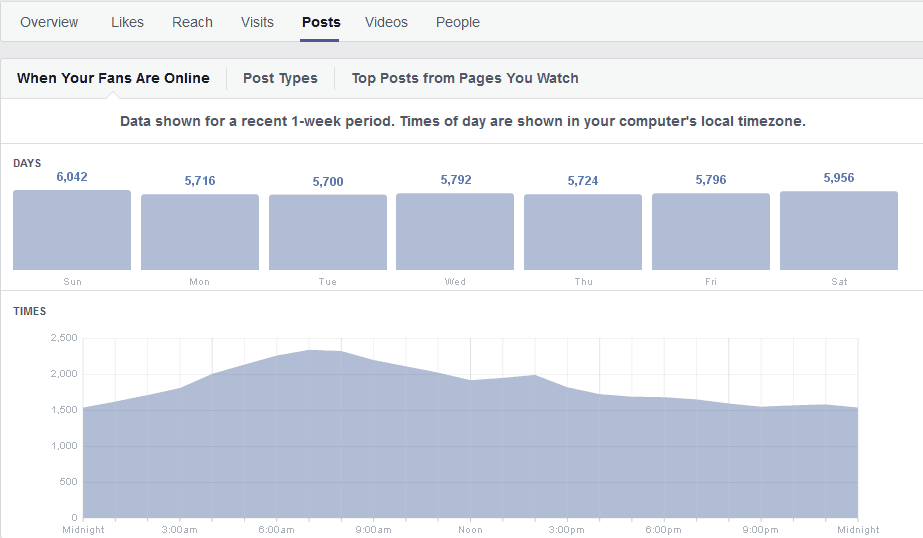 7 – Pin and Highlight Posts
Review Facebook Analytics to Pin and Highlight your best content. Click the arrow on the upper right of the post, and scroll to Pin or Highlight.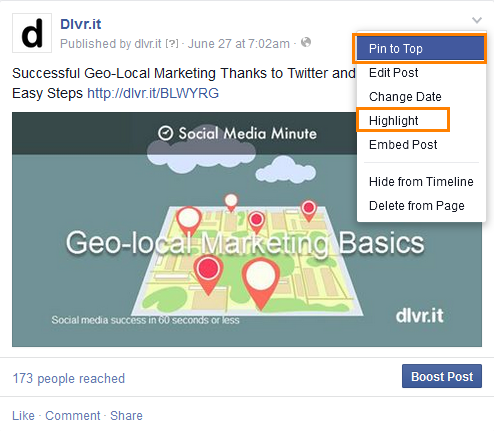 What is a Facebook Pin? A pinned post means it will not slip down your brand page as you create and publish more post updates to your page. Pinning a specific post at the top of your Facebook page will increase its performance. A pinned post is marked with a small orange ribbon.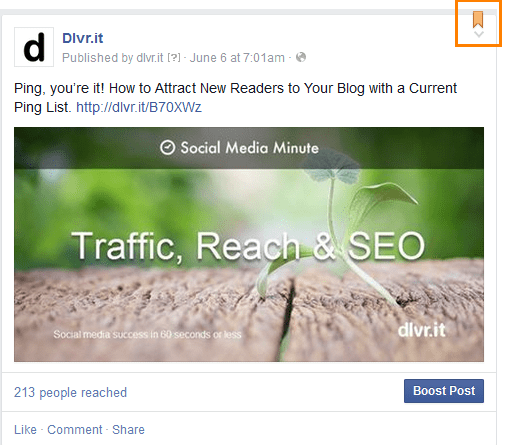 What is a Facebook Highlight? Facebook allows you to highlight posts so they are front and center for your audience. A highlighted post is marked with a larger blue ribbon.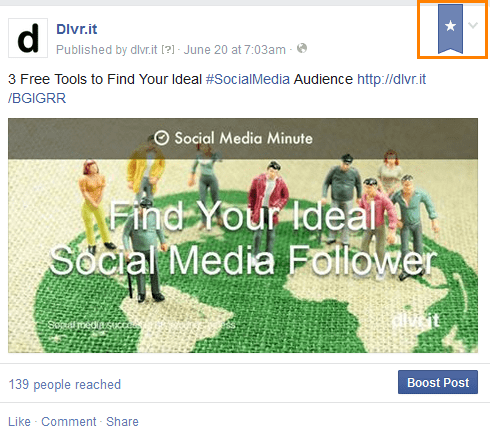 8 – Update the Profile Picture and Header Image
Does your bio picture (profile photo) represent who you are today? Is your header image relevant? Is your company logo visible in your follower's feed? It should be quickly recognizable as your followers scroll through their feed. This creates a perfect branding opportunity.
Review the complete guide to creating the perfect Facebook cover photo every time.
9 – Update the Brief Description
Is your brief page description relevant and up to date? Does it contain your website URL? The brief description is approximately 155 characters that displays below the cover image and the profile image at the top of your Page.
To update this area:
Step 1. Open "Settings" in your admin panel
Step 2. Under "Page Info" look for Short Description
It's good to visit these settings a couple times a year. Facebook frequently makes changes that could affect your traffic.
—-
Have a few more Facebook Page optimization tips? We would love to hear from you.