How to Find Your Flickr RSS Feed (and why that is important)
There is no shortage of places to share and interact with photos. From Snapchat to Instagram to Vine, every few months a new photo app launches (or is scooped up by a bigger fish). And for good reason. There appears to be an ever increasing supply of people taking and sharing images and videos.  According to Pew Research Center Internet Project, 62% of internet users have shared or curated a photo or video. We'll show you how to use your Flickr RSS feed to share your images across Twitter, Facebook and more.
Flickr, created in 2004, which was one of the first social photo sharing services to launch, was later sold to Yahoo! in 2005 for $35M. It is still a significant photo sharing app in today's crowded marketplace with more than 8 billion photos from more than 87 million users. More than 3.5 million new images are uploaded daily.
How to share your Flickr RSS photostream across Social Media
Follow this dlvr.it recipe to share your Flickr images and videos on Twitter, Facebook, Google+, LinkedIn and more.
Step 1. Log into your Flickr account
Step 2. Scroll over the "You" tab and select "Photostream"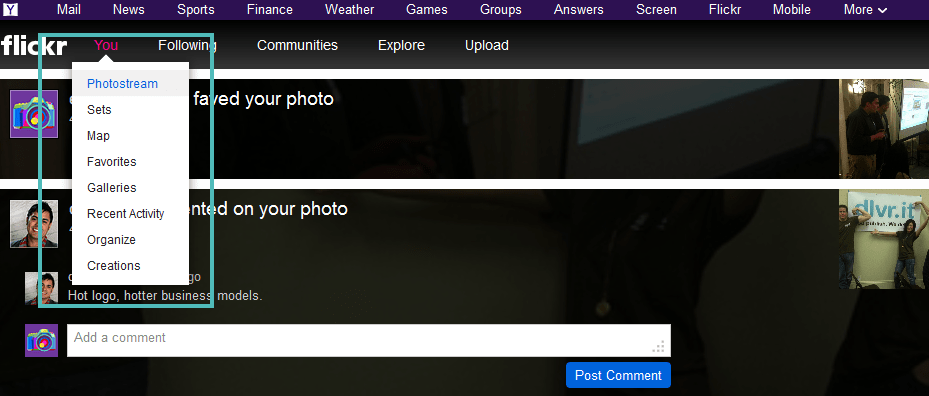 Step 3. Click on the "Edit" tab

Step 4. Scroll to the bottom of the page. On the left you will see: "Subscribe to (your account name's) photostream." Click on the "Latest" link.

Step 5. Copy the RSS feed URL from the "Latest" link


Looking for other RSS to social media hacks? Interested in saving time but create better results? Be sure to read The Ultimate Guide to RSS to Social Media. It includes recipes for Facebook, Twitter, Pinterest, Instagram and many more.