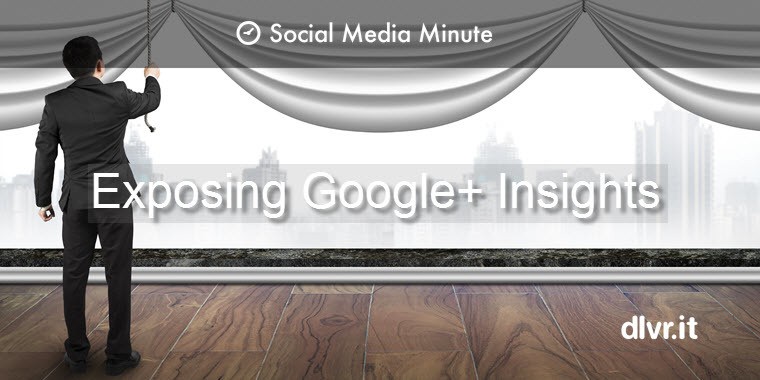 Behind the Scenes: Using Google+ Insights to Guide Your Social Media Marketing Strategy
Like most businesses, at dlvr.it, we rely heavily on Google Analytics to provide insight into traffic across our website and blog. We use this data to guide our social media marketing strategy. When we want to view our social media engagement we turn to the dlvr.it stats dashboard. I have to be honest, I never paid much attention to the new(ish) Google+ Insights data. I was pleasantly surprised to learn about and discover the following:
A. How to Access Google+ Insights Dashboard
Log in to your Google+ Business Page. On the left of the page, click on 'My Business'.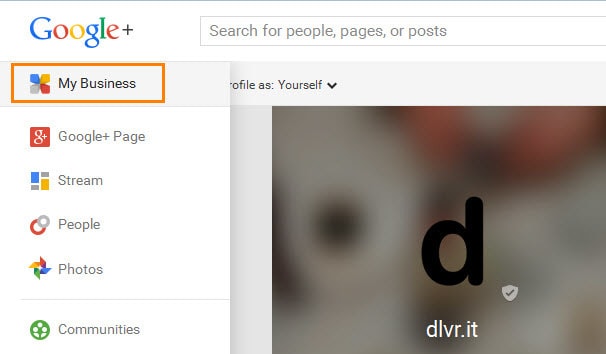 B. Google+ Insights Summary Data
You should see a summary of data for the Google Apps you are using. For example, this summary may include Google Insights, Google Analytics, YouTube, etc. As shown below, in this list you can find your Google+ Business Page. Click on 'View insights' to drill down into the details.

C. Google+ Insights Detailed Data
The Google+ Insights reports data is broken down into four types:
Visibility: All time total, photo, and post views, and how page impressions have trended over time.
Engagement: Which types of posts are getting the highest level of engagement on Google+.
Audience: Get an overview of your follower demographics.
Platform: Details on the platform followers are accessing your Google+ Business Page.
The drop down box on the right of the graph allows you to toggle through several pre-set date ranges to review the data. The default view is the last 30 days, but you have the option to look at your data by the last 7 days, 90 days or all-time.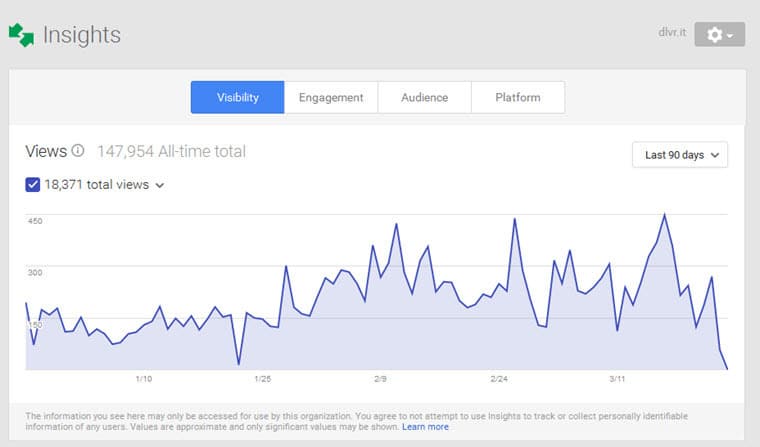 The audience data provides details on the demographics of your followers. This data can help guide social media strategies by helping you determine who to write for.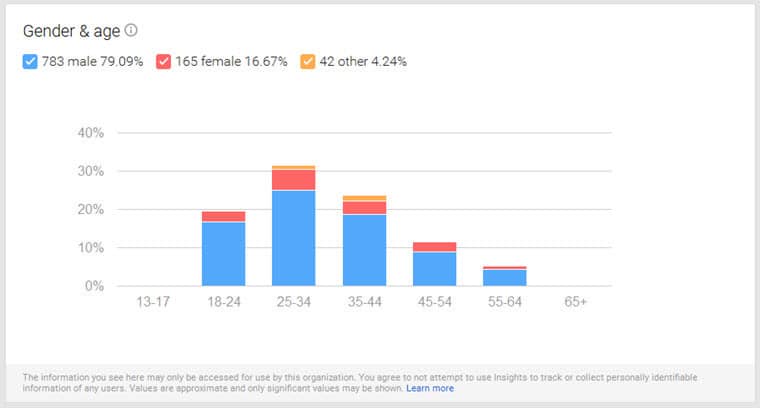 Click on the down arrow to the right of the 'total views' count to reveal the data breakdown of your post views, profile views and photo views.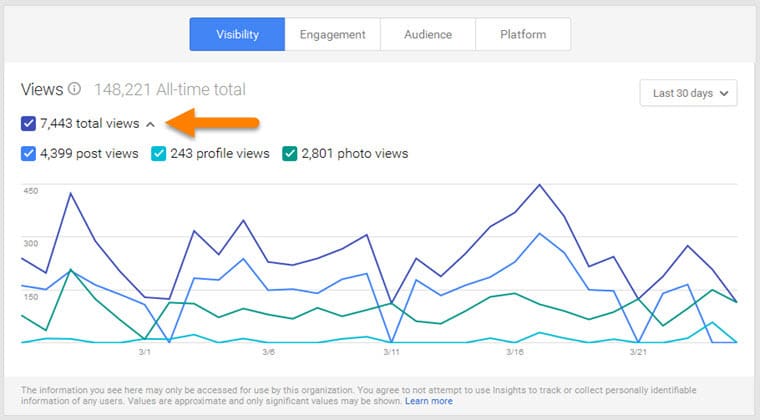 Additional Data You'll Discover in Google+ Insights
Physical Address: If you have your physical address included on your Google+ business page, you'll have a few additional reports under the Visibility tab.
Action on Posts: Under the Engagement tab you will discover the actions followers did with your posts including comments, +1's and shares.
Average Action by Post Type: Again under the Engagement tab at the bottom, you can see actions by post type. This provides great insight into whether text, photos or videos resonates most with your followers. Scrolling over the bar graph reveals the details.
What did you learn about your data? Use the insights to help guide your content strategy on Google+. A few questions you should ask:
Does the data change/alter my content strategy in any way?
How is the data different/same from other social networks my brand is on?
Does what I learned from the data provide any different insights compared to other social networks? What is the payoff of altering my Google+ strategy?