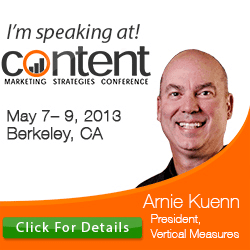 Guest Post: Arnie Kuenn on The Convergence of Content Marketing and SEO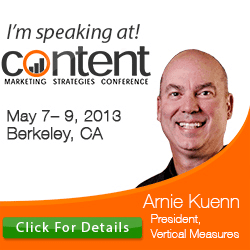 Over the next few weeks, we will be featuring our panel of expert speakers in a series of blog posts highlighting their passion and thought leadership on all things content marketing. First up is Arnie Kuenn, President of Vertical Measures.  You can hear Arnie speak on "The Intersection of Content Marketing and SEO" at dlvr.it's upcoming Content Marketing Strategies Conference, May 7-9, 2013 at The Claremont Hotel & Spa in Berkeley, CA.
Direct from the expert on how and why to optimize your content for search:
The Convergence of Content Marketing and SEO
Over 2 billion people on the planet utilize the internet in some way or another. When they are thinking about buying a product or service, they first go online and "Google it." Why do they do this? Because Google provides results within seconds and relevant results at that. In fact, 93% of buyers online or in stores use search engines before they make their final purchasing decision.
Internet use continues to grow exponentially at a sharp curve without a drop-off in sight. This is motivated largely because the Internet has the amazing ability to provide content that is quicker, cheaper, and more culturally relevant.
Out with the Old, In with the New
We all know the internet is chock full of junk, spam, and otherwise shady content. Google, in all its wisdom, aims to provide people with the most high quality and relevant sites when searching for something. This is exactly what was addressed by the "Panda" algorithm updates released just over 2 years ago: Google wiped out all the bad quality websites with poor content that had no realistic value for people who landed on that page. Add another slam to the body of the Internet we came to know, and Google came out with the page layout algorithm, which penalizes sites with poor or little content "above the fold."
Google took another serious step forward towards targeting and degrading web spam with the "Penguin" update. Sites can no longer expect to survive with dismal content, stuffed keywords, or black hat link building techniques. As Google says,
"We've always targeted webspam in our rankings, and this algorithm represents another improvement in our efforts to reduce webspam and promote high quality content. While we can't divulge specific signals because we don't want to give people a way to game our search results and worsen the experience for users, our advice for webmasters is to focus on creating high quality sites that create a good user experience and employ white hat SEO methods instead of engaging in aggressive webspam tactics."
It looks like Panda and Penguin finally got people's attention. In the past year alone, it seems like everyone has converted to a belief in the power of content marketing. We only have one thing to say to Google: THANK YOU!
Teach Me, Entertain Me, Talk to Me
It's really no doubt in our minds: people spend lots of time online and you need to focus your marketing strategies in line with this fact. But, you also need to consider WHY your possible new customers are online. What reason are they searching and browsing? Ruder Finn, a PR firm, conducted an interesting survey that posed the question: Why, exactly, do people go online? They separated their results into the following 7 reasons from most common to the least:
To Learn (self-education, research, to keep informed)
To Have Fun (to pass time, to be entertained, to escape)
To Socialize (to connect, to share, to discuss, to be part of a community)
To Express Yourself (to opine, to entertain others, to emote, to be creative)
To Advocate (to influence others, to activate support, to join a cause)
To Do Business (to work, to manage finances, to sell)
To Shop (to purchase, to compare)
Just by looking at the list above, it's pretty obvious that the top 3 reasons are where you'll make your money when targeting your audience. People are online to learn, have fun, and socialize.
This isn't a list to just say "Hey, that's interesting" and move on, however. Say, for example, you want a person who's online to come and shop on your site. How do you draw them in? Using the list above, you want to connect with them by entertaining them, by creating content that interests them and makes them click further. People want to interact with your content, but if the content doesn't excite or interest them, they will merely move on and continue to find something that does.
If People Don't Find You –They'll Find Your Competitor
What really is SEO? Search Engine Optimization (SEO) is the process of creating web content that is friendly enough for search engines to find. SEO eases and enables a search engine bot that crawls your pages to understand what content is there. By doing so, the search engine algorithms can recognize your site as highly relevant (or not) and rank it accordingly in the results pages.
Now, you may be wondering how search engines reward good, clear, and user-friendly content. It's all about optimization. Optimization needs to be understood by everyone on a team, not just the webmasters. Anyone who creates content should understand some of the more techie stuff so that every piece of content is optimized to the best it can be, rather than just thinking about it after the post goes live.
What we've concluded from all the changes in the past 2-3 years in the world of content marketing is that Google really wants to convince you of one thing: creating great content is the way to go. That being said, SEO is still just as important. You must optimize, optimize, optimize: your content, image tags, videos…everything! Then you need to promote it. Distribute it. Get backlinks to it. Professional SEO's understand this and are implementing these tactics better than anyone out there right now.
About the Author:
Arnie Kuenn is the president of Vertical Measures, a search, social & content marketing agency helping their clients get more traffic, more leads, and more business.  Arnie has held executive positions in the world of new technologies and marketing for more than 20 years. He is a frequent speaker and author of Accelerate! Moving Your Business Forward Through the Convergence of Search, Social & Content Marketing available on Amazon.  You can find Arnie on Twitter, Facebook, Google Plus and LinkedIn.
Debra Garber
VP of Finance & Operations, Chief Content Contributor, and backyard chicken farmer. I happily share my experiences traversing the wilds of social media. Will trade social media tips for fresh organic eggs. Motto: "Live the life you love, love the life you live."