We caught up with Pawan Deshpande, CEO of HiveFire, to discuss content marketing. Pawan is a thought leader in content curation. You can hear Pawan speak on all things content curation at dlvr.it's upcoming Content Marketing Strategies Conference, May 8 -9, 2012.  Content curation is an important step along the content marketing lifecycle: Strategize, Create, Curate, Manage, Distribute and Analyze.
What do you love about Content Marketing?
Pawan: What I love about content marketing is that it really levels the playing field. With other forms of marketing, companies with the most resources and efficient spend come out on top.  With content marketing, however, the company with the best content wins. If you publish the best and most relevant content on a regular basis, your audience will come to you – plain and simple.
What do you dislike about Content Marketing?
Pawan: Content marketing is a lot of work and is easier said than done.  It requires discipline, creativity and an intimate understanding of your audience. All three of these requirements are hard to satisfy.
Looking ahead to 2013, what does Content Marketing look like?
Pawan: Content marketing will continue to grow into a mainstream marketing practice. We are going to see content marketing become the core marketing component of one's business plan. When marketers contemplate their go-to-market launch plans, there will be a strong content marketing component.
Similar to blog networks (for example AOL or GigaOM), where a media entity consolidates a number of other blogs into a suite of properties, we may see the same for content marketing destinations.  The difference here is that marketers will be the ones consolidating these properties together, not media entities.  This will further blur the line between marketers and publishers.
======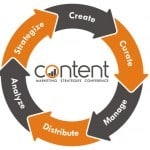 There is still time to register for the Content Marketing Strategies Conference. The conference is the only event to specifically focus on helping companies of any size understand the pivotal role content marketing plays in demand generation, sales, SEO and social. Attendees are guaranteed to walk away with an action plan to kick-start or enhance a content marketing program. The content is structured to walk you through the content lifecycle step-by-step: Strategize, Create, Curate, Manage, Distribute and Analyze.