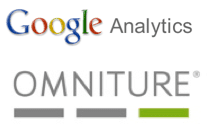 Measure Your Social Media ROI: dlvr.it Integrates Google Analytics and Omniture
Social Media. You know you need to be there. But how do you measure social media ROI? How do you know if it is working?
dlvr.it now makes it easy to integrate Google Analytics and Omniture tracking into your social media posts. This means you can track the results of your social media efforts across multiple social networks from the comfort of your web analytics service.
dlvr.it will customize the URL of each item we post with your custom tracking codes. This will allow your web analytics system to track visits and conversions back to posts made via dlvr.it to specific social networks.
To integrate dlvr.it with Google Analytics, Omniture or another web analytics service:
1) Sign up for dlvr.it and log into your account.

2) Click on Options to add tracking to a Route

3) Click on the Tracking Tab
Any text you place in the tracking code box will be added to the destination (long) url when a user clicks on your shortened link. dlvr.it will automatically add any necessary "?" or "&" at the start of the string.
For instance, if your original link is http://www.my-site.com/social-media-roi , we'll direct traffic to http://www.my-site.com/social-media-roi?your_tracking_tag
Click on the Google Analytics or Omniture options to quickly add tracking tags optimized for those services. You can also use the variable options to customize tracking tags for more precise tracking of traffic sources.
4) Save
5) Log into your web analytics service and track your Social Media ROI
Note:
This feature has been available to dlvr.it users for a while. However, many new dlvr.it users ask about the best way to integrate Google Analytics and Omniture into dlvr.it. We thought a quick blog post on web analytics integration would be a great way to formally introduce this powerful tool.
Charles Smith
Entrepreneur, Technology Enthusiast, Anthropologist / Evolutionary Psychologist.