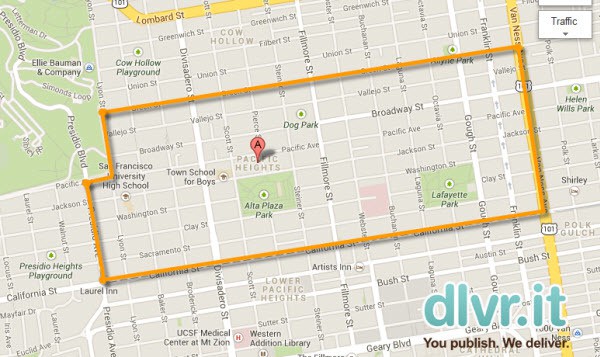 4 Tips That Will Make You the Local Real Estate Marketing Expert
Using social media to position yourself as a friend and expert in a hyper-local geography can go a long way toward a winning real estate marketing strategy.
In a business like real estate that depends on referrals, you can't underestimate how valuable keeping your brand top of mind is with existing customers. During the transaction, you have the attention of both the buyer and seller but what about after the sale? How much time and energy are you devoting to keeping both parties engaged?  Once the paperwork is signed, this should be viewed as the beginning of a long lasting relationship vs. just 'closing' a sale and parting ways.
The tactics outlined below come from observing how our most successful real estate customers are leveraging dlvr.it to scale social media, increase their referral network and attract buyers.
Local Real Estate Marketing Tips
How to Become the Local Expert – Create, Curate and Share Local Content
Are you selling your neighborhood? The community? You are well positioned to become an expert in your niche community.
For real estate agents, building a hyper-local news presence is a great way to provide a public service and connect with their community, said Pat Kitano Founder of The Breaking News Network and local real estate marketing expert.
Share information on the projects local schools are doing, tweet about the new restaurant opening up, and take pictures of the local parade or farmers market. Spread good news stories on how great the neighborhood is and how well you know it. Think of the information potential buyers may want to know about and give a reason for customers to keep following you after the sale. Christine Curran of Curran & Woolsey Real Estate Team added,
We are exploring and analyzing what folks want to see / hear from realtors.  Hot topics are LOCAL market trends (as opposed to national), current mortgage trends, school statistics, community events, and the all important food and restaurant scene.  Quite an array of topics, but all essential.
You will need to spend a little time up front devoted to finding the right content sources. We've include a few below to give you a head start. Once the initial work is done though, dlvr.it kicks in to help you scale.
Step1. Find good local sources of content
News and Information Sources: Patch by AOL, Topix, Google News, The Breaking News Network, Everyblock, your local newspaper.
Bloggers and Social Media Sources: Use Twellowhood to find local bloggers and twitter accounts as a source of news or to follow.
Google Alerts: Create an alert for your city, neighborhood, or zip code
Step 2. Filter and share
Each news source listed above has an RSS feed.  Use dlvr.it to filter the content from the RSS feed to extract the exact content you want to share. You can use dlvr.it to combine one or more sources into a 'route' that you set-up with your social media destinations. When a new story is found from within your source(s), dlvr.it will look to see if it matches your filters.  If it does, dlvr.it will send it to your social media accounts –  Twitter, Facebook, Google+ etc.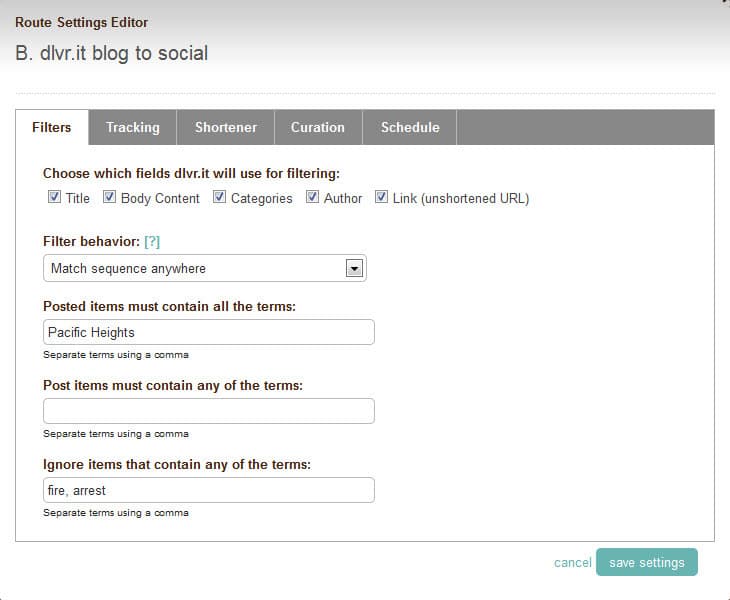 You can also pull content from a Twitter account. This is especially useful if you are using sources from Twellowhood and ItsatWap.
Lastly, you may be more interested in customizing every message you share. If that is the case, use Q by dlvr.it to customize your message and share it at the most optimal time.
Standard social media etiquette and attribution should be followed when sharing third party content.
Step 3. Geotag Each Tweet

dlvr.it passes location info to Twitter when we make a post on your behalf. The added information provides readers valuable location specific context when reading your tweets and allows your content to be found within local conversations.
How to automatically geotag tweets
Step 4. Include Relevant Local Hashtags with Every Update

Hashtags are key words found within the body of text or added to the end of your status update with the '#' symbol before the word. Hashtags are too social as keywords are to search. You can add them to text, video and image updates. Hashtags can be single words (#SanFrancisco) or two or more words (#SanFrancisco_schools).
Hashtags make it easy to group similar conversations across social media.  Your audience uses them to discover local events or national news. Learn more about hashtags
Follow these instructions to automatically add hashtags to your social media updates.
—-
Have a few real estate marketing tactics that have worked for you? Leave them in the comments.