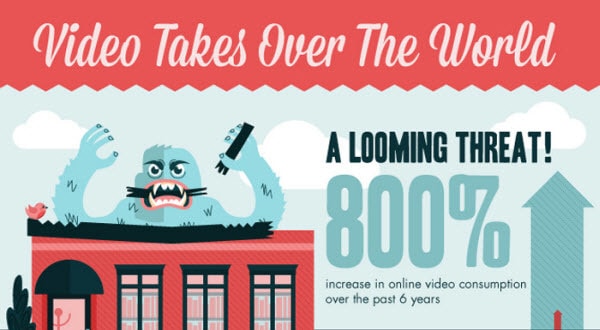 Video takes over the World (Infographic)
Coming soon to a world near you – video!  As scary as that may have sounded in 1980, video in social media is common place today. I admit it. I have watched my fair share of online videos in the past few years from how to tie a tie (husband out of town and son needs to wear a tie to school), to more recently, how to crack crab legs.  Just today, I knowingly clicked on a video advertisement that has already racked up more than 1.9 million views since Friday.  It is increasingly apparent how far video has come to being essential for brands to connect with consumers especially one that includes a compelling story.
Here are some staggering facts:
Frankly, the last statistic is the scariest of all.  The youth today, my children, are leading the revolution.
This fun animated video and following infographic from iStockPhoto.com humorously tells the scary tale of why no one aged 1 to 100 is safe from video. Video's acceleration into world domination has no end in sight.  Check it out!
Debra Garber
VP of Finance & Operations, Chief Content Contributor, and backyard chicken farmer. I happily share my experiences traversing the wilds of social media. Will trade social media tips for fresh organic eggs. Motto: "Live the life you love, love the life you live."