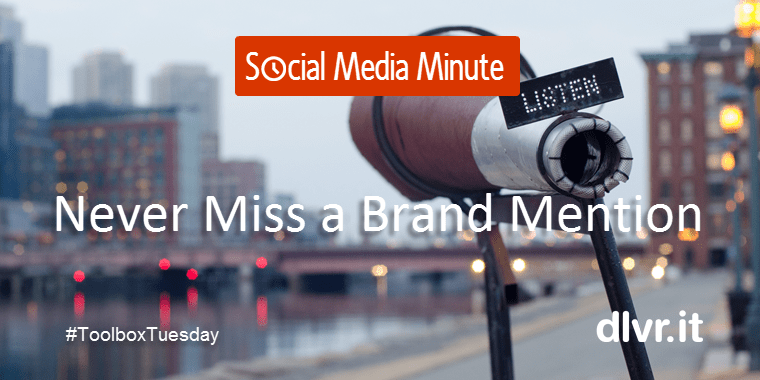 One Minute, One Tool for Real-time Social Media Brand Monitoring
(#ToolboxTuesday) While working in the marketing department of a large logistics company as an intern in the early 90's, I was responsible for brand monitoring and competitive intelligence. Each week on Monday, I received a stack of trade magazines, newspapers and periodicals. I was tasked with flipping through each page diligently looking for competitor's ads, press releases, articles or bylines. At the end of the week, I created a report summarizing my findings. The next week would start all over again with a new stack.
Let me recap. It took one person an entire week to do brand monitoring and competitive intelligence. That's a lifetime today.
The first step in brand monitoring is to make sure you know everything that's being said about you in social media and across the web so you can respond to issues when needed.
One Head, Many Hats
As a small business owner or a one-person marketing department, you likely wear many hats. Social Media monitoring may or may not make it on your to-do list regularly. Taking one full week to do monitoring, like I once did, is not an option. I struggled to find a comprehensive online solution that could combine the different types of monitoring I wanted to do including:
Brand monitoring
Customer feedback
Competitive intelligence
In the social media 24x7x365 connected world we live in today, people are constantly talking and offering their opinion. They are having public conversations that they once only had with friends in person or over the phone. We have more information available to us than ever before. The combination of social media and the advancement in technology is now allowing us to:
Instantly respond to conversations related to our brand
Quickly understand the content competitors are sharing and conversations they are having
Understand the needs of prospects and get 

inspiration for product ideas

Provide instant customer service
However, in order to get a comprehensive view of all the activity occurring in social media and across the web, I was using a number of tools in tandem. It's time consuming to organize and keep up with all the information available.  Social media monitoring was ending up at the bottom of my to-do list.
Affordable Social Media Monitoring Recommendation
I could easily list for you the "Top Ten Tools to do Social Media Monitoring" as there are many good tools on the market. And I feel like I have used more than my share. However, I dislike these long lists, as I don't have the time to test all the good solutions. Toolbox Tuesday is all about recommending time-saving products we have had success with so you can cut through the clutter and learn from our testing.
If you are looking for an affordable comprehensive view of online brand mentions, customer conversations, and intelligence on competitors in one solution, I suggest Mention.com. Mention actively searches the Web and social media sites for key terms of your choosing. You can opt in to receive alerts via mobile, desktop and through their UI.  Key for me is the ability to interact with customers who are having conversations across social media without leaving Mention.com.  The stats provide a snapshot of our activity. This snapshot is handy if your goal is to increase positive brand mentions. The service has saved us a ton of time.
Just to be clear, we are not associated with Mention.com and this is not a paid endorsement. I just like what they have built. It meets our needs.
There are many reviews already on Mention.com.  I don't want to rehash the same information. Let's take a look at what to monitor in Mention.com instead.
Ideas to Monitor in a Mention.com Account
Brand Monitoring
You want to know what is being said about you and your key employees daily. Eighty-three percent of consumers say online reviews influence their perceptions about companies and 80% report that negative online comments changed there purchasing decision (source: eMarketer.com).
In addition to monitoring your company name and URL, consider tracking:
Related terms in your industry or specific business. You will gain insight into where the market is headed or better yet, find a prospect looking for what you sell.
Names of your key employees. Reward those who are making an impact.
Negative terms, for example "Company Sucks." Respond as soon as possible so others can see you are listening and quick to resolve the issue.
Mentions of your industry and words like "recommend," "recommendation," and "advice."
Customer Service
Social media is about relationships. Social sites are public forums and the new telephone. People turn to Twitter for example expecting you to be listening and responding quickly to support questions – 42% of people expect a response within 60 minutes.
In my opinion, of the three things to monitor in social media, customer service monitoring is the only type of monitoring that should be done in 'near' real-time.
A few lessons learned:
Set up keyword streams for phrases including your brand name plus words like "help," "support," and "customer service".
Listen for new ways customers are using your product or service.
Remember your manners. Say thanks for Retweets, positive mentions and feedback.
Follow your customers on social media sites.
Competitive Intelligence
Generally speaking, when it comes to competitive Social Media monitoring, refrain from jumping into the conversation. Take an active listening role with the purpose of gaining valuable insight – not to bad-mouth the competition or promote your brand.
Track your competitor's brand name, URL and Twitter handle.
Add competitor brand name plus negative key terms. For example  "Competitor A + Sucks."
Kill them with kindness. Help your competitor's customers. Genuinely respond with a thoughtful solution to their question.
Final thoughts
Efficient listening requires efficient filtering
Active listening results in active customers
Conquer competitors with compassion
Now it's your turn. Sign-up for Mention.com to start monitoring your brand and respond to customers today. It only takes seconds to get started.
Feature Photo by Tim Pierce