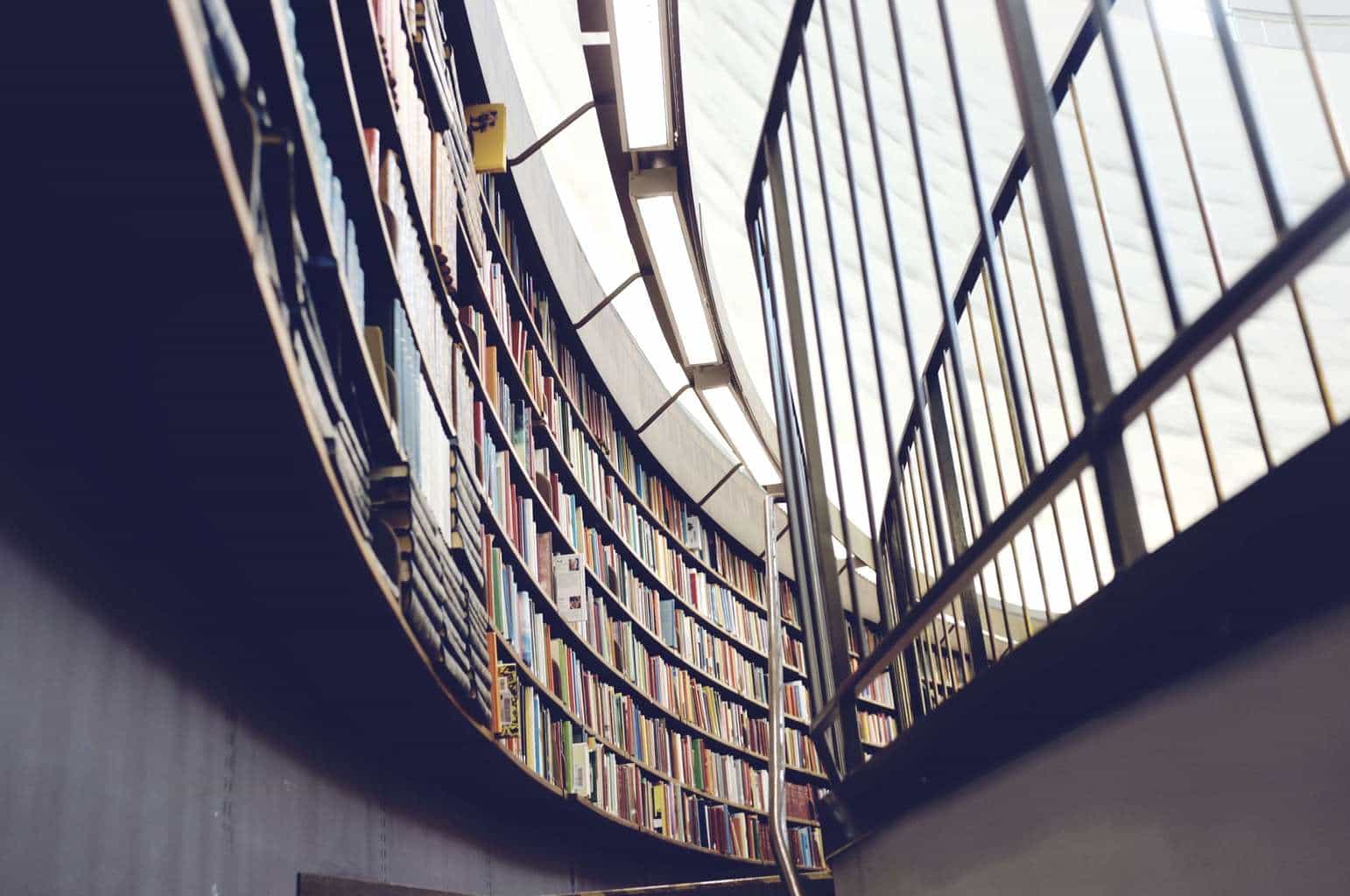 Quick and Simple Content Curation Strategy: 3 Easy Solutions
What comprises a great content curation strategy?
Implementing an effective content curation strategy does not have to take a lot of time. It can be the easiest and least time-consuming way to keep your social media presence from becoming stale.
Keep in mind that the benefit of providing a consistent flow of content is to keep your customers, fans and followers engaged. However, you must decide how much time and energy you wish to invest when deciding when and how often you will update and provide fresh content.
Here are three simple content curation strategies that you can start implementing today (ranked from easiest to easy):
Curation Strategy #1 (Easiest): Email list of blog posts
This strategy is a simple way to use your email subscriber list and draw your readers back to your blog or website. This can be done a number of different ways. Here are two easy and easier examples:
1. Send a weekly email with links to your most recent blog posts.
Here's an example of a daily email sent from dlvr.it via MailChimp recapping the following blog activity:
Highlight of the most recent blog post with a "Read the Full Post" call to action (See A below)
Links to the 5 most "Recent Posts" (See B below)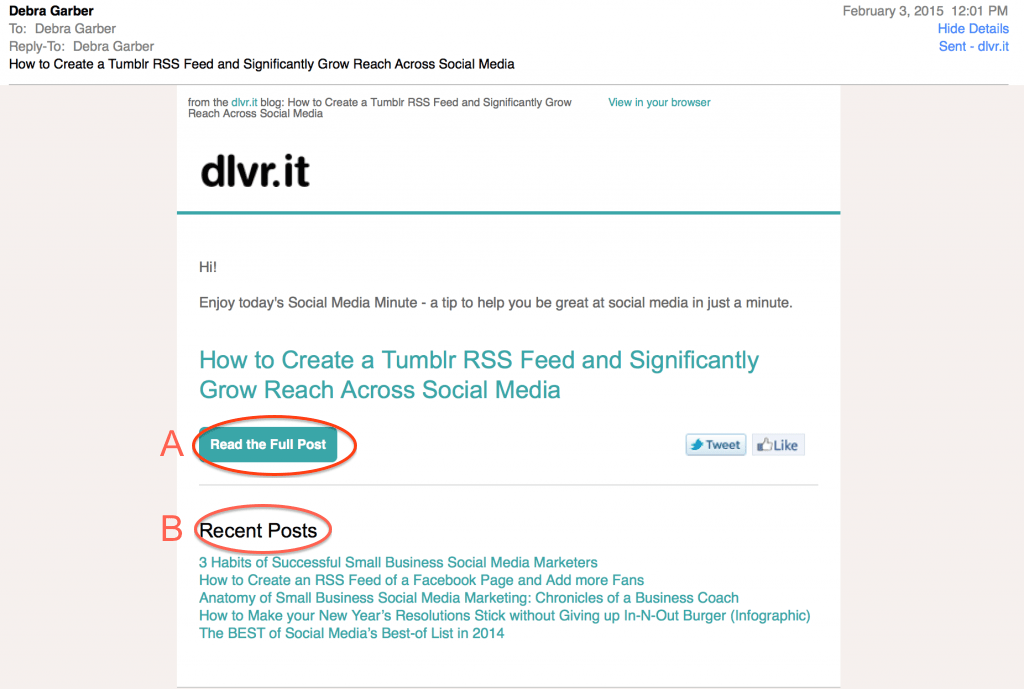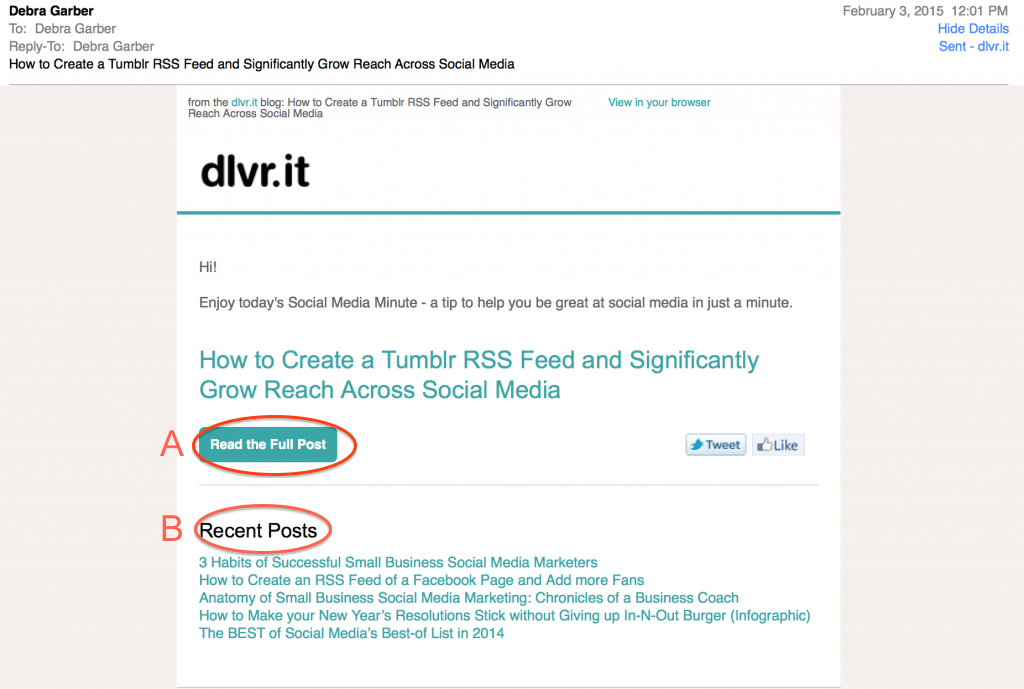 2. Send a weekly email with links to your top 5 blog posts. These could be your top all-time, yearly, monthly or weekly posts. You can also send a bi-monthly or monthly email instead of a weekly depending upon the nature of your audience and what engagement frequency will be most effective.
To determine you top blog posts: Review your analytics to see which posts have had the most visitors or the longest time on page.
Here's an example of a weekly email (sent on Saturday's) from MediaPost Weekend where the editors select the best stories of the week and highlight by category:
This week's most read stories
This week's most read blogs
This week's most commented on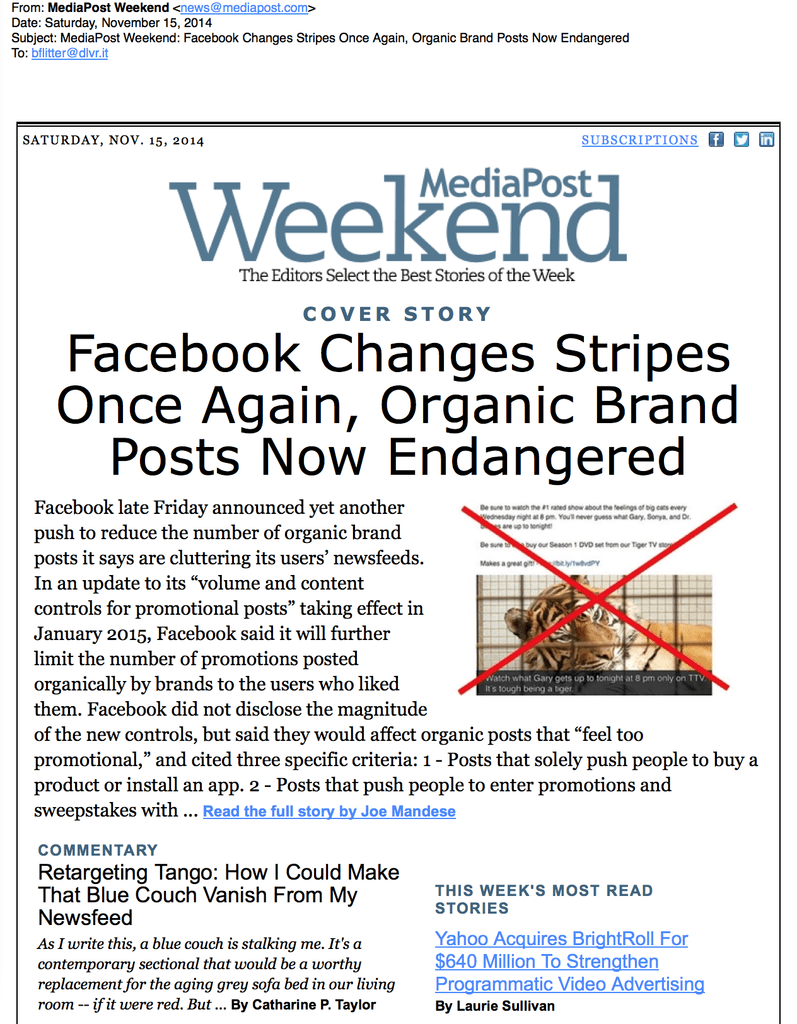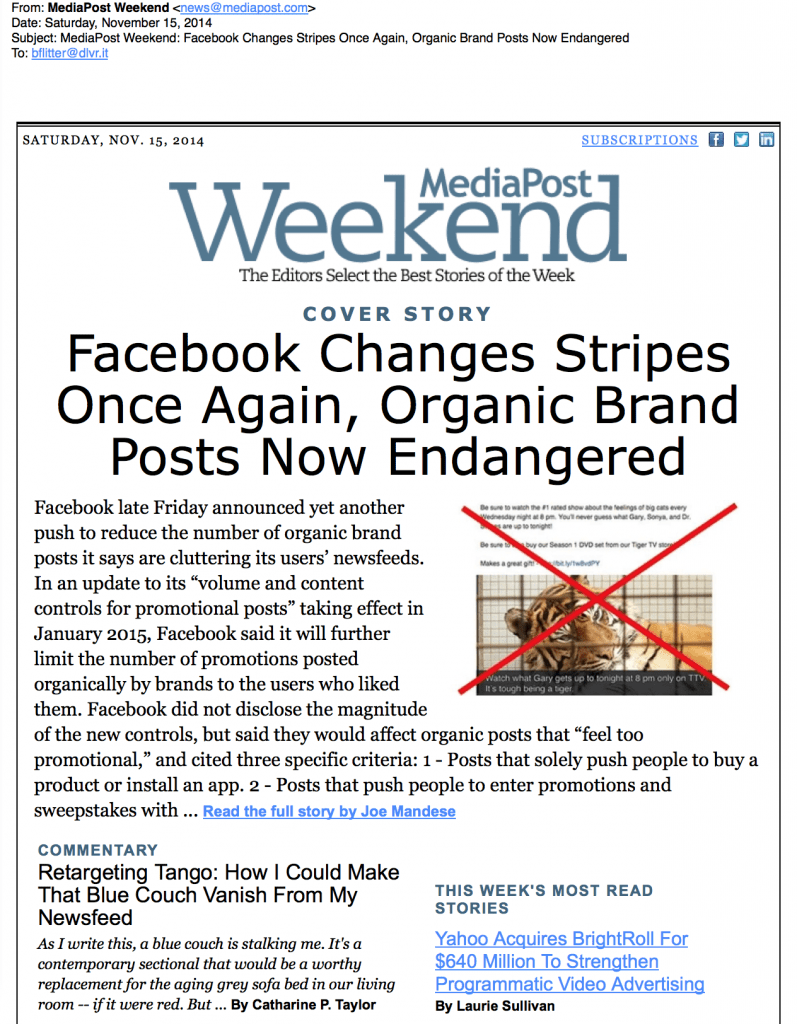 Curation Strategy #2 (Easier): Email list of a roundup of blog posts
What does it look like: A collection of 4-5 business or industry specific relevant articles that you think your audience might enjoy.
When done right, it can look something like this:
Taken from Facebook marketing expert Mari Smith's blog, here is a great example of curating a selection of top social media posts of the week: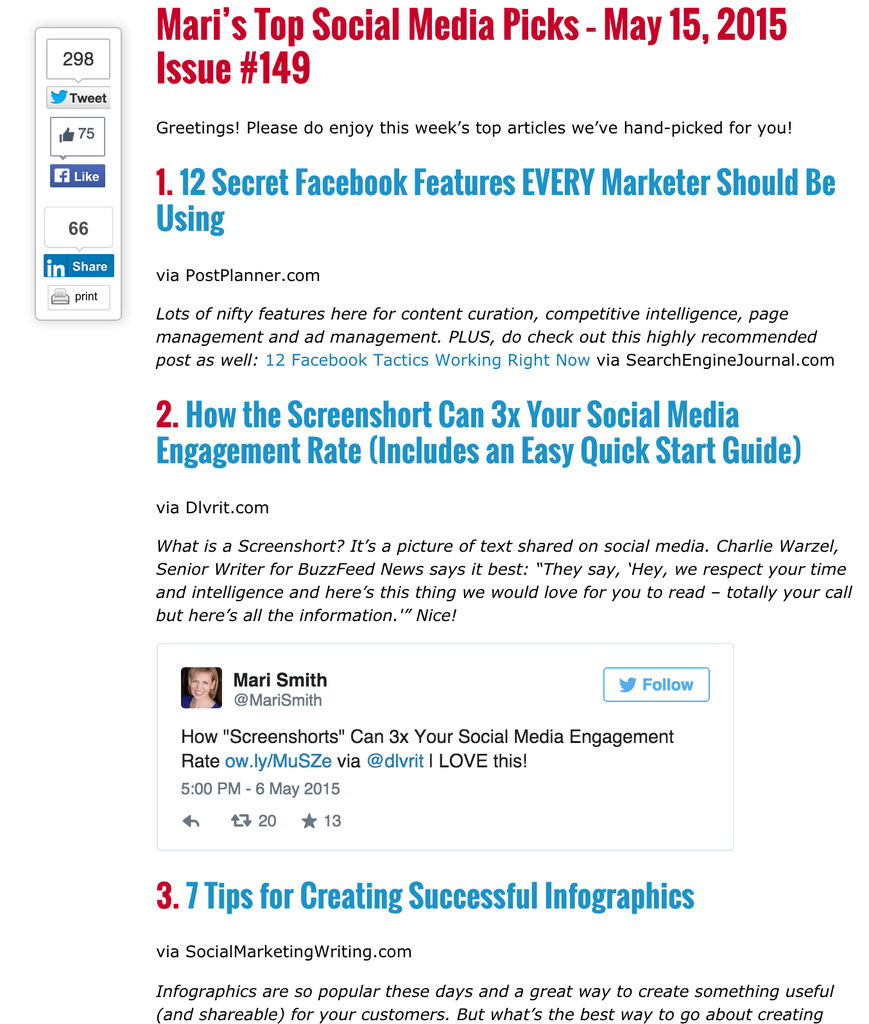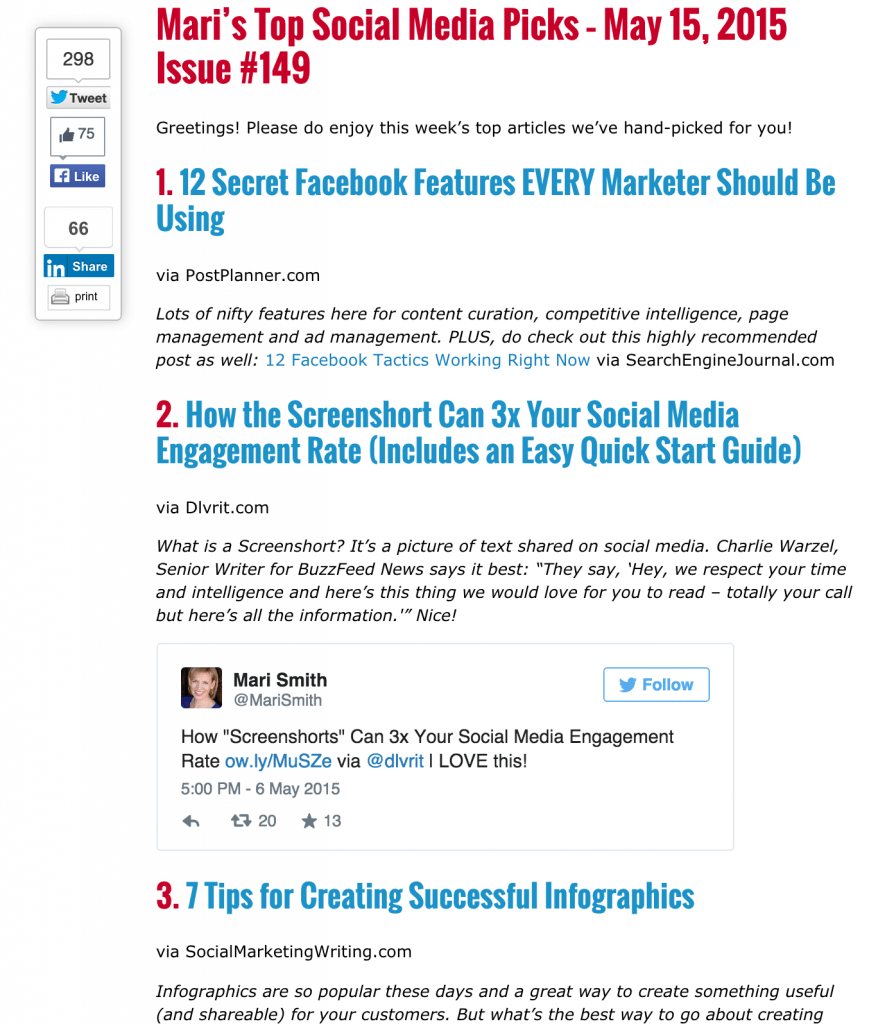 Curation strategy #3 (Easy): Share original blog posts
What does it look like: Share an interesting, timely and/or thought-provoking article with your audience.
Find an interesting article
Select a paragraph of interesting content
Link the title of the article
Add a few thoughts about why you found the post helpful
Pawan Deshpande of Curata suggests adding a human element instead of just summarizing or regurgitating content from other sources by explaining:
Why it matters
How it impacts readers
What may happen in the future
If you missed our previous posts on content curation, you can follow the series here:
5 Benefits of Content Curation (Part 1). Read.
Content Curation: A Curated Definition from the Experts (Part 2). Read.
Next up: Where can you discover great content (Curation – Part 3)
___
Have any great tips and tools to share on content curation?
We would love to hear from you.
Debra Garber
VP of Finance & Operations, Chief Content Contributor, and backyard chicken farmer. I happily share my experiences traversing the wilds of social media. Will trade social media tips for fresh organic eggs. Motto: "Live the life you love, love the life you live."