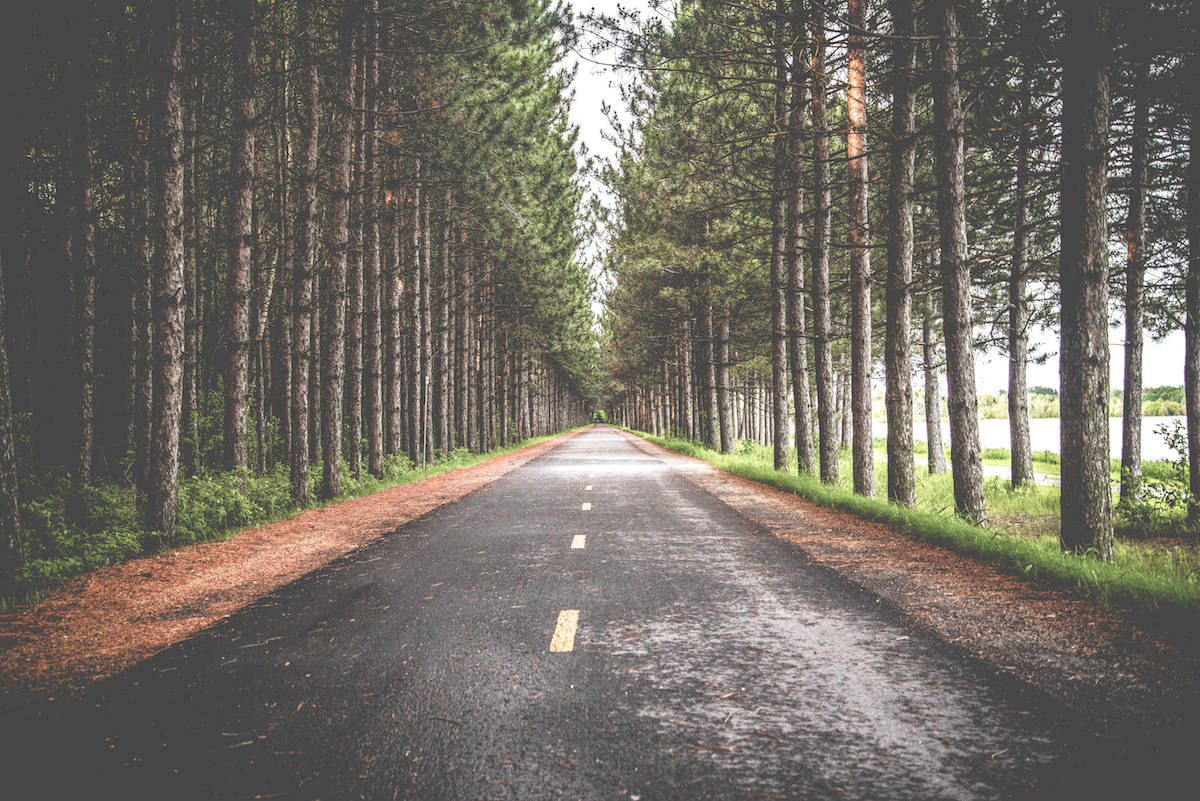 How to Choose the Best Social Media Platforms for your Business
Learn how to pick the right social media platforms for your business goals. Follow the guide below to choosing the best platforms for your business, and how to make the most out of them.
___
With limited time and resources, which social media platforms should you use for your business? That's the million dollar question!
Should you go the popular millennial route – YouTube, Instagram or Vine? Or the potential sure thing – Twitter and Facebook. How about trusting Google+ and LinkedIn to drive customers to your business?
There are so many great social channels to choose from, but which social media platforms are best suited for your business? In an ideal world, you would use them all. However, as a small business, you don't have enough time. Based on real data, Quick Sprout created an infographic (attached in pieces below) that explains what social sites you should be leveraging.
First, a few tips from Yahoo Small Business about the importance of taking the time up front to evaluate, research and plan, which social networks work best for your business.
Tip #1: Look into the different social media platforms and determine which will work best for your business. Consider the following important factors with each:
The product or service you are offering
The available human and financial resources at your disposal.
Social media may be free, but think about the value of your time!
Tip #2: Don't sign up for EVERY social media channel because they are the new or popular kid on the block. Determine which is MOST relevant to your business.
Be excellent with one or two channels than mediocre at five or six.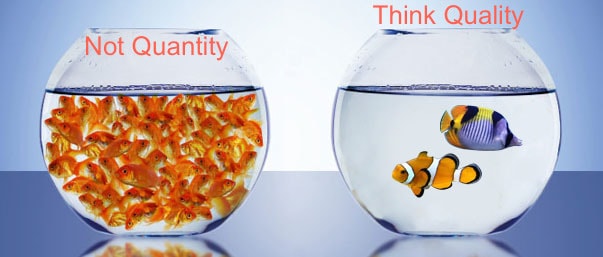 Tip #3: Before deciding which social media platforms to be active on, work out a clear and implementable plan. Many people lose their business focus while becoming social. It has a negative effective on the business due to the time lost trying to come to terms with social media.
A plan really helps you to stay focused.
Tip #4: Don't get frustrated. Stick with it. Social media takes time and an investment of your time over a sustained period to achieve results.
The deeper dive…
Which Social Media Platforms Are Best for Your Business?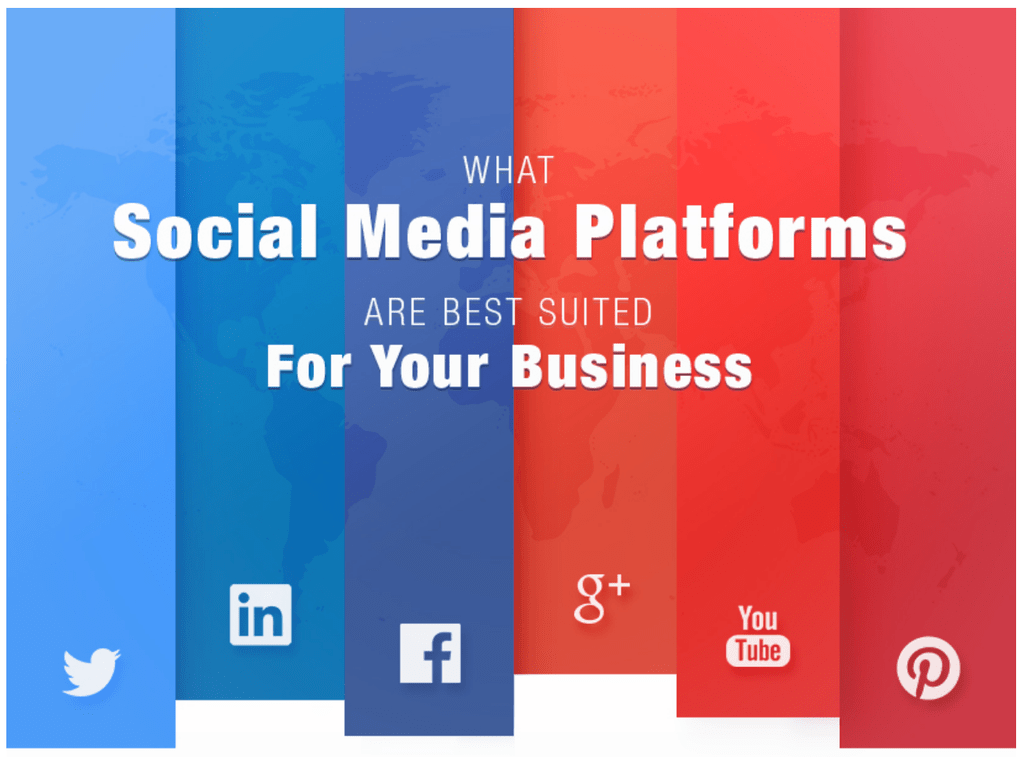 Twitter
Twitter is full of people with things to say, and you can listen!
Estimated active users: 315 Million (last updated 7/28/15)
Who should use it: Everyone! From local stores to large corporations, and from brick-and-mortar to internet-based or service sector businesses.
In particular:
B2B businesses: 85% of marketers use Twitter
Publications: 53% of businesses in the Information and Communications sector reported the highest rate of blogs and microblogs usage.
The main reason to use Twitter: Connect with your customers because they are using Twitter.
What to share: Start, join, and lead conversations; interact directly with brands and customers.
Pro-tip: If you have an unsatisfied customer you will hear them on Twitter, and this is your chance to excel at customer service. Twitter is the dominant democracy of the social-sharing economy. Relevancy, personality, and brevity are the keys to making your voice heard.
Interesting Twitter stats:
U.S. businesses that use Twitter: 12%
People who follow SMBs on Twitter to get product updates: 74%
Charities and Non-profits that use Twitter: 86%
Fortune 500 companies that have a Twitter account (2013 data): 75%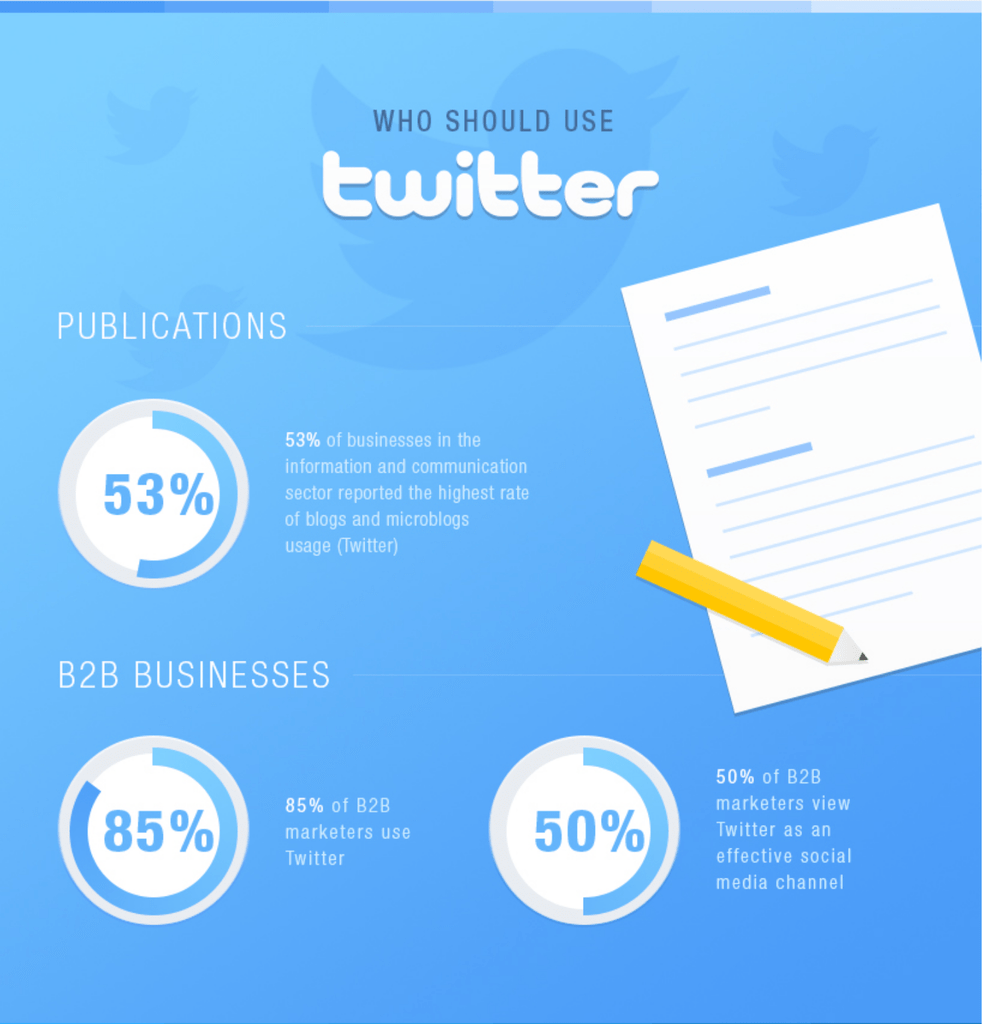 LinkedIn
LinkedIn is the online analog to old fashioned networking. People – and connections to people – are everything.
Estimated active users: 380 Million (last updated 7/30/15)
Who should use it: Businesses (especially B2B service providers), Recruiters and Job-Seekers
What to share: Job-postings, company descriptions, employer/employee research
Pro-tip: Keep a company description and profile page mindful of keyword SEO, but your network of employees and contacts is your most valuable (and potentially damaging) content on LinkedIn. Make sure people in your organization are appropriate, professional and on-brand. There's nowhere online where employers and employees are more intimately linked.
Interesting LinkedIn stats:
Number of new LinkedIn members per second: 2
Geographical reach of LinkedIn: 200 countries and territories
Increase in likelihood that your LinkedIn profile will get viewed if you include a photo: 11X
Hottest skill on LinkedIn in 2014 that got people hired: Statistical Analysis and Data Mining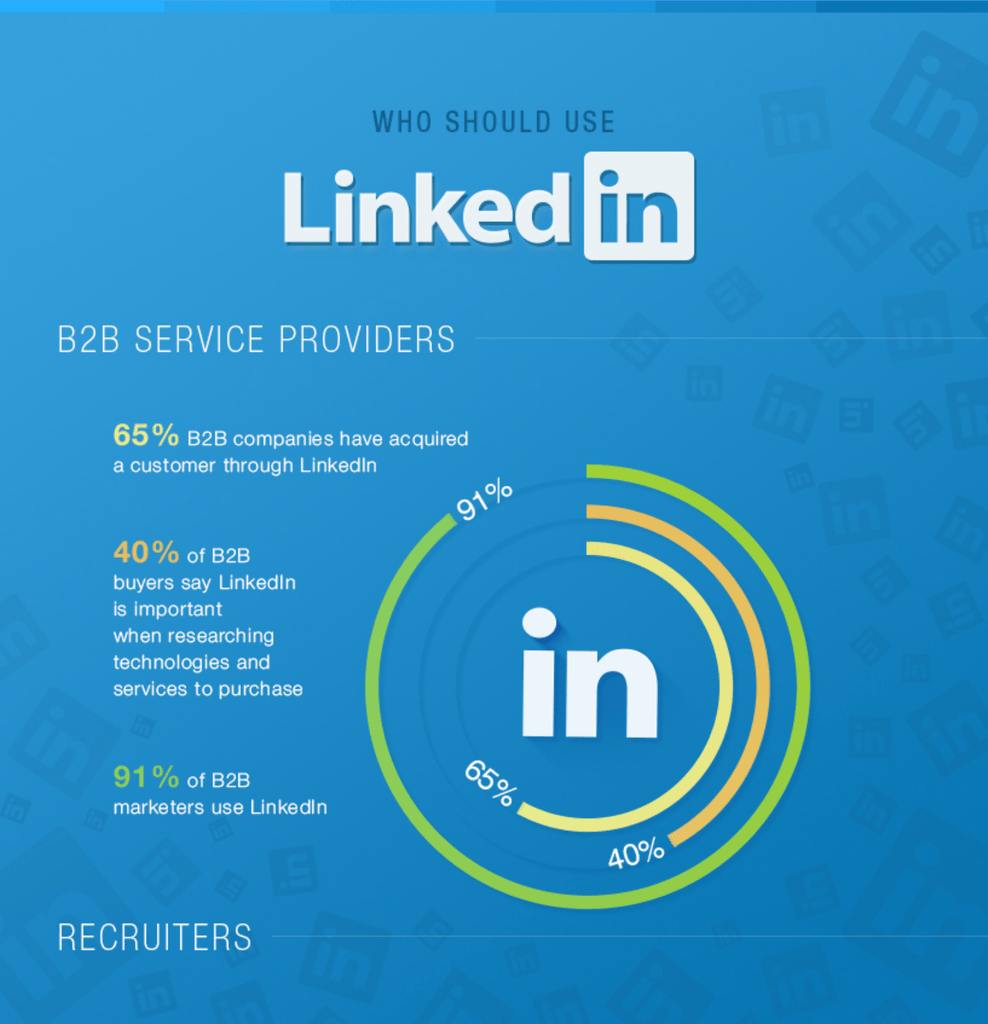 Facebook
Think of Facebook as the "social" home for your business on the Internet.
Estimated active users: 1.49 Billion (last updated 7/28/15)
Who should use it: Everyone and their grandmas (literally).
In particular:
Companies with visually driven products: Photos account for 93% of the most engaging posts on Facebook
B2C Products and Software: 42% of Facebook fans like a page to get a discount or coupon
What to share: All types of online content, events, ads
Pro-tip: With so many TARGETED potential customers, creating a business page is a must. Remember that it needs to be updated on a daily basis with not only promotional information but engaging and interesting content as well. Consider advertising or paying to promote your page on Facebook, but don't make your brand's Facebook page itself look like an advertisement.
Remember: Use Facebook to inspire conversations and shares and be sure to ask questions and format your Facebook Cover Photo for mobile and desktop viewing.
Interesting Facebook stats:
Percentage of online adults that visit Facebook at least once a month: 72%
The country with the most active Facebook users: Canada
Average number of Facebook friends for U.S. females: 250
Percentage of all U.S. senior citizens that use Facebook: 31%
Time spent on Facebook per user per day: 20+ minutes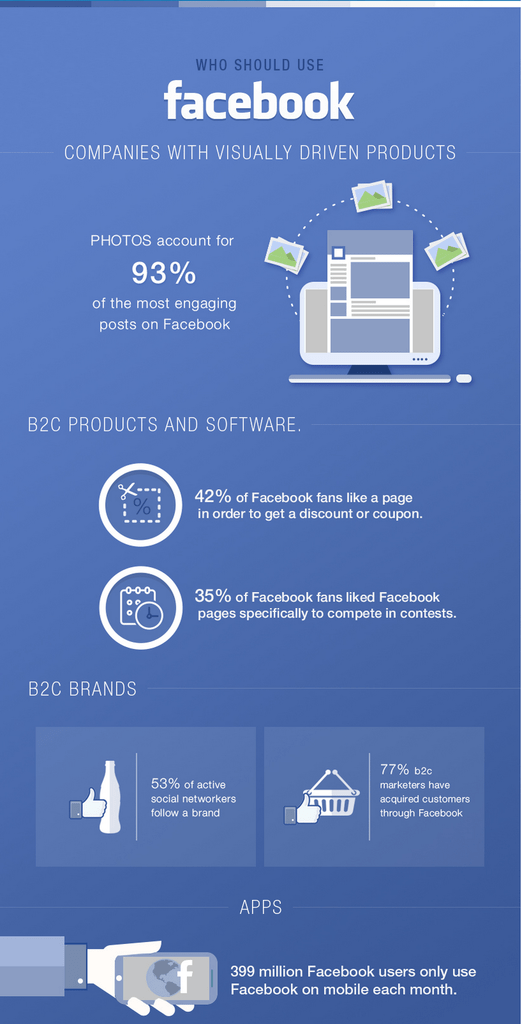 Google+
Google+ is Google, which means great search engine results for your business!
Estimated active users: 300 Million (last updated 1/26/13) – subject to debate
Who should use it: Brands already on the other major social networks, B2B networking, bloggers.
In particular,
Any brand where SEO is a crucial part of customer acquisition
Brands that target male professionals: 68% of Google+ users are male
What to share: More formal and professional than Facebook; Hashtags have major search value.
Remember: Google+ is Google, which means desirable search engine results for your business! If you have a Google+ Page and someone searches for your business (despite if they follow you or not), your Google+ Page and its most recent posts will be displayed on the right side of their personal search results. These search ranking benefits make Google+ an important social media site to consider for your business.
Interesting Google+ stats:
Percentage of U.S. small businesses that use Google+: 13% (Spring 2015)
Google+'s reach of the total U.S. digital population: 38%
Average time spent on Google+ per month: 7 minutes
Average duration of a Google+ visit: 3:46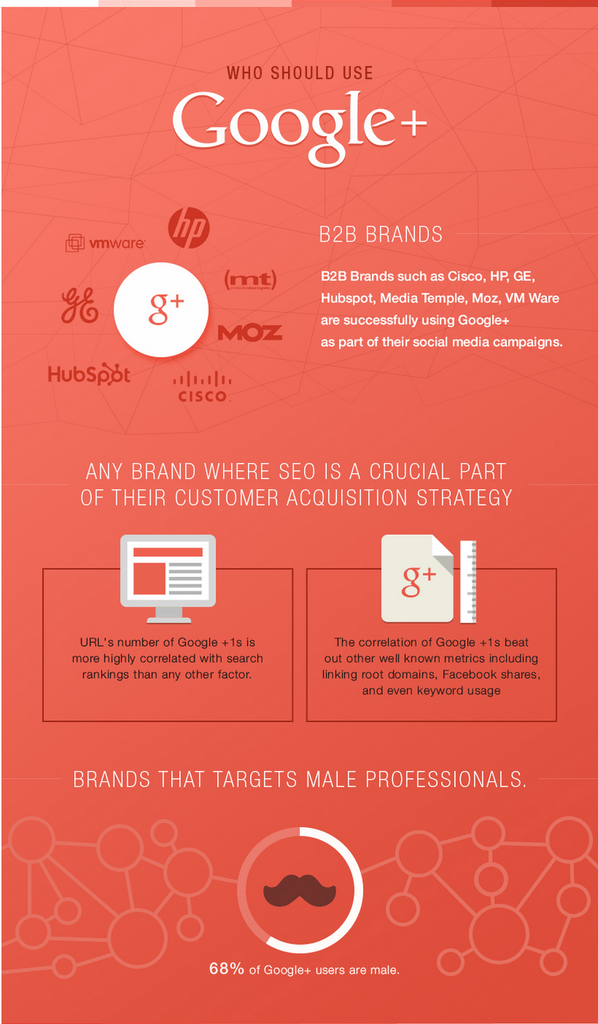 YouTube
YouTube is owned by Google! When it comes to boosting your SEO (Search Engine Optimization) ranking, videos are over 50 times more likely to appear on the first page of search results
Estimated active users: 1 Billion, 4 Billion views per day (last updated 3/20/13)
Who should use it: Brands with video content and ads. Also, anyone giving explanations or sharing expertise.
In particular,
Visually driven brands: 50% of consumers say that watching product videos males them more confident in online purchase decisions
Media and TV Shows
What to share: Short (less than 1.5 minutes) video content
Keep in mind: The YouTube market is competitive. It's a social media platform to choose if you have value videos that invite engagement, sharing and that users will enjoy. If your business can visually show how their services, products, and employees are different from all the rest out there, this social media platform is a winner.
Note the costs and human resources involved in producing useful and valuable videos before signing your business up.
Interesting YouTube stats:
Hours of video watched on YouTube per month: 6 Billion (April 2014)
Estimated amount of new videos uploaded to YouTube every minute: 300-hours per minute
Average time spent on YouTube per mobile session: 40 minutes
U.S. Internet users, aged 14-17 (teens) that use YouTube: 81.9% (October 2014)
Millennials in the U.S. that use YouTube: 72%
Most searched topic on YouTube for 2014: Music
Second most searched topic on YouTube in 2014: Minecraft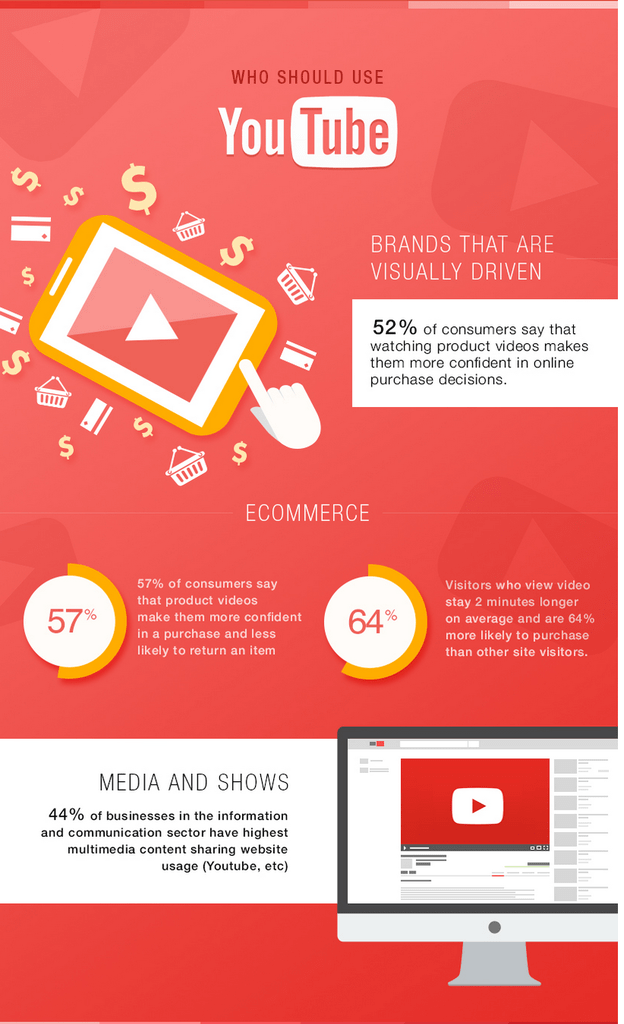 Pinterest
Businesses that produce quality visual content on Pinterest have a distinct advantage.
Estimated active users: 72.8 Million (last updated 4/1/15)
Who should use it: Fashion, food, design, travel and anything DIY. In particular,
Businesses whose target audience is Mom's: 61% of Mom's are more likely to visit Pinterest than the average American
Ideal business: If your business is image heavy – say, a photography studio, retail shop or an e-commerce site – then Pinterest for business makes sense.
What to share: Creative, visual content
Pro-tip: Pinterest differs from other popular search engines in heavily favoring recent content. Pinning and re-pinning frequently are necessary to appear within current results for a given search term, regardless of how popular your content is.
Remember: The majority of users on Pinterest are women (80%) between the ages of 25-45. Is this the right target audience for your business?
Interesting Pinterest stats: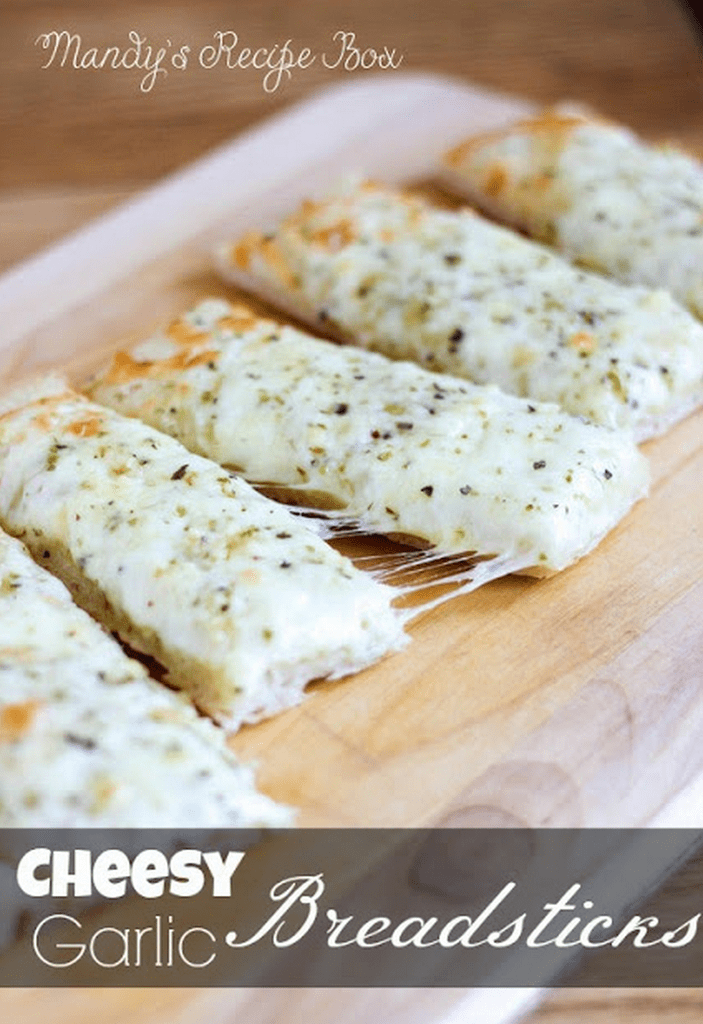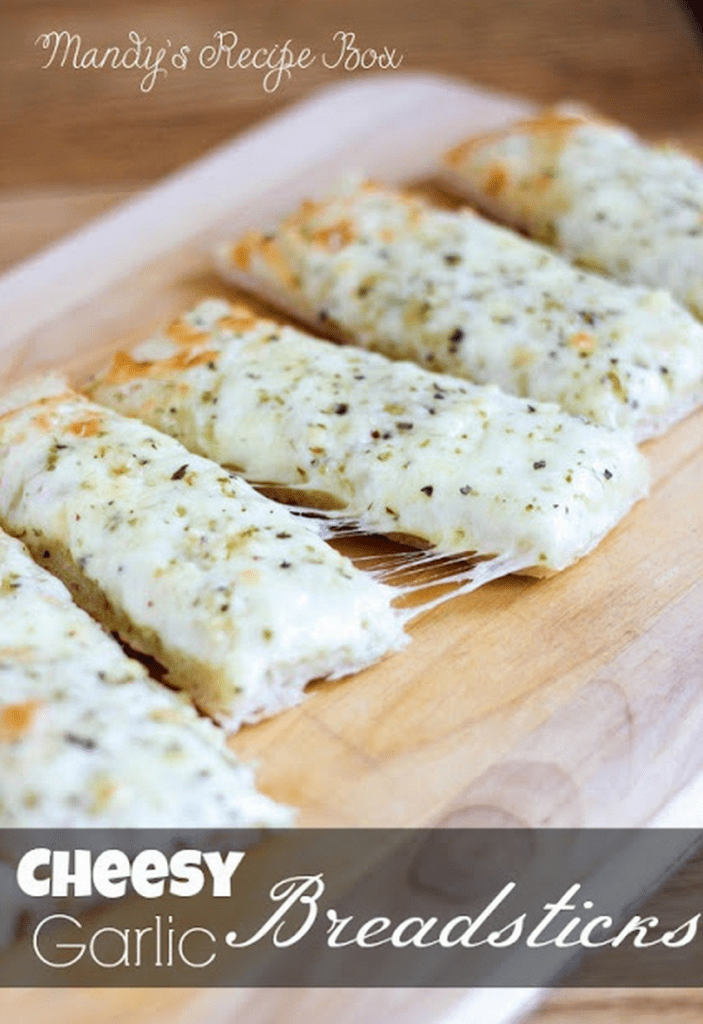 Percentage of online adult men that use Pinterest: 13%
Percentage of total Pinterest users that are female: 85%
Top reason U.S. Internet-using millennials follow a brand or company on Pinterest: Share their interests/lifestyles with others
Most engaged retail brand on Pinterest: Nordstrom (November 2014)
Percentage of users discussing food-related content: 57%
Most repinned Pinterest Pin: Garlic Cheesy Breadsticks

Infographic Credit: Sprout Social's post on Which Social Media Platforms Are Best Suited for Your Business?
Data and facts: Digital Marketing Stats, TNW News, and Yahoo! Small Business Advisor.
Remember:
Being on too many social media platforms can affect your productivity and your results.
Knowing which platforms to focus on can help your business.
___
Now it's your turn…
Did any of the stats surprise you?
What social media platforms are best suited for your business?
Did you learn something that changed your mind on which platform to spend your time on?
Do you like cheesy garlic breadsticks?
We're listening. Share and comment!
Debra Garber
VP of Finance & Operations, Chief Content Contributor, and backyard chicken farmer. I happily share my experiences traversing the wilds of social media. Will trade social media tips for fresh organic eggs. Motto: "Live the life you love, love the life you live."