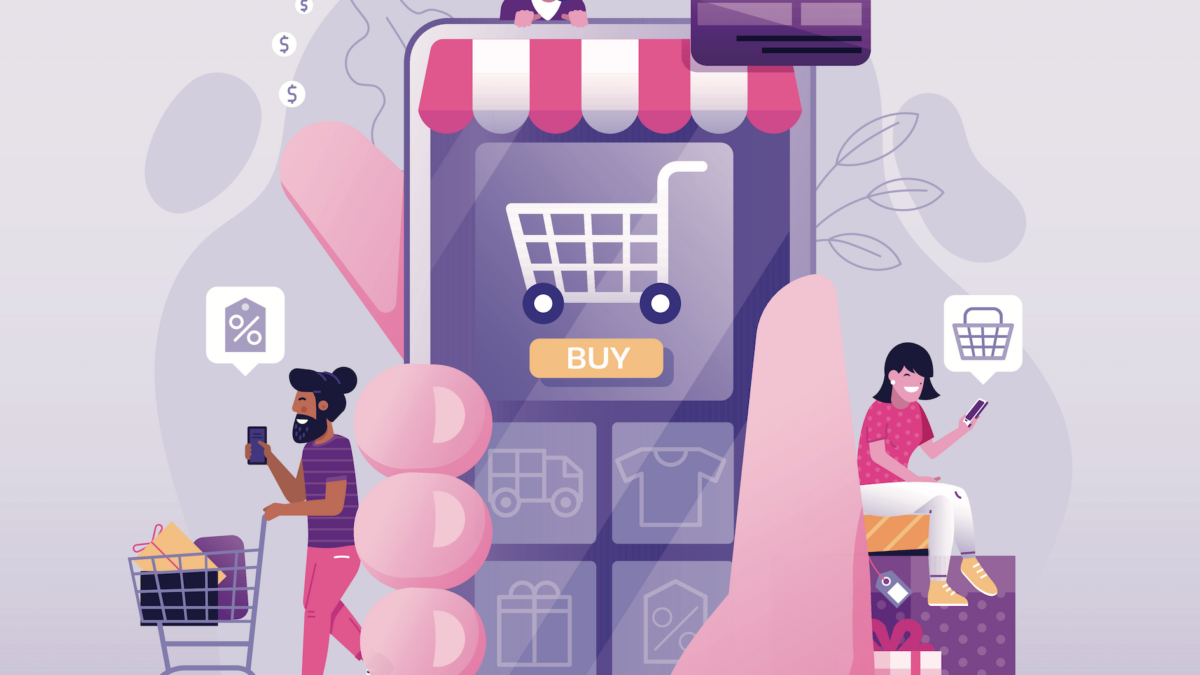 How to Best Capitalize on Shopping Frenzy Using Your Brand Advocates
By turning your brand advocates into Tweeting elves this holiday season, your business can amplify your holiday campaigns, reach new audiences, and increase social engagement during the merriest time of the year.
It's not a coincidence that this week's Social Media Minute lines up perfectly with this week's headline news:
Black Friday Predictions:
Nearly Half of Holiday Shopping Will Be Done Online
___
Read more on Black Friday marketing: Ultimate List of 100 Powerful Black Friday Marketing Ideas That Will Make You a Star
According to the National Retail Federation's Holiday Consumer Spending Survey, over half of our holiday shopping, from Black Friday to the end of the season, will be completed online – more than ever before!
If it wasn't official last year, it will be this year – holiday shoppers are eager to shop online for their gifts and other needs. According to the survey, 56 percent plan to shop online, up from 51.5 percent last year and the most in the survey's 13-year history. 
Here's the second headline of the week:
Twitter Buzz – Linked to Holiday Sales
Every year, holiday shopping conversation on Twitter peaks on key days like Black Friday. Why does this matter? Data from Crimson Hexagon and The NPD Group indicates that conversation volume on Twitter is strongly correlated with sales.
Twitter this week released a study touting its ability to influence online purchase decisions. According to the study conducted for Twitter by DB5 Research:
52% of users learned about a product on Twitter they later purchased
54% of users check Twitter while shopping in a retail store
39% of users say Twitter is the source of their new holiday shopping list
More than half of those surveyed said they used Twitter regularly and the survey found that "Twitter users start holiday shopping earlier, spend more and are more prone to impulse purchases."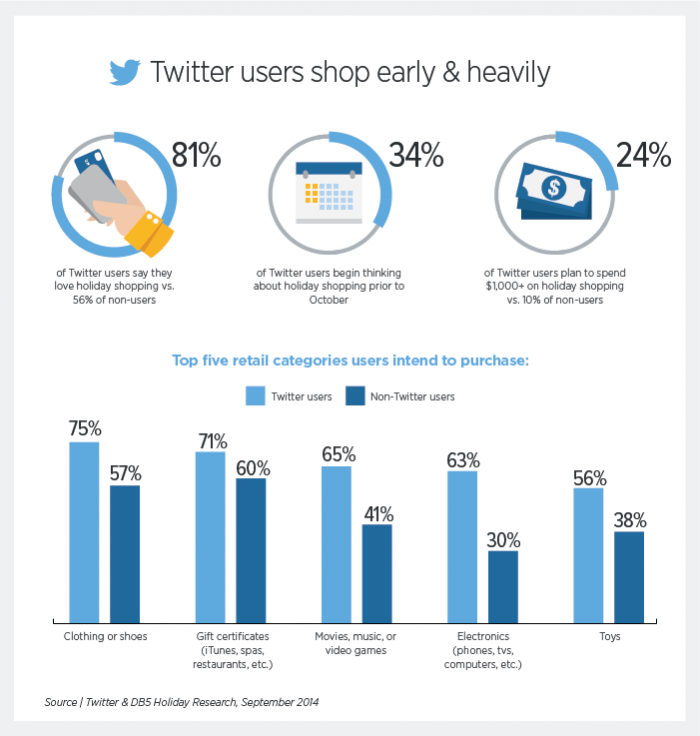 How can your business capitalize on this shopping frenzy using Twitter Influencers?
This can be accomplished using a three-fold strategy:
Use your brand advocates
Fire up Twitter
Combine #1 and #2 and turn your brand advocates into Tweeting elves
Strategy 1: Enlist your brand advocates.
How can you easily identify your advocates?
Ask your customers the Ultimate Loyalty Question:
On a scale of 0-10, how likely are you to recommend our company or product to your friends?
Customers who respond with a 9 or 10 can be considered Advocates.
My husband is an excellent example of a brand advocate for American Giant. I'm positive he would quickly respond to the loyalty question with a 10. He has been an advocate of American Giant t-shirts and sweatshirts since day one – touting their superb quality, comfort, and perfect fit even after years of numerous washings. He jumps on notifications of upcoming sales and coupons, corresponds with customer service and talks up his happiness with the product via pictures on Facebook (he's not on Twitter – yet).
So, how can your business use a customer's love for your product to boost holiday sales?
SocialChorus has a great solution; turn your advocates into elves. By turning your brand advocates into elves, you can use them to amplify your holiday campaigns, reach new audiences, and increase social engagement during the holiday season.
Here are few tips from the post:
Provide advocates with first access to special holiday campaigns and promotions. Advocates are motivated to share things that make them look cool or help them help their family, friends, and followers. Let your advocate's exclusive first access, whether it's part of a Cyber Monday promotion or a new t-shirt release for the holidays, drive them to share with their followers.
Give advocates creative freedom when it comes to content creation. Allow advocates the creative freedom to create and share content that tells their story. Encourage them to Tweet a picture of their Black Friday experience or share their holiday gift wish list.
Thank advocates – to keep them engaged and continuing to share. Thanking and recognizing advocates is an excellent way to motivate them to continue sharing.
Strategy 2: Launch a strong Twitter strategy early in the season.
According to the recent Twitter study mentioned above, 54% of users are motivated to make a purchase after looking at promotions. So for businesses looking to capitalize on this holiday season's sales potential, now would be the time to start developing a Twitter campaign to get new customers on board.
Tip #1: When creating your campaigns, keep in mind that (1) great prices and (2) positive reviews are what users say most influences their likelihood to purchase. Don't forget to make your landing page mobile-friendly. Seven out of ten Twitter users use mobile to purchase gifts online.
Tip #2: Encourage conversation about your brand on those days when shopping is predominately on their mind, such as Black Friday and Cyber Monday. You might also try a limited time offer. According to research, most Twitter users plan to take advantage of limited time offers they see this season.
Tip #3: Once you've launched your campaign, monitor results daily to determine which ad content, format and targeting work best, and optimize accordingly. Then scale your efforts by encouraging users to Tweet about the gifts they're buying or have received. Users repeatedly state that these recommendations from family and friends matter when considering a purchase.
Strategy 3: Combine your brand advocates strategy and your holiday Twitter strategy to turn your brand advocates into Tweeting elves.
Encourage these elves to Tweet stories about their experience with your company or products.
Brand advocates feed on engagement from your brand. Here's what you can do to encourage and retain your brand advocates:
Offer exclusive previews of products to make them feel 'in the know' and 'first to try'
Make it easy to share content through your chosen platforms
Provide customer service through social channels and forums
Recognize and give responsibility and/or accolades to your most trusted advocates
Here's what you're looking to achieve in return:
Positive reviews which increase ratings and give your SEO a boost
Real customer stories and experiences which boost your brand's reputation
Tweets that drive word of mouth
Increased engagement with photos and videos
___
Now it's your turn. Combine the power of Twitter and your brand advocates this holiday season and watch your sales grow.
Debra Garber
VP of Finance & Operations, Chief Content Contributor, and backyard chicken farmer. I happily share my experiences traversing the wilds of social media. Will trade social media tips for fresh organic eggs. Motto: "Live the life you love, love the life you live."