What do you love about Content Marketing? Jennifer Lashua from Intel responds…
Third up in our ongoing series on what the experts love about content marketing, we caught up with Jennifer Lashua, Global Social Media Strategist at Intel's Social Media Center of Excellence, to discuss content marketing. With professionals like Jennifer managing global consumer social media campaigns, it is not surprising that Intel is ahead of the curve in social media. You can hear Jennifer discuss Intel's approach to content sourcing, development, publication, and syndication across each social network, with a focus on the unique needs and interests of each audience at dlvr.it's upcoming Content Marketing Strategies Conference, May 8-9, 2012.  Content management is a key element along the content marketing lifecycle: Strategize, Create, Curate, Manage, Distribute and Analyze.
What do you love about Content Marketing?
Jennifer: I love the real-time nature and immediate feedback of content marketing.  I love posting a piece of content, then watching the likes, plus-ones, views, and retweets tally up.  It's so rewarding to be able to see real-time feedback from our fans – we know immediately whether we've made a mistake, posted a 'dud' or hit the nail on the head!  I also like engaging in the full cycle of content creation, publication, syndication, and analysis – all of which we can do in a matter of minutes – and then feed back into the process to either tweak and adjust or start something new depending on what's resonating well.
What do you dislike about Content Marketing?
Jennifer: One of the most challenging parts of content marketing is that it's truly an art.  It's difficult to articulate to teams who are creating content for me specifically what will work.  While we can use some metrics & analysis to help understand trends and fan preferences, there's no real recipe to creating good content.  It has to be engaging, entertaining, and useful – but coming up with the right balance, while also integrating the Intel brand or message, is tricky.  Pieces of content that resonate with one person may not resonate with another, so we're constantly testing, learning, and refining.
 Looking ahead to 2013, what does Content Marketing look like?
Jennifer: I think content marketing is becoming less content "marketing" and more about entertainment.  No one wants to watch or share a brand's marketing message.  Consumers want to consume and share things that are enjoyable, entertaining, educational, funny, or interesting.  If we can create content that meets these needs, it will inherently be successful.
======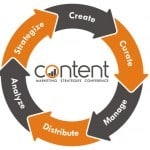 There is still time to register for the Content Marketing Strategies Conference. The conference is the only event to specifically focus on helping companies of any size understand the pivotal role content marketing plays in demand generation, sales, SEO and social. Attendees are guaranteed to walk away with an action plan to kick-start or enhance a content marketing program. The content is structured to walk you through the content lifecycle step-by-step: Strategize, Create, Curate, Manage, Distribute and Analyze.