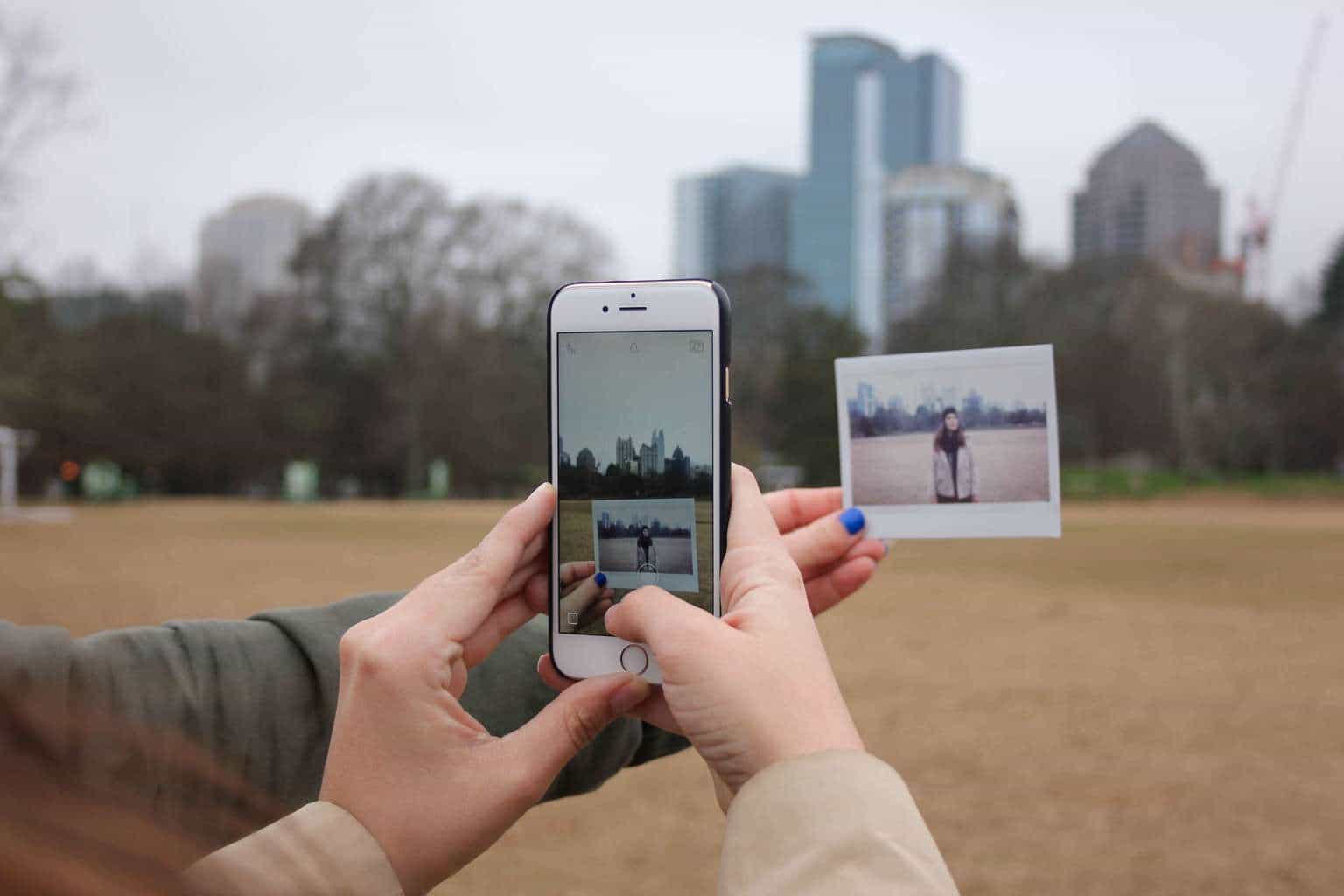 The Perfect Facebook Cover Photo Size (And How to Improve it)
Updated August 1, 2016. Have you been searching for the perfect Facebook cover photo size cheat sheet? Have you noticed your Facebook Pages layout seems a little different? Of utmost importance, do you want your Facebook cover photo to look good on both desktop AND mobile? 
First, think about these questions:
Does size matter?

YES

Is there a one-size fit all solution?

YES
It's a little complicated, though.
Keep reading…
Facebook Fact
51.7 percent of all Facebook users access the social network EXCLUSIVELY from a mobile device.
Source: Venture Beat
Q: What does this mean?
→Close to a billion users access Facebook daily through their cell phones.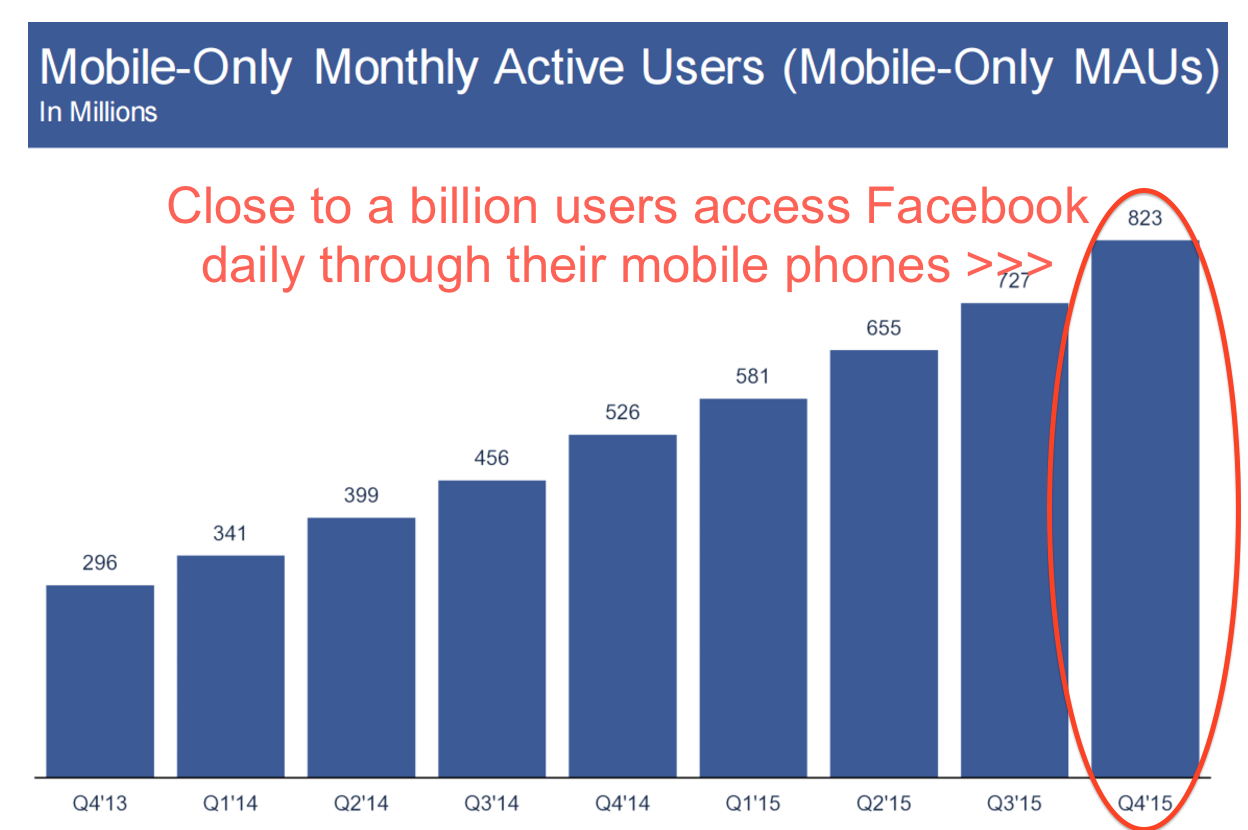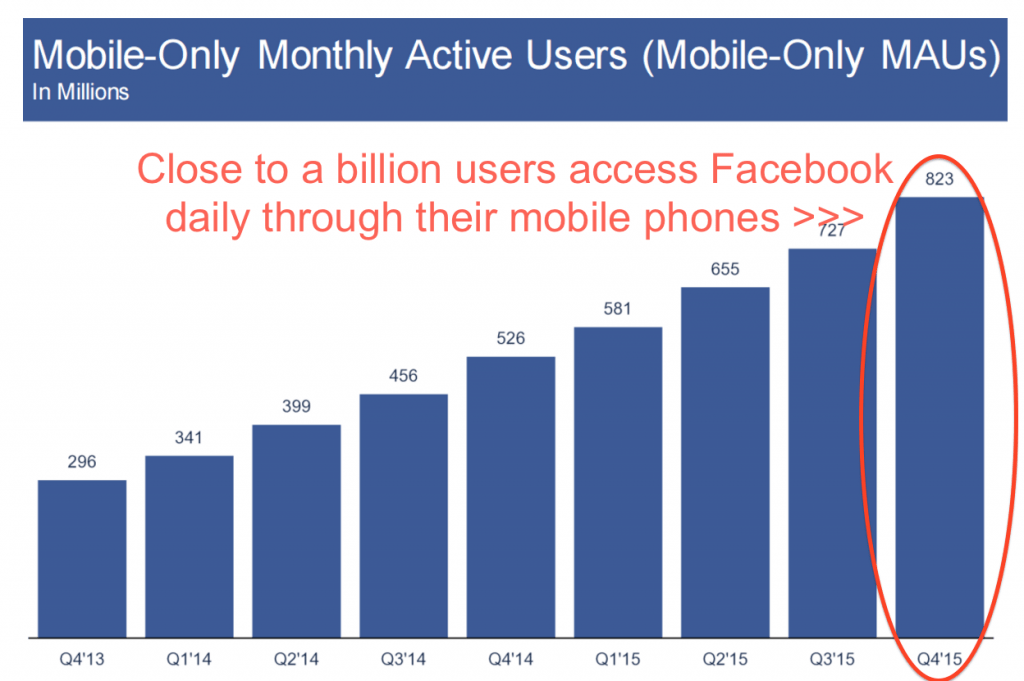 Q: Why is it important to know how many users access Facebook exclusively on mobile?  
→A cover photo displays differently on a mobile device and a computer. 
Perfect Facebook Cover Photo Size "Cheat Sheet"
Thanks to expert advice from Louise Myers, we've produced an updated (as of April 2016) "cheat sheet" on optimal Facebook photo sizes: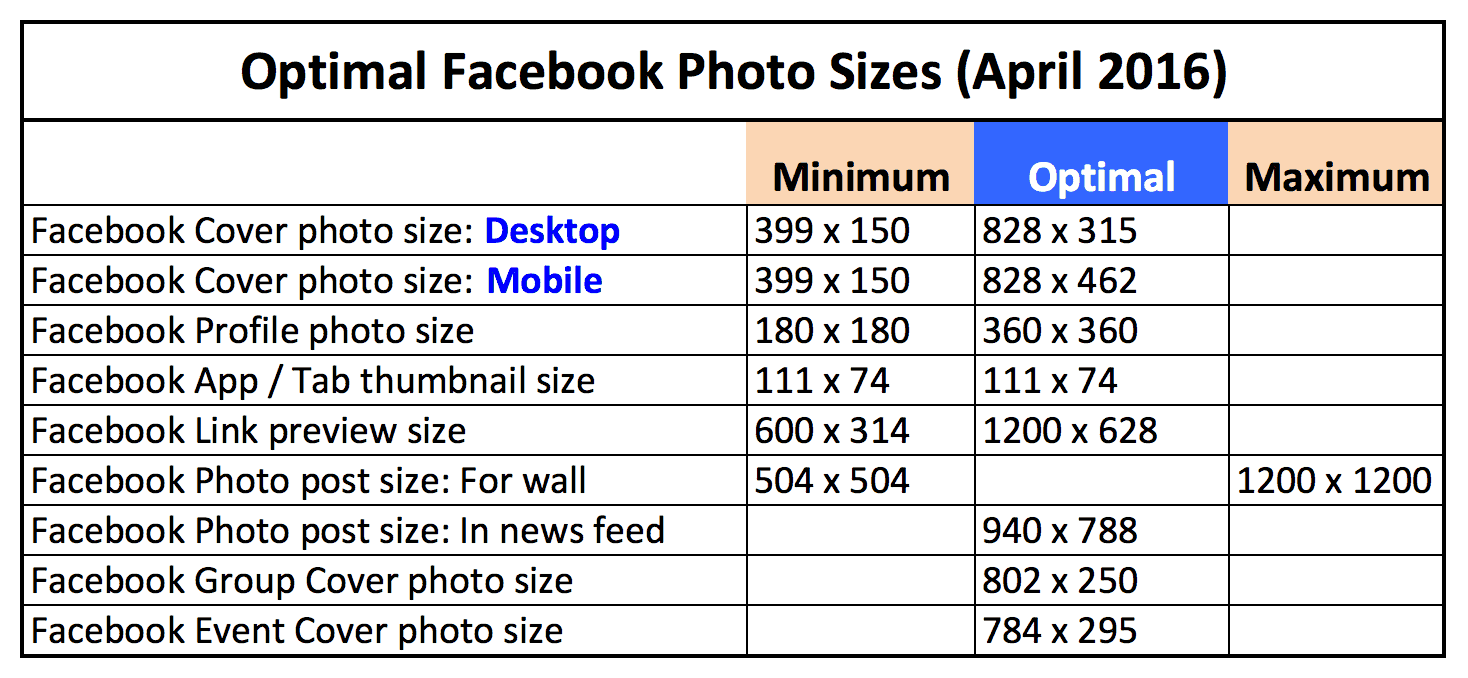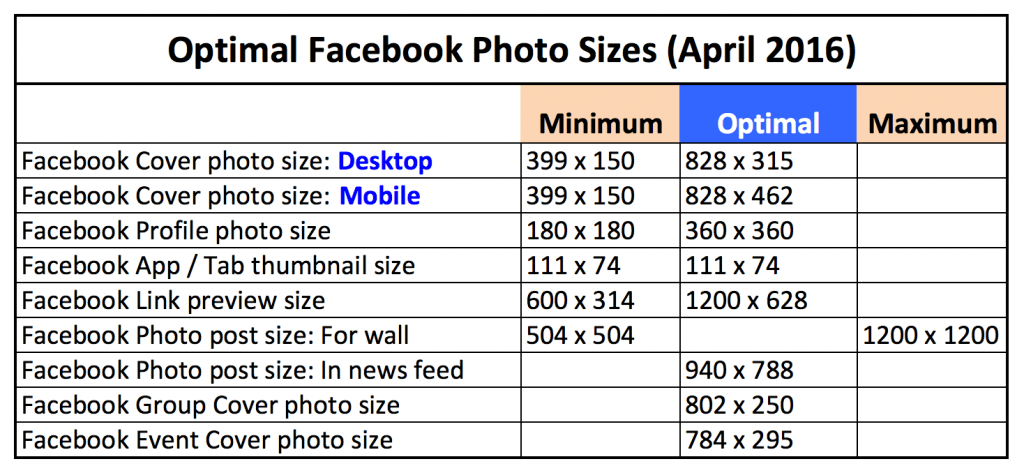 Make sure to bookmark this post or Pin the social media cheat sheet. We promise to keep this post up-to-date as Facebook continues to make changes – as it is prone to do!
How to Make the Perfect Facebook Cover Photo Size for Both Desktop and Mobile
With so many users viewing Facebook only on mobile, experts strongly advise using a size that works perfectly on both desktop and mobile.
Q: How can you do that?
Your Cover Photo can have it both ways! The secret is to make your image much taller than the recommended 315 pixels – 462 pixels tall, to be exact. This sizing gives you 74 pixels top and bottom that can be cropped on your desktop computer, with the Profile Picture and overlaid type (Page Name and Category) falling in roughly the same place on desktop and mobile.
Here's a Facebook Cover Photo mobile template from Louise – that also works great on your desktop.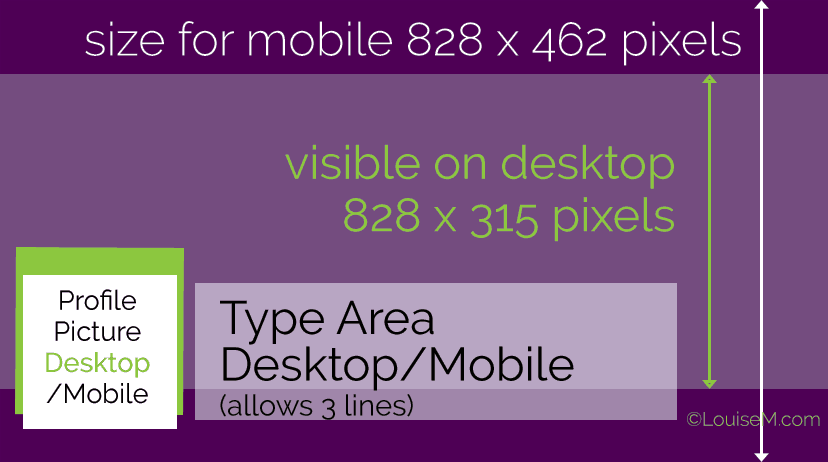 More great Facebook advice:
Keep your design simple – minimal text, if any. No arrows. (Or accept that your design will look "off" on either desktop or mobile.)
When in doubt, GO LARGE! 1200 pixels square is ideal for Facebook posts, Instagram photos, and Twitter images.
Upload your Facebook cover photo as a PNG file via desktop to avoid unsightly image compression.
SNEAK PEEK: Get a First Look at Facebook's New Pages Layout 2016
Thanks to Shortstack's alertness, they noticed that Facebook is rolling out bold changes to the Facebook Pages layout including Facebook cover photos. Their post prompted me to check out dlvr.it's Facebook page and sure enough, dlvr.it's page has a new look and feel as well. (***It appears that Facebook is rolling out the changes on a user by user basis (not page by page )— or perhaps they're just testing the new layout. Some people at dlvr.it have the new page layout, but some still have the "old" view.)
Here's a snapshot of dlvr.it's Facebook page with the differences noted in orange numbers on the post and discussed below: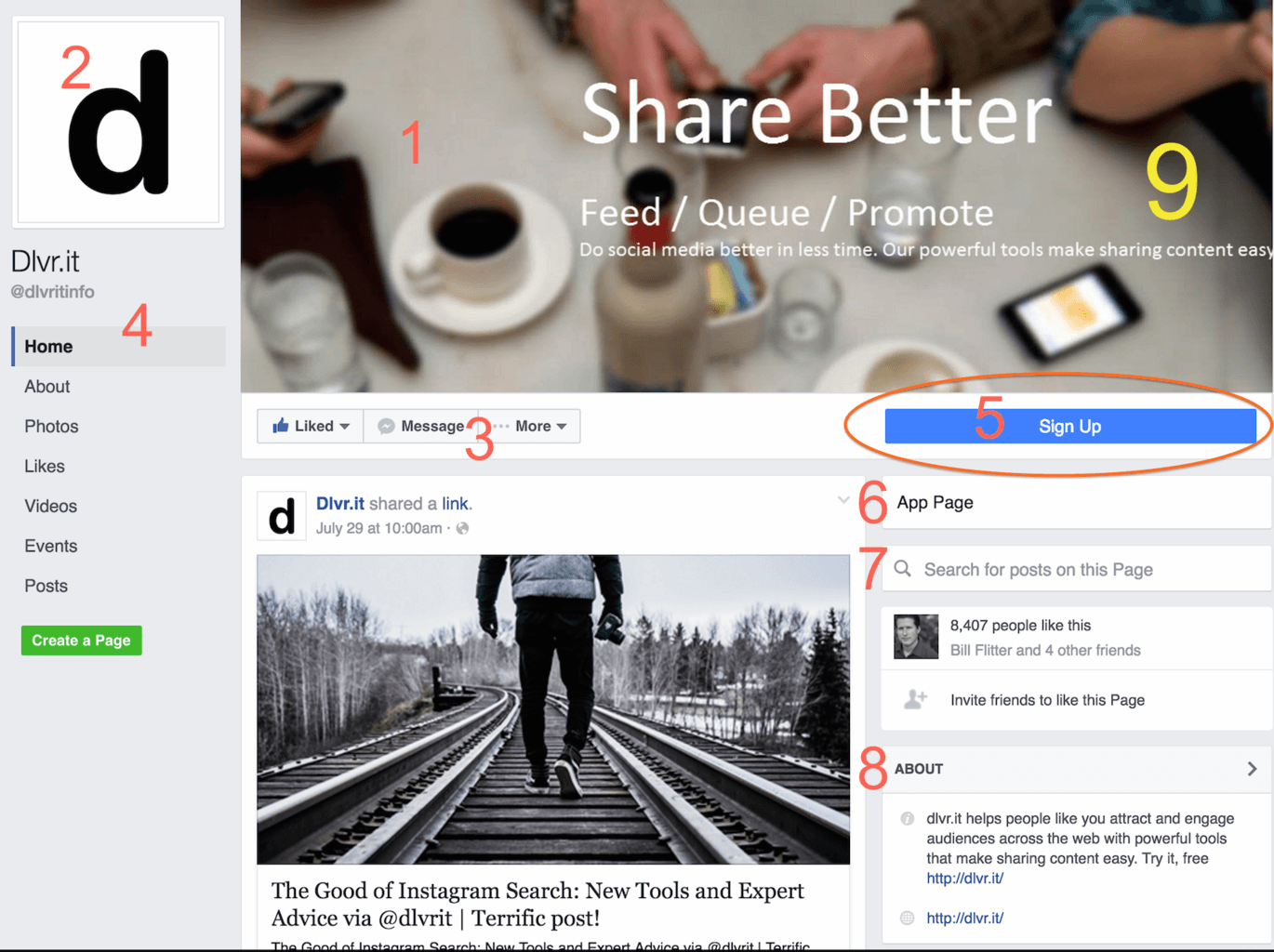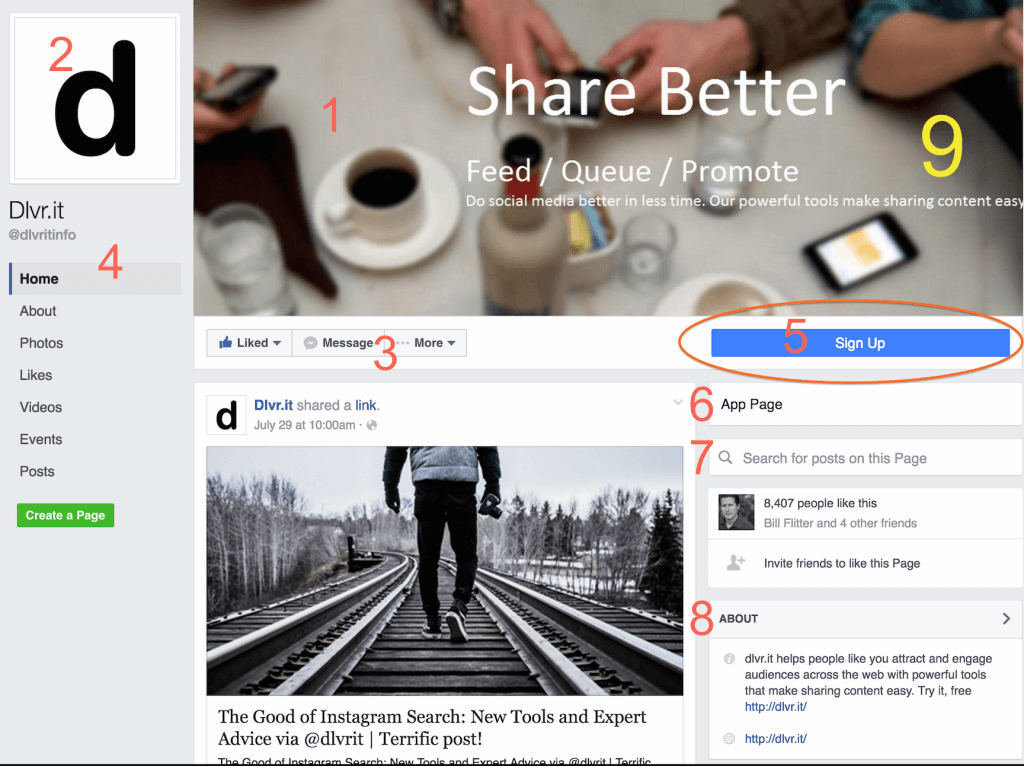 1 – Cover image is larger and cleaner and extends across the entire column
On the new view, Facebook has removed the logo from the cover image territory.
Pro Tip: Read this post from Canva on How to Stand Out with A Brillant Facebook Cover and then check out Canva's simple and easy to use Facebook Cover photo templates. Canva makes graphic design amazingly simple for everyone – non-designers as well as professionals.
2 – "Logo" image has moved to left-hand column
The logo may be slightly bigger than your original one. Double check to see if it looks alright or upload a smaller one.
3 – Page insights – Like, Message and Share Buttons – appear below the cover image, rather than to the right of it.
Pro Tip: If you want more traffic to your Facebook Business Page, focus on getting more shares and likes, right. Here are nine thought-provoking questions to help get more people to click on your post.
4 – Menu for the page appears on the left-hand side, instead of below the cover image
Every single tab is listed.
Make sure to review and remove the ones that you don't want (or need).
5 – Call-to-Action button is bigger (and has moved)
The CTA button includes:
✎ Sign Up
❎ Book Now
✆ Call Now
✉ Contact Us
✈ Send Message`
And much more:
Use App
Play Game
Shop Now
Watch Video
Send Email
Learn More
Request Appointment
6 – Business category section is more prominent than before
Information about the page appears lower and on the right-hand side, instead of higher and on the left-hand side.
Businesses can choose from one of 27 categories.
7 – Search bar lets you search for posts directly from the page

8 – About section appears on the right
The "About" now stands alone in a category on the right-hand sidebar. It used to blend in with other callouts for Videos.
Pro Tip: For some excellent Facebook bio examples and tips on Facebook bio ideas, read our post on How to Write an Awesome and Succinct Facebook Bio.
When contemplating your Facebook bio, here are a few things to think about:
❏

 What is your company's mission?
❏

 What do you do?
❏ What products or services do you offer?
❏ Where are you located and what is the best way to contact you (if applicable)?
❏ Who are the key personnel in your company?
***Make sure to include a direct link to your company's main website and your other social media sites.
___
Notice anything wrong with dlvr.it's Facebook cover image?
Thanks again to Shortstacks prompt to take a look at dlvr.it's page, I noticed the image is right adjusted causing the text to fall off the page. See the large #9 in yellow in the image above and below.


Taking our own advice (thanks to Louise Myers) from above on the perfect Facebook cover photo size for both desktop and mobile, this is how we quickly "fixed" our image:
1 – Removed a good chunk of the text: Remember to keep your design simple – minimal text!
2 – Uploaded an 828 x 462 image: The perfect image size for both desktop and mobile!
See the results below…
On Desktop:

On Mobile: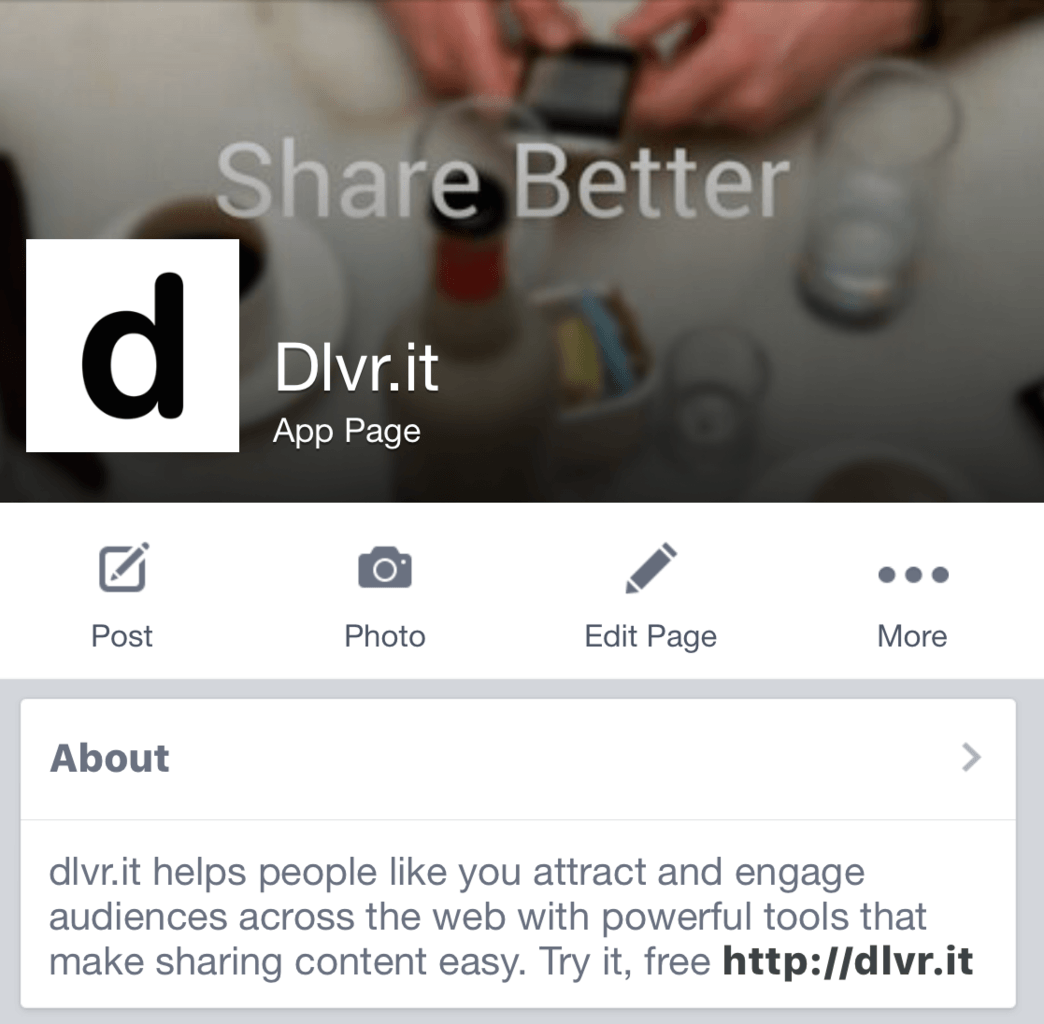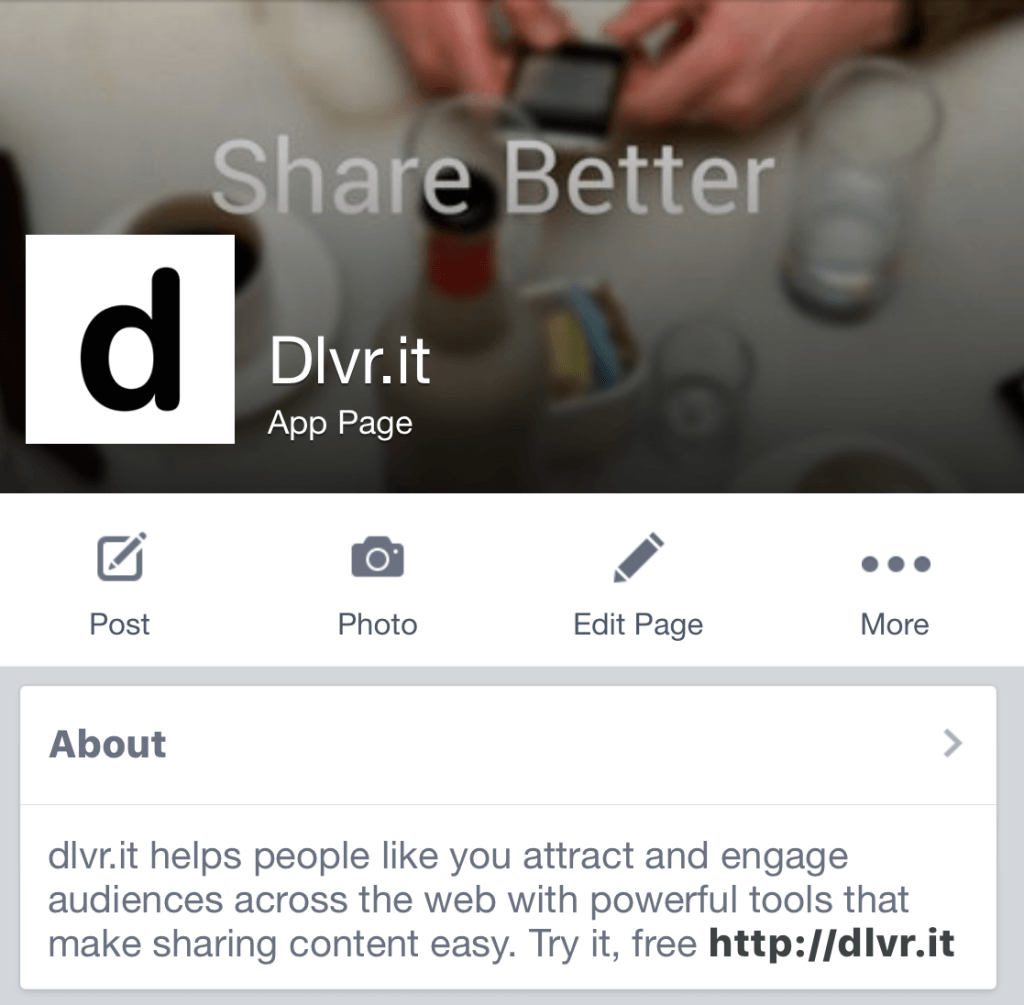 So much better!
___
Pro Tip: Use dlvr.it as a Facebook Group auto poster
Have any thoughts on perfecting your Facebook cover photo size?
We'd love to hear from you!
And, please keep checking back in with us as we promise to update this post whenever Facebook announces any new changes to your Facebook Page and Facebook cover photo size.
Debra Garber
VP of Finance & Operations, Chief Content Contributor, and backyard chicken farmer. I happily share my experiences traversing the wilds of social media. Will trade social media tips for fresh organic eggs. Motto: "Live the life you love, love the life you live."