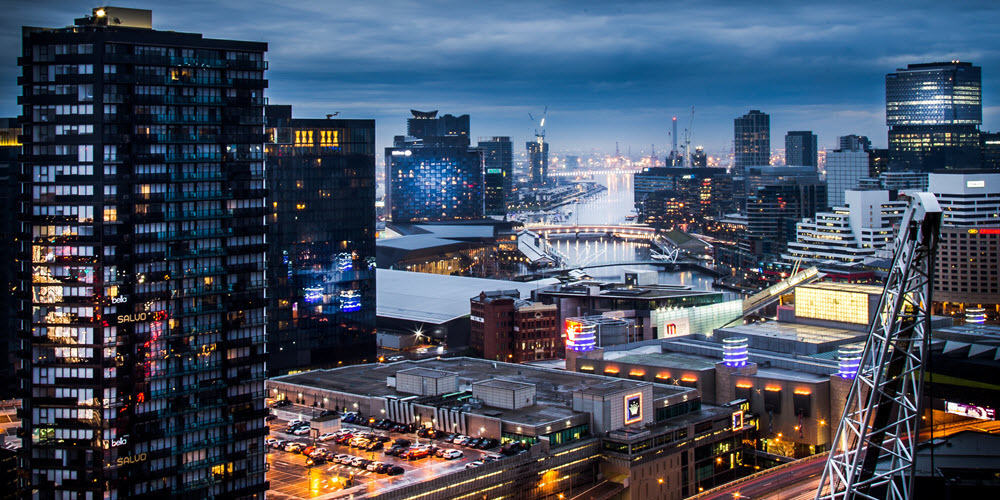 How to Get the Most Out of Google Plus For Business
If you are like many businesses owners and marketing professionals we speak with, learning a new social network can be overwhelming. As with most things, there is learning curve involved in understanding something new. No difference with Google Plus for business.
Google Plus for business comes packed with a number of powerful features to interact with customers including Pages, Profiles, Circles, Community, and Hangouts.
To help you get started on Google Plus for business and not feel overwhelmed, we have explained a few of its major features below in laymen's terms.
Why Google Plus For Business?
Before we start, you need to decide if Google Plus should be a part of your marketing strategy. In short, it cannot hurt.
Google Plus now has 500 million total users and over 135 million active users. Furthermore, you can benefit from the additional lift in search results. Google Plus bridges the gap between search and social.
Understanding Google Plus for Business

First, let's define Google Plus terminology.
Profile:
What: This is a place for your personal information
Why: A personal Google Plus Profile is needed before setting up a Page
Pro Tip: For improved search results, add a small snippet of code to your blog to help Google identify any content you write.
Pages:
What: This is strictly information about your business. (Note: There are feature restrictions with Pages.) Reminder: A business cannot have a business Page without first creating a Profile
Why: Improved SEO. When your customers search on Google, the results to the right may include relevant posts, photos, and videos from your Google Plus page.
Pro Tip: Connect your Google Plus Page to your website for improved search optimization. (Note: Dlvr.it makes it easy to connect your blog to your Google Plus Page.)
Circles:
What: This feature allows you to organize and share different information with friends, neighbors, colleagues, customers, etc. It's like a Rolodex.
Why: Organize customers and prospects into different Circles and send unique information to each. Also, get notified when important customers make a post.
Pro Tip: If you use Gmail and Google Plus, your Google Plus Circles can be accessed in Gmail. This makes it convenient to email customers organized in your different Circles (ex. VIPs, around certain product lines).
Communities
What: These are public or private places to communicate with and market to a group of people with shared interests.
Why: Great way to extend your reach and influence. Let's say your business provides healthy snacks for kids. Wouldn't you like to connect with parents who are interested in organic foods? Now you can. Search for or start a Community on Google+!
Pro Tip: Google Plus Communities can be an email replacement. Connect Google Drive to a private Community as an inexpensive way to organize customer interactions and share documents, videos, service manuals with groups of or individual customers.
Hangouts
What: Video Chat with Customers.  (Note: If customers cannot access Google Plus, they can conference in with a free voice call.)
Why: Have 'face-to-face' meetings with up to 10 customers or prospects from the communities you belong to. Invite up to 9 community members (at one time) to a demonstration of your product, a focus group, solve customer service issues or do a Q & A.
Pro Tip: Invite people from your Google Plus communities to do a quick focus group. Provide incentives like a free sample or the first to try a new product you are launching.
How to Use Google Plus for Business Marketing
The marketer in me realizes the importance of Google Plus for business. I'm reminded of an interview we did with Scott Frangos, Content Marketing Strategist & President of WebDirexion.  I can still hear Scott's words today:
Remember that Google Plus IS Google. It is not just another social media network — it is at the heart of all things Google. Your advantage is that you don't always have to be logged into Google Plus to take advantage of amplification and reach options.
I understand the importance and can't deny the fact that with over 150 Million active users and 50% of all users logging into Google Plus daily, Google Plus is a social media network you can't ignore. Truth is, it isn't as popular as Facebook or Twitter, but undeniably, it can help impact your search engine rankings in a VERY positive way.
To help visualize how you can use Google Plus to your advantage, Quicksprout created the following infographic that lays out the steps you need to take to use Google's social network for your marketing needs.
Furthermore, if you are a local business, you can supercharge your Google search presence by optimizing Google Plus Local. How to Use Google Plus Local the Right Way to Boost Traffic 
How to Measure Google Plus for Business Results.
Like most businesses, at dlvr.it, we rely heavily on Google Analytics to provide insight into traffic across our website and blog. We use this data to guide our social media marketing strategy. When we want to view our social media engagement we turn to the dlvr.it stats dashboard.
I have to be honest, I never paid much attention to the new(ish) Google Plus Insights data. I was pleasantly surprised.
Once you get Google Plus up and running you want to know what's working. Google Plus Insights provides the intelligence you need to optimize your Google Plus business strategy.
A. How to Access Google+ Insights Dashboard
Log in to your Google+ Business Page. On the left of the page, click on 'My Business'.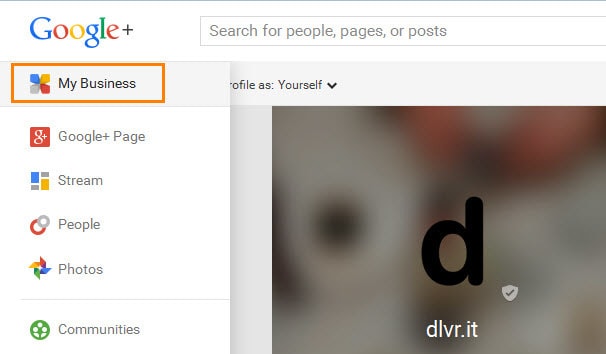 B. Google+ Insights Summary Data
You should see a summary of data for the Google Apps you are using. For example, this summary may include Google Insights, Google Analytics, YouTube, etc. As shown below, in this list you can find your Google+ Business Page. Click on 'View insights' to drill down into the details.

C. Google Plus Insights Detailed Data
The Google Plus Insights reports data is broken down into four types:
Visibility: All time total, photo, and post views, and how page impressions have trended over time.
Engagement: Which types of posts are getting the highest level of engagement on Google+.
Audience: Get an overview of your follower demographics.
Platform: Details on the platform followers are accessing your Google Plus Business Page.
The drop down box on the right of the graph allows you to toggle through several pre-set date ranges to review the data. The default view is the last 30 days, but you have the option to look at your data by the last 7 days, 90 days or all-time.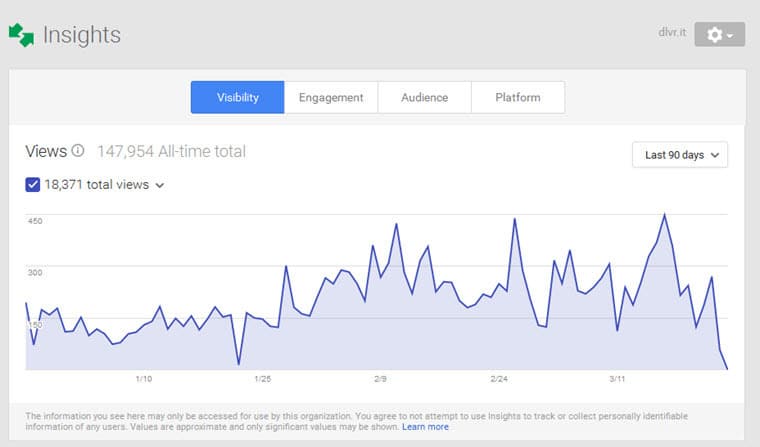 The audience data provides details on the demographics of your followers. This data can help guide social media strategies by helping you determine who to write for.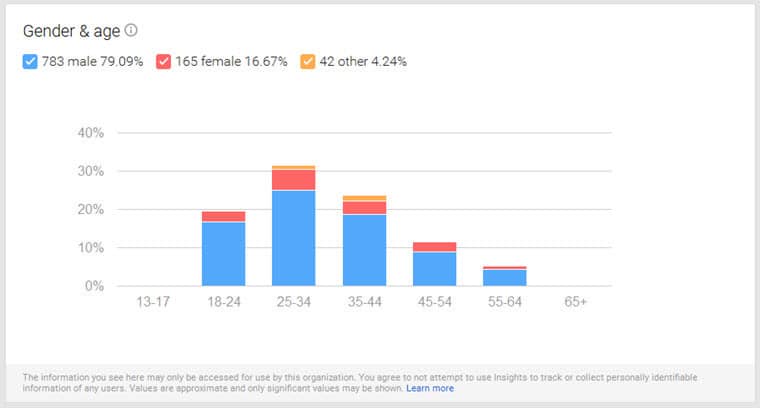 Click on the down arrow to the right of the 'total views' count to reveal the data breakdown of your post views, profile views and photo views.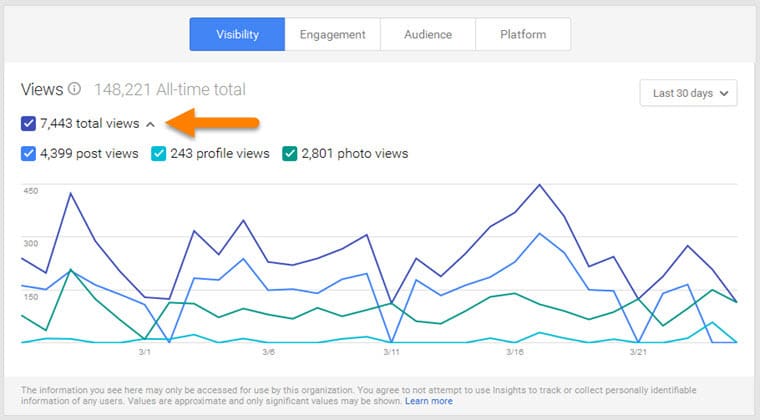 Additional Data You'll Discover in Google+ Insights
Physical Address: If you have your physical address included on your Google+ business page, you'll have a few additional reports under the Visibility tab.
Action on Posts: Under the Engagement tab you will discover the actions followers did with your posts including comments, +1's and shares.
Average Action by Post Type: Again under the Engagement tab at the bottom, you can see actions by post type. This provides great insight into whether text, photos or videos resonates most with your followers. Scrolling over the bar graph reveals the details.
What did you learn about your data? Use the insights to help guide your content marketing strategy on Google Plus. A few questions you should ask:
Does the data change/alter my content strategy in any way?
How is the data different/same from other social networks my brand is on?
Does what I learned from the data provide any different insights compared to other social networks? What is the payoff of altering my Google+ strategy?
In Summary, you Can't Ignore Google Plus for Business
Jumping directly to the conclusion from Quicksprout, whether you like or hate Google Plus, you have no choice but to leverage it. Why? Because Google owns it! 
As the most popular site in the world, Google can really help boost your revenue. Having the top search rankings can mean the difference between being in business and being out of business. Because the search giant owns this social media network, you're better off using it. It can impact how well your site does in the organic listings.
Let us know in the comments below your thoughts on Google Plus ~ like or hate!