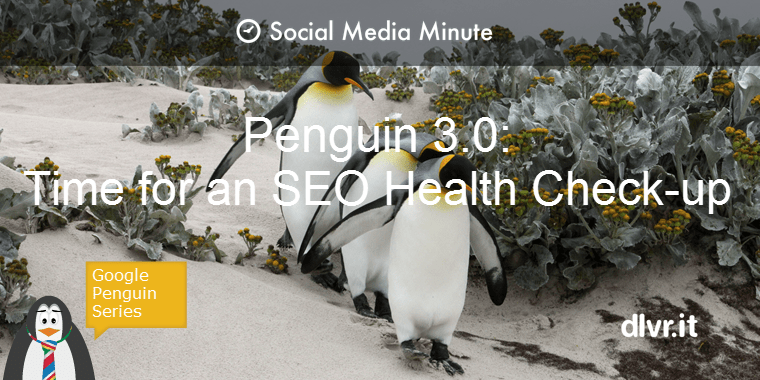 3 Free SEO Tools You'll Love for a Quick and Easy Website Audit
For the cash-strapped business owner, a must have is access to Free SEO tools for the purpose of performing a thorough website audit that will identify any potential issues keeping you from ranking high in the search engines is a must. There are a number of FREE SEO tools on the market so this list we put together is not exhaustive. It is was use for to conduct a quick check when we are strapped for time.
3 Easy to Use and Free SEO Tools
I often avoid the doctor by telling myself that I'm either too busy or wishfully thinking that I'm just fine. I'll believe this even while feverish and unable to give a 100% effort to anything including my work.
According to Forbes, U.S. workforce illness costs $576B annually from sick days to workers compensation. Despite the many common sense tools to stay healthy at the office, there is nothing that can replace a visit to the doctor when a checkup is critical.
By the same token, the same is true for your website. Conducting a full SEO audit on your site is essential for its success.
In his article, How to Conduct a Basic (But Effective) SEO Audit in Under 30 Minutes, Art Enke discussed several tools necessary to successfully conduct an audit to improve your site's performance. In addition to the tools mentioned in Art's article, we recently ran our site through SEO SiteCheckup for a thorough analysis.
For the cash-strapped business owner or the busy social media manager, this is a great resource to check your website's SEO problems and not to mention it's free.
The service is simple to use. Just input your website URL and hit the green 'Checkup!' button.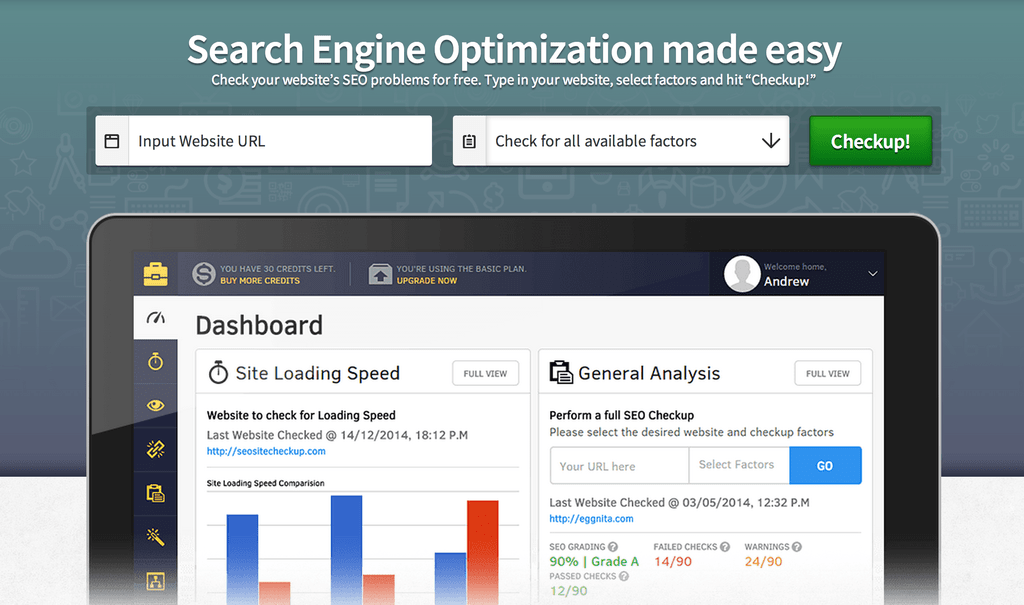 The site generates an overall score for your website along with a detailed SEO Site Checkup Report including factors from these five groups: Common SEO Issues, Speed Optimizations, Server and Security, Mobile Usability and Social Media. The downloadable SEO audit report gives you great insight into your site and provides tips on how to improve SEO or (back to my doctor analogy) how to improve your website's overall health.
6 Important Tests FREE SEO Tools Should Do
Here are six (out of the 44) checks and tests FREE SEO Tools should perform:
Title. A descriptive <title> tag is important in helping search engines determine your web page's relevancy for certain keywords. Most search engines will truncate titles to 70 characters.
Description. The meta description tag is meant to be a short and accurate summary of your page content. This description can affect your search engine rankings and can also show up directly in search engine results (and affect whether or not the user clicks through to your site). Most search engines will truncate meta descriptions to 160 characters.
Most Common Keywords Test. Check the most common keywords and their frequency of use on your web page. Best practice for safe keyword density for SEO, is to keep the entire words ratio in the page between 2% to 4%.
Keyword Usage. This determines if your most common keywords are used in your page title and meta-description. Keywords in your meta-tags, helps search engines properly identify the topic of your page.
<h1> Headings Status. The H1 tag is your "headline tag". This indicates if any H1 headings are used in your page. H1 headings are HTML tags than can help emphasize important topics and keywords within a page.
Speed Optimizations. This includes testing for HTML page size, HTML compression/GZIP, page cache test, flash test, nested tables test, image expires tag test and site loading speed test. The average loading speed should be less than five seconds.
Speed Matters: Importance of Speed Optimization
Google has gone on record to state that the loading speed of web pages is considered to be a vital ranking signal in SEO. Page-loading time is obviously an important part of any website's user experience.
Take these facts on loading times from KISSmetrics into consideration:
73% of mobile internet users say that they've encountered a website that was too slow to load.
51% of mobile internet users say that they've encountered a website that crashed, froze, or received an error.
38% of mobile internet users say that they've encountered a website that wasn't available.
47% of consumers expect a web page to load in 2 seconds or less.
40% of people abandon a website that takes more than 3 seconds to load.
A one second delay in page response can result in a 7% reduction in conversions.
If an e-commerce site is making $100,000 per day, a 1 second page delay could potentially cost you $2.5 million in lost sales every year.
It's obvious from just the stats above, to be successful, your site needs to be loading at full speed. In addition to the SEO SiteCheckup service discussed above, another great tool to improve SEO by analyzing performance and speed of your website is GTmetrix.
Studies show that users leave a site if it hasn't loaded in 4 seconds; keep your users happy and engaged by providing a fast performing website!
GTmetrix is also very simple to use. Just input your website URL and hit the GO! button.

More Speed Optimization Tools
Two of the major speed analysis tools used by GTmetrix are Google's Page Speed and Yahoo's YSlow. Both require Firefox and the Firebug add-on. Here's a run down of each from GTmetrix:
Page Speed: "When you profile a web page with Page Speed, it evaluates the page's conformance to a number of different rules. These rules are general front-end best practices you can apply at any stage of web development. We provide documentation of each of the rules, so whether or not you run the Page Speed tool – maybe you're just developing a brand new site and aren't ready to test it, you can refer to these pages any time. We give you specific tips and suggestions for how you can best implement the rules and incorporate them into your development process." Read more about Google Page Speed
YSlow: "YSlow grades web page based on one of three predefined ruleset or a user-defined ruleset. It offers suggestions for improving the page's performance, summarizes the page's components, displays statistics about the page, and provides tools for performance analysis, including Smush.it™ and JSLint." Read more about Yahoo! YSlow
What's the difference? Page Speed and YSlow generally offer the same service, however there are differences in their calculations. Each service analyzes a page using a set of rules they believe are most relevant to page speed and performance. Most of the rules overlap or are very similar to each other, but in general your scores should be comparable.
The benefit of using GTmetrix for speed optimization is that you can analyze your page using both services, giving you different perspectives on how to optimize your site.
—
Now it's your turn. Check the health of your website by using one of the FREE SEO Tools mentioned and feel free to share with us any additional tips to improve SEO performance.
Debra Garber
VP of Finance & Operations, Chief Content Contributor, and backyard chicken farmer. I happily share my experiences traversing the wilds of social media. Will trade social media tips for fresh organic eggs. Motto: "Live the life you love, love the life you live."