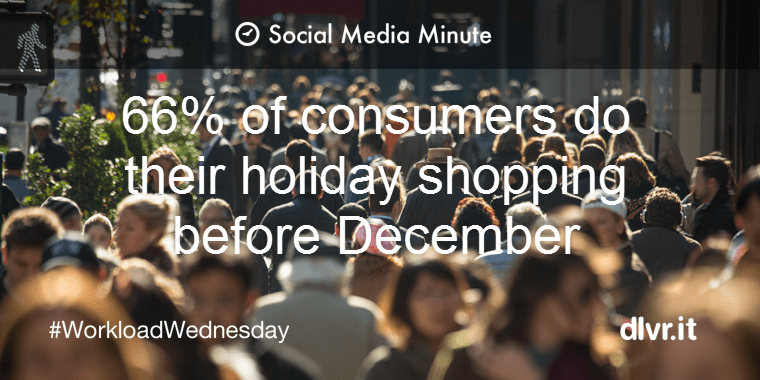 How to Use Facebook to Capitalize on the World's Biggest Holiday Spending Trends
Summary: Find out what Boxing Day, Singles Day and social media have in common with U.S. holiday shopping days.  As a bonus, we've added some great easy to implement Facebook promotions to capitalize on the world's holiday spending.
(#WorkloadWednesday) Anyone in retail will tell you there is no rest for the weary, especially in the final quarter of the year. Given the limitations on your time and energy during the holiday season, you need to focus your social media strategy on certain key dates.
From a marketing point of view, what are the key "retail shopping" dates? Twenty years ago, the U.S. shopping date list was relatively short. The season started the day after Thanksgiving and ended Christmas Eve. Following Christmas, you could expect shopping chaos until shortly after the New Year.
Now, both the length of the season and the number of important shopping dates has expanded, with the addition of such artificial dates as Black Friday, often regarded as the beginning of the holiday shopping season and Cyber Monday, created by marketing companies to persuade people to shop online. Given the international nature of the cyber market, this is what your short list of shopping dates includes in 2014:
THE SHORT LIST – KEY RETAIL HOLIDAY SHOPPING DATES
 Description
Dates in 2014
Observed By
Early Holiday Shoppers
September until Thanksgiving
November 11
Singles in China and rest of Asia
Thanksgiving
November 27
U.S.
Black Friday
November 28
U.S., Canada, United Kingdom and Mexico
Small Business Saturday
November 29
U.S.
Cyber Monday
December 1
U.S., Canada, United Kingdom, Brazil, Portugal,
Germany, Chile, Columbia, Japan
Giving Tuesday
December 2
U.S.
Hanukkah
December 16 – 24th
Jewish observers
Christmas Eve
December 24
Christians, many non-Christians
Christmas
December 25
Christians, many non-Christians
December 26
United Kingdom, Canada, Hong Kong, Australia,
New Zealand, and other Commonwealth nations,
as well as Norway, France, and Sweden.
*These dates are not usually included in a U.S. centric marketing short list but, depending on your market, you may wish to include these in your social media marketing plan.
What is Biggest Day Ever for Online Retailers in the UK?
Boxing Day is traditionally the day following Christmas Day, when servants and tradesmen would receive gifts, known as a "Christmas box", from their bosses or employers. In the UK, Canada, and some Australian states, Boxing Day is primarily considered a shopping holiday, much like Black Friday in the U.S.
Statistics gathered by Experian Hitwise, the online competitive intelligence tool, show that Boxing Day 2013 was the biggest and busiest day ever for online retailers in the UK. British Internet users made 129 million visits to retail websites on Boxing Day 2013, a 15 per cent year-on-year increase, making December 26 the biggest online shopping day ever.  This increase was up from the 40% gain made on Boxing Day 2012, the former "busiest day ever".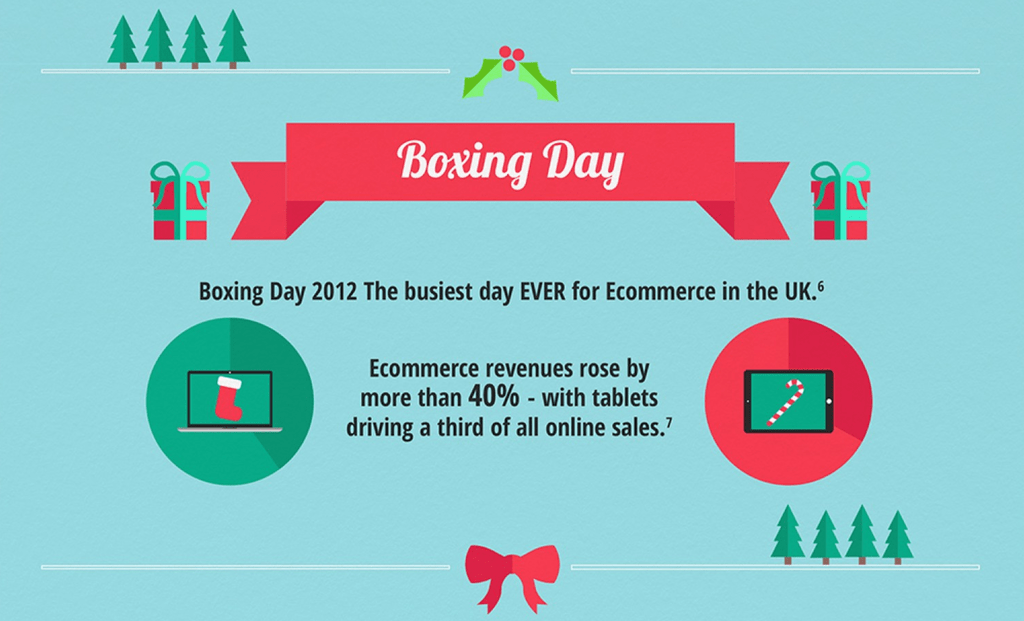 What is the World's Biggest Shopping Day?
Let's go a little more global. What is the world's biggest shopping day touting sales near $6 billion USD last year? Care to guess? According to an article by Forbes, it is Singles Day, November 11, sometimes referred to as 11/11 or one-one-one-one.
"Fueled by Alibaba, the enormous, publicly-held, online marketplace, it's the biggest shopping day of the year. Bigger than Black Friday. Bigger than Cyber Monday. It is the day when single people in China and the rest of Asia are out shopping in full force. That's an estimated 270 million shoppers whose sales "obliterated" last year's Cyber Monday. Although the numbers are not in yet, this year's Singles Day online shopping bonanza is likely to break all the records set in 2013. If Alibaba can keep its pace, it may do more than $8 billion USD in sales in 24 hours."
UPDATE 11/11/14: From BBC News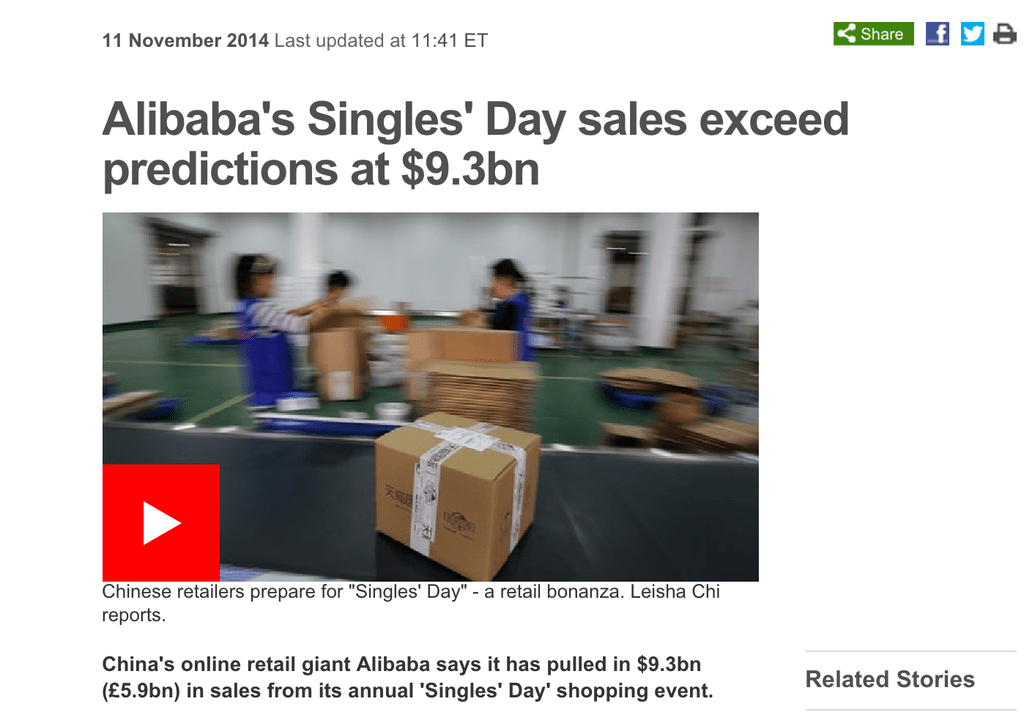 Why Should You Care About Boxing Day or Singles Day?
As a small business, with limited time and money, do you care about Boxing Day or Singles Day? You should consider it! They are unique here in the U.S. and an excellent way to educate your audience. Here is one easy to implement idea from Forbes to promote your business and spread holiday cheer via social media at the same time:
Offer your own discounts. Run a special "Singles Day" promotion on your website and social media. Reach out to your international audience through Facebook. Educate your American audience. But, more importantly, use the occasion to wish your Chinese prospects and customers a happy "Singles Day." It's fun, and they'll smile. How many other American companies are doing that? Who else is taking the time to acknowledge a pop culture event celebrated by a billion people on the other side of the planet and virtually ignored here? Use this day to distinguish your company as aware and interested in events that interest its foreign customers.
Do the same for Boxing Day.
What is Small Business Saturday?
A little know newcomer to the list is Small Business Saturday. Surprisingly, Small Business Saturday is not so small.
Last year:
45 million people shopped on Thanksgiving Day
92 million on Black Friday and,
131 million on Cyber Monday
This year, the National Retail Federation will be tracking Small Business Saturday for the first time and expects the sales numbers to be significant — more than 95 percent of retailers are small businesses operating a single location. In fact, a survey conducted on behalf of the National Federation of Independent Businesses and American Express identified that $5.7 billion was spent by consumers aware of the initiative on Small Business Saturday in 2013 alone.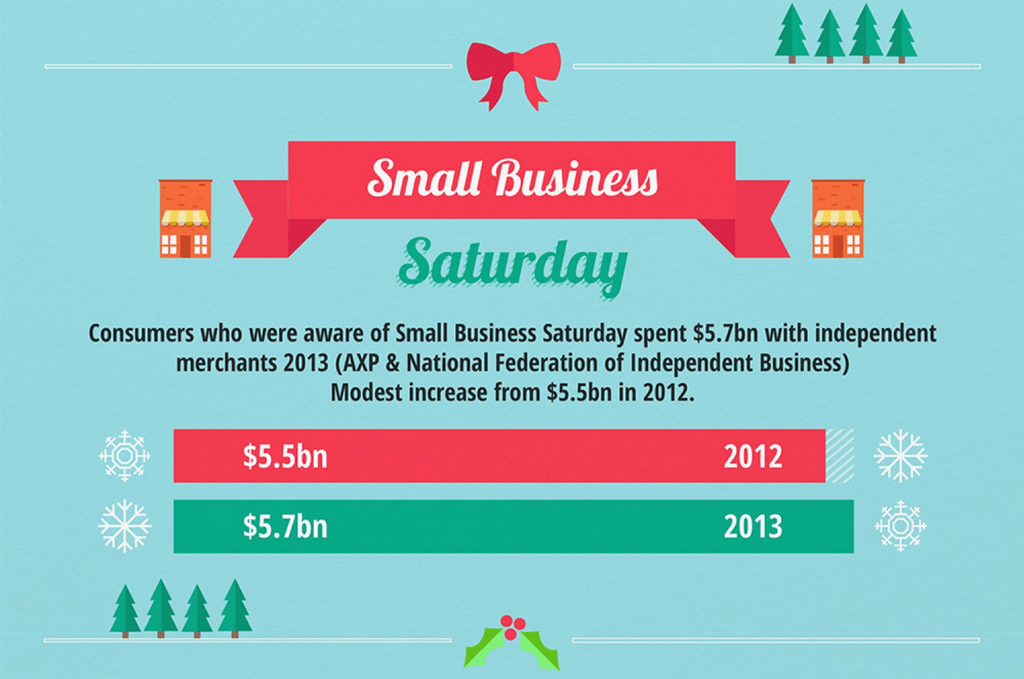 How do you encourage more customers to shop with you on Small Business Saturday? Although a little late to implement this year, here's a great example of a 5-week promotional plan for Facebook from Constant Contact. Bookmark, print and save for next year.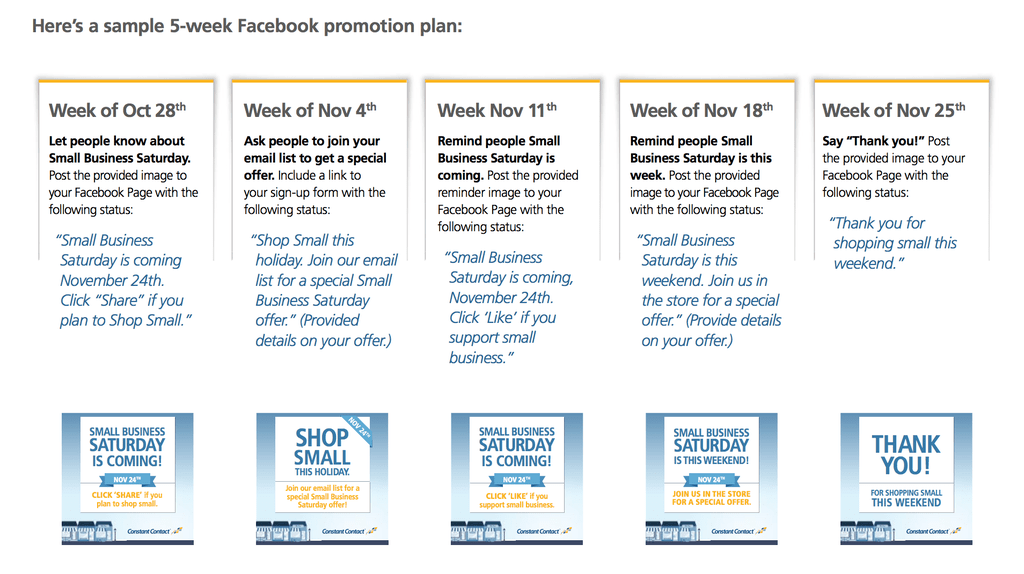 Phew! I'm tired already. Now you know what key shopping dates need to be on your radar. What do you plan to do next? Get an early start!
Key Takeaway: Start planning early. Your success depends on being ready.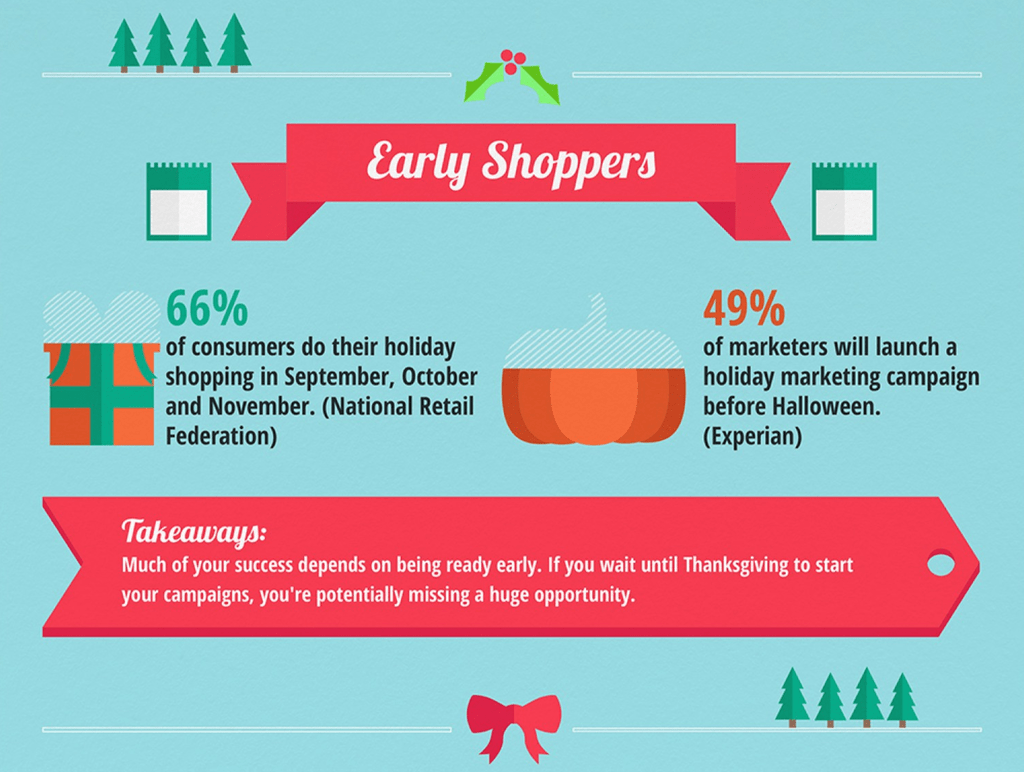 Now it's your turn. We'd love to hear from you! Do you know much about the origin of Singles Day? What are your social media plans for the holidays?
Featured infographics from: Visual.ly
Debra Garber
VP of Finance & Operations, Chief Content Contributor, and backyard chicken farmer. I happily share my experiences traversing the wilds of social media. Will trade social media tips for fresh organic eggs. Motto: "Live the life you love, love the life you live."