What do you love about Content Marketing? Jeremy Frank responds…
Next up in our ongoing series on what the experts love about content marketing, we caught up with Jeremy Frank, Product Marketing Manager at ServiceMax, to discuss content marketing.  You can hear Jeremy speak on content marketing ROI at dlvr.it's upcoming Content Marketing Strategies Conference, May 8-9, 2012.  The conference spans the entire content marketing lifecycle: Strategize, Create, Curate, Manage, Distribute and Analyze.
What do you love about Content Marketing?
Jeremy: Content marketing is the most genuine way to reach out to prospects and customers and even include them in your marketing efforts. Done the right way, content marketing creates a mutual benefit between a company and its prospects and customers. There are very few types of marketing that truly do that.
 What do you dislike about Content Marketing?
Jeremy: I dislike when content marketing does not consist of full, meaningful content.  It is so easy to research topics, reach out to sources and generate really great information that there is no excuse for not generating meaningful content from that information that makes your customers and prospects more knowledgeable and better at their jobs.
 Looking ahead to 2013, what does Content Marketing look like?
Jeremy: I see content marketing getting pushed more and more to center stage. The homepage of websites, online ads, PR — it's all going to be powered by content, not self-serving marketing messages. It really all comes down to engagement, and content is proving to be the best way to accomplish that.
  ======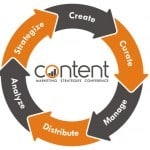 There is still time to register for the Content Marketing Strategies Conference. The conference is the only event to specifically focus on helping companies of any size understand the pivotal role content marketing plays in demand generation, sales, SEO and social. Attendees are guaranteed to walk away with an action plan to kick-start or enhance a content marketing program. The content is structured to walk you through the content lifecycle step-by-step: Strategize Create, Curate, Manage, Distribute and Analyze.
Debra Garber
VP of Finance & Operations, Chief Content Contributor, and backyard chicken farmer. I happily share my experiences traversing the wilds of social media. Will trade social media tips for fresh organic eggs. Motto: "Live the life you love, love the life you live."