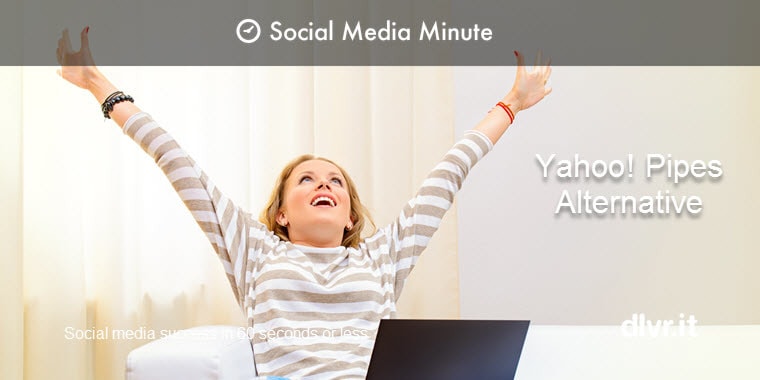 The Best Alternative for Yahoo Pipes
If you stumbled upon this page or a frequent reader of our blog, are you looking for a Yahoo Pipes replacement? If so, you are in luck. This quick tip is just for you:
Yahoo is pulling the plug on Yahoo Pipes – the service that creates RSS feeds. Pipes is a powerful composition tool to aggregate, manipulate, and mashup content from around the web. According to Yahoo's announcement, Pipes will run in read-only mode until it is discontinued on September 30, 2015.
Yahoo Pipes Alternative
Dlvr.it has a number of the RSS feed capabilities that made Pipes so popular. We are not claiming we can completely replace Pipes but we can certainly take care of many of the tasks. Here is what dlvr.it can do:
We encourage you to explore what dlvr.it has to offer. Our user-friendly interface makes setting up RSS feed recipes a snap. Creating a dlvr.it account is quick and easy. We offer both FREE and paid plans.
dlvr.it goes beyond just a Yahoo Pipes altnerative. We offer social media management and analytics.
The 3 main areas of focus include:
RSS to Social: We continuously monitor your news feeds and RSS enabled web sites and automatically share new content to your socials.
Scheduling: Queue up content wherever you find it with our browser extension. We'll share it to your socials on an optimized schedule.
Promote: We boost your website traffic and leads by distributing your blog posts to search, social, mobile and local media.
Other Yahoo Pipe Alternatives
Also, reference the 13 Best Yahoo! Pipe alternatives