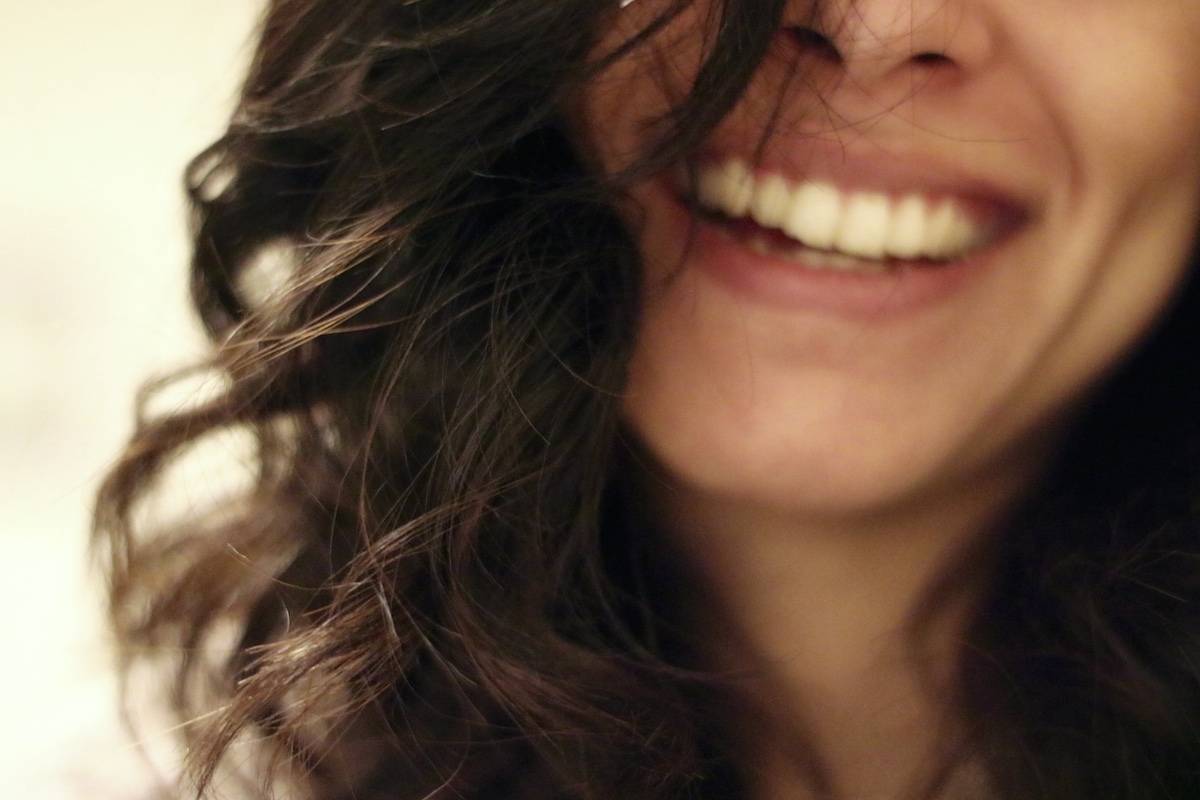 Where to Find the Best Emoticons and How to Avoid Mistakes
Do you speak emoticon? Or, are you one of those who thinks using emoticons in business communications and social media is unprofessional and consequently, a bad idea? Think again.
This post contains fun links to some of the best emoticon directories we found including Skype, Slack, and Pokemon Go – who knew!
However, if you're not sold yet because of your skepticism, here are four scientifically-proven facts to ponder:
Fact #1:
Scientists have discovered that when we look at a smiley face online, the same very specific parts of the brain are activated as when we look at a real human face.
→Why might this make a difference when it comes to social media and marketing?
Because human faces are so particularly compelling, attention-grabbing mechanisms.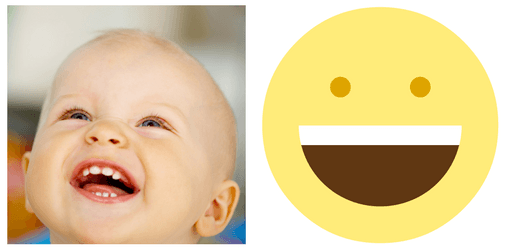 Fact #2:
The emoticon features achieved high performance, suggesting that there is a strong link between emoticon use and social power. Powerful users tend to use emoticons often and high Klout is strongly associated with positive emoticons. – Simo Tchokni, The Computer Laboratory University of Cambridge UK
Fact #3:
Studies on workplace communication show that when specific, negative feedback from a superior comes with positive emoticons, employees are more likely to feel good about the message and more likely to make the changes asked of them.
Our results suggest that using liking emoticons increases perceived good intention of the feedback provider and decreases perceived feedback negativity when the feedback is specific. – JAIS
Fact #4:
Research shows that experts in a subject matter who use emoticons are perceived as more "friendly and competent" than those who don't.
In most cases, you can create a more positive customer experience simply by dressing up your communication with punctuation.
Consider the following two support emails. They are identical except for the use of exclamation points and emoticons: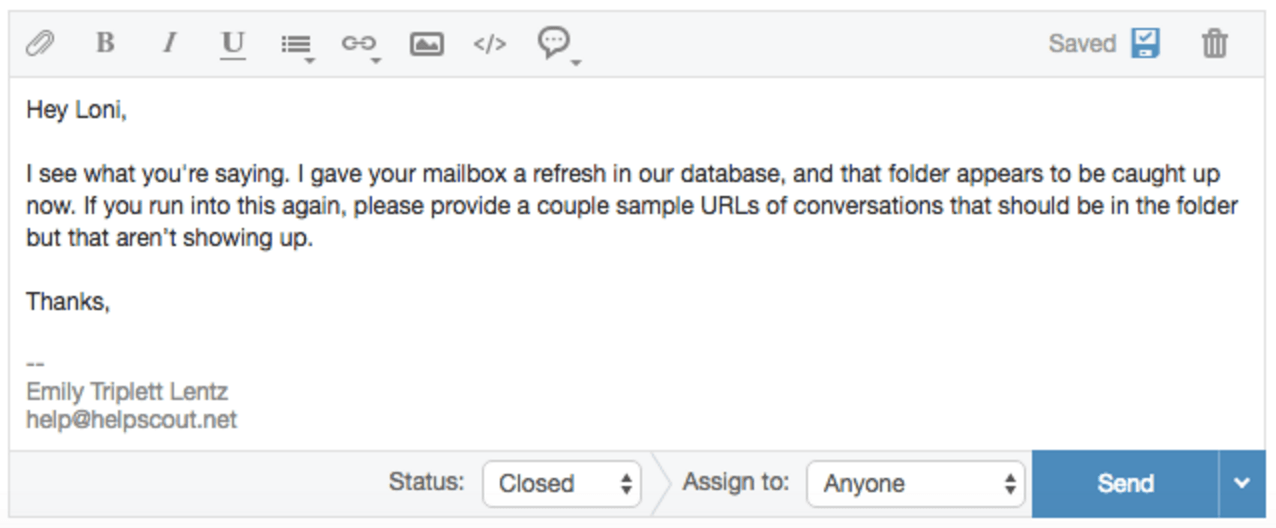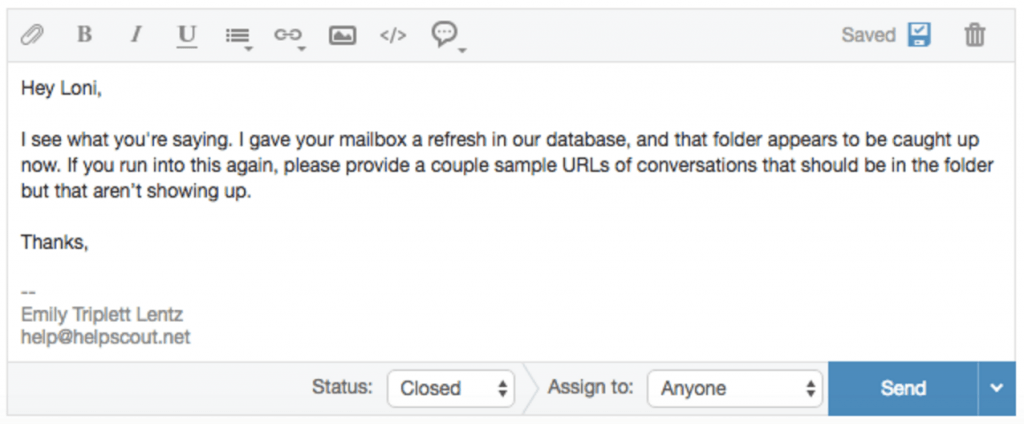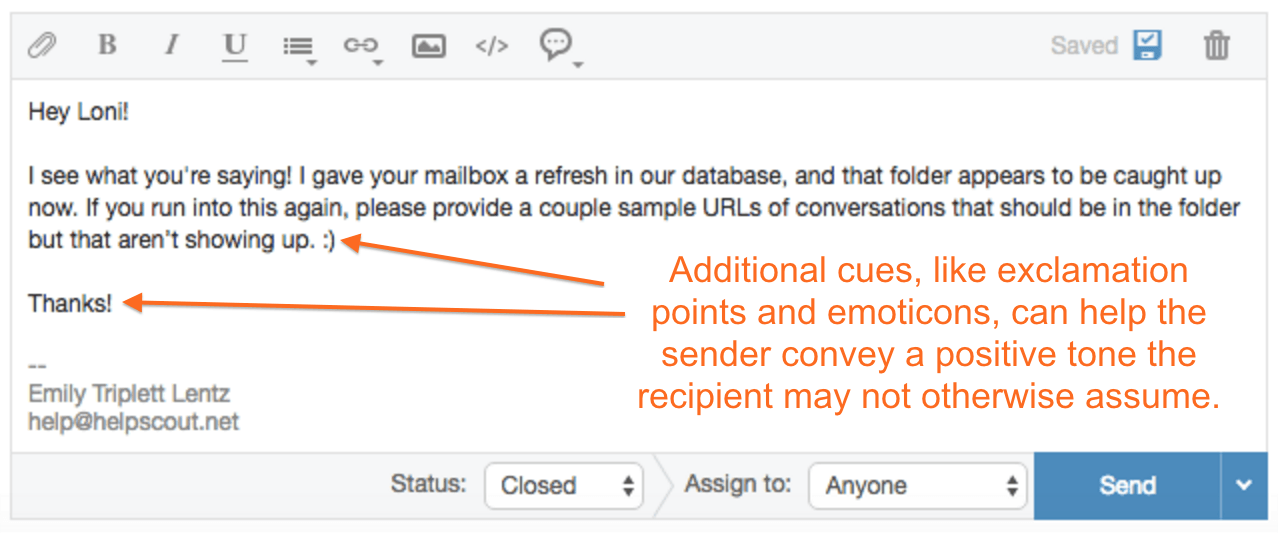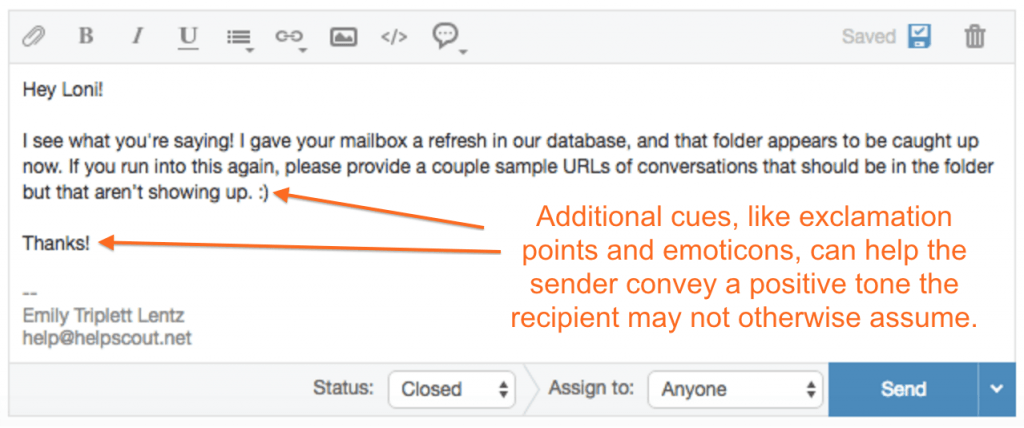 The second email (above) is an excellent example of why overt friendliness works in written customer communications!
Emoticons vs. Emojis
It all started with a simple colon, dash, and bracket used by computer scientist, Scott E. Fahlman back in 1982.
He thought it would help people on a message board at Carnegie Mellon distinguish serious posts from jokes. He proposed the use of 🙂 and 🙁 for this purpose, and the symbols caught on.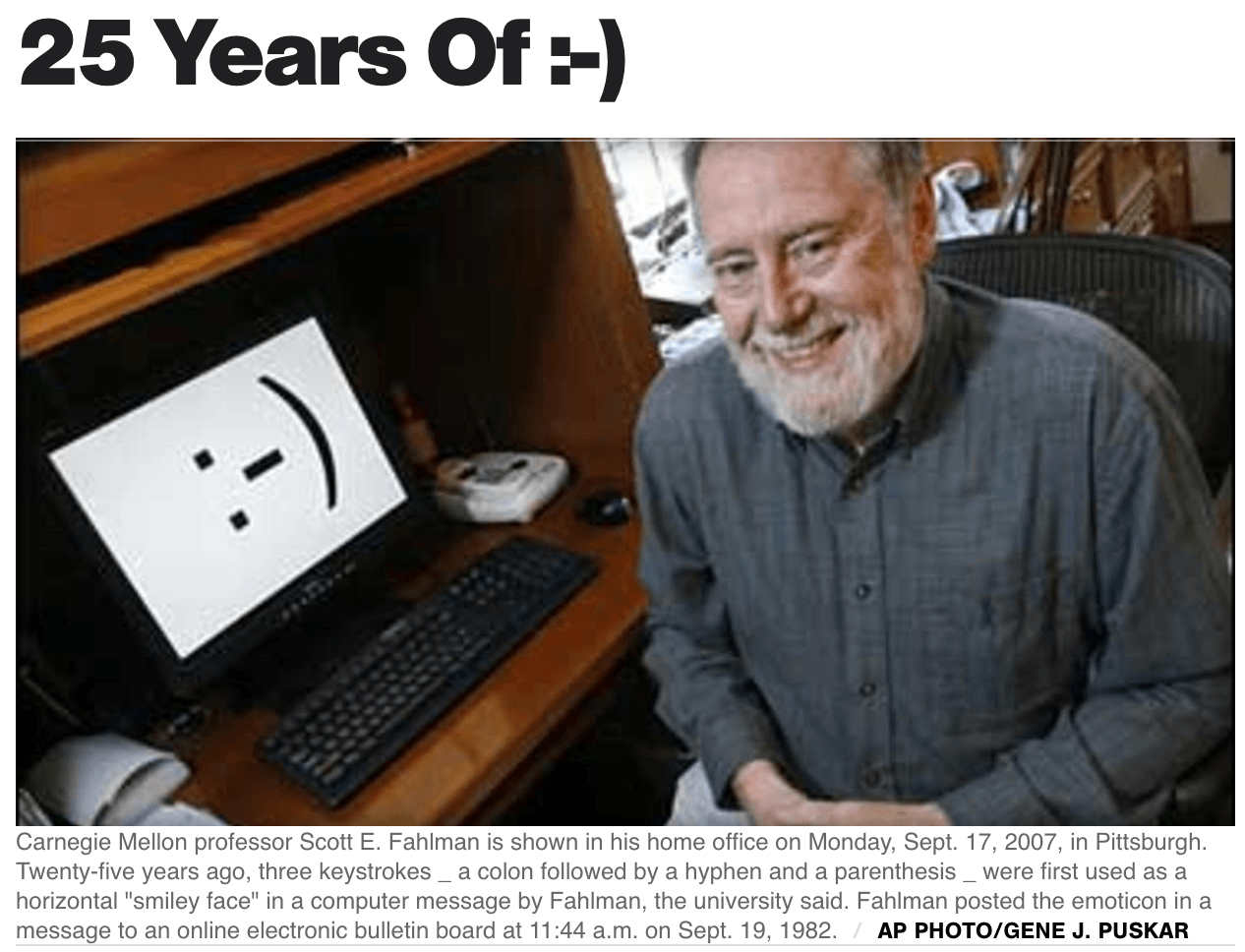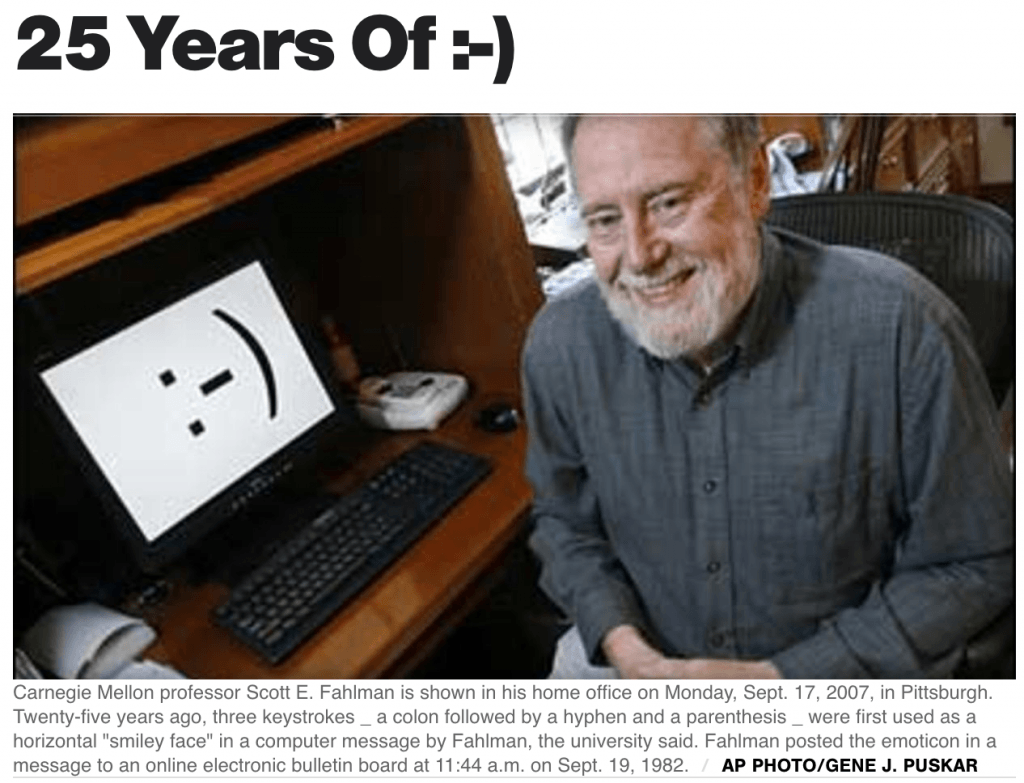 Since then, thousands of emoticons like the smiley face have emerged, conveying a diverse and complex array of emotions and concepts.
We've written a few posts on how to use emojis and emoticons successfully in business communications and social media. Although they have different history and meanings, we are using the two terms interchangeably.
Make sure to read:
Where to Find the Best Emoticons for Social Media
We've put together an impressive directory listing of where to find everything emoticon related to:
Twitter: The Shruggie, Lenny Faces, and Kawaii Face
Snapchat
Instagram
Tumblr
___
Facebook Emoticons
Per Zazzle Media, Facebook posts with emoticons have a:
57% higher like rate
33% higher comment rate
33% higher share rate
And now, Facebook Reactions (Like, Love, HaHa Wow, Sad, and Angry) give users a quick way to respond to your social media post.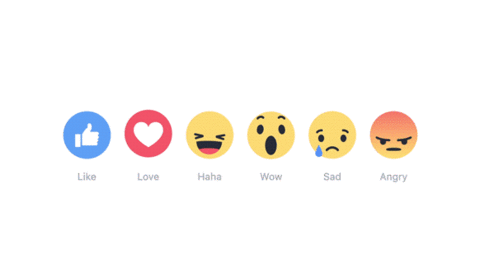 👍 Like — Thumbs Up
❤️ Love — Beating Heart
😂 Haha — Laughing Face
☺️ Yay — Smiling Face (discontinued)
😯 Wow — Surprised Face
😢 Sad — Crying Face, showing an animated tear
😡 Angry — Red / Angry / Pouting Face
With all the new on Facebook, wouldn't it be nice to bring back some old friends or some secret emoticons?
This Chrome extension brings back the Pacman emoticon (and other original emojis) on Facebook.
Are you tired of sending the boring

emoticons enabled by Facebook?
Fortunately, Facebook supports many hidden smileys, emojis and love icons. Feeling

? Or having a

moment? Sometimes a picture is worth a thousand words!
This extension gives you access to all secret emoticons in Facebook comments and posts!
___
Twitter Emoticons
Ever wondered how people on your Twitter timeline type things like this?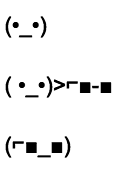 Not worries, from makeuseof.com, here are three sites to copy-paste emojis, text faces, emoticons, & more:
1 – CopyShrug: The Shrug Emoticon
What It Means: The humble shrug, expressed in the form of a few lines and strokes. Like this: 
It can range in meaning: "whatever", "why not", "who knows", "doesn't matter", "enh", and almost anything else that's a quick dismissal.


2 – Lenny Faces: All the Wonderful Faces of Textual Lenny
You might not know it's called the Lenny Face, but you've definitely seen it before. This smug little face and its many derivatives — like the "wearing cool shades" emoticon—can often be seen on discussion boards, Reddit, and even Twitter.


3- Kawaii Face: Unleash the Creativity of Japanese Emoticons
The Lenny Face originally comes from Japanese forums and is a part of the Kawaii Emoticons trend. Kawaii is Japanese for cute, and the emoticons have a large variety of Unicode characters to show different feelings. In fact, Eastern emojis are different from Western ones, so you'll also be able to stand out among your friends.

___
Skype Emoticons
Feeling

? Or having a

 moment?
Skype emoticons can liven up your instant message conversations, or add them to your mood message to let your friends know how you're feeling.
Select the emoticon you want to use from the palette in the IM window (by clicking on the smiley in the chat window) or use the keyboard shortcut – a set of characters or a particular word in brackets. If you hover over an emoticon in the palette, you'll see its keyboard shortcut.
Try some of these shortcuts: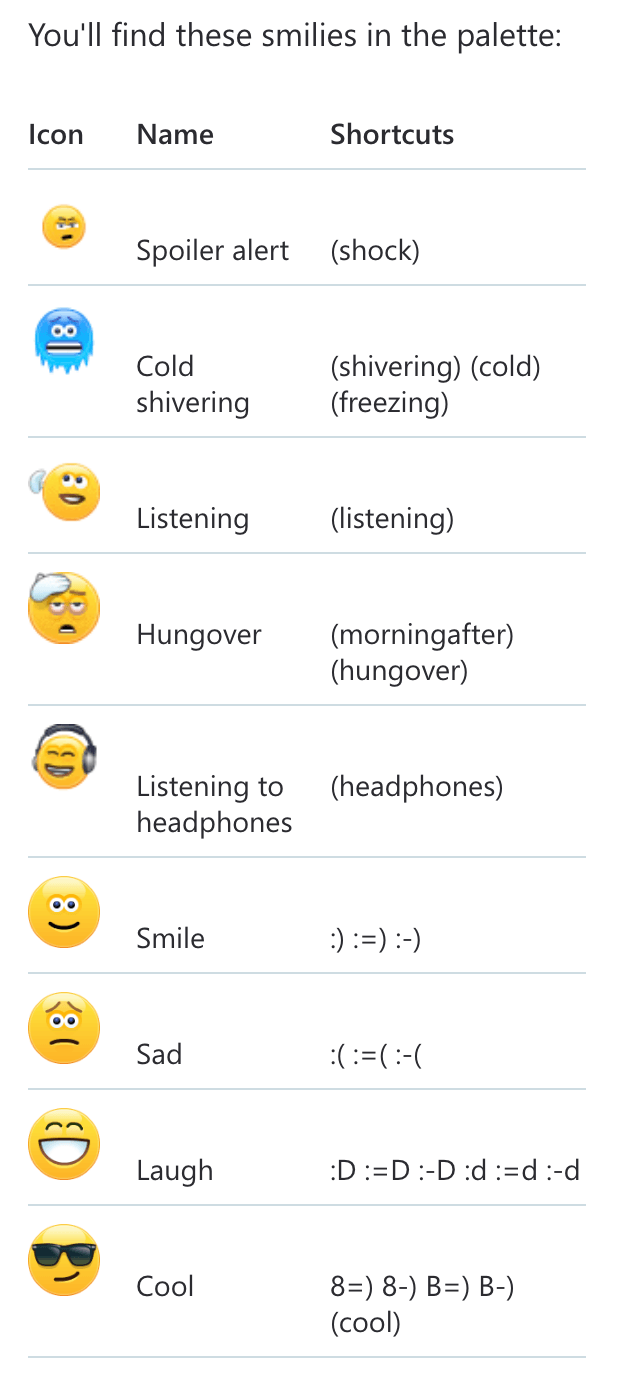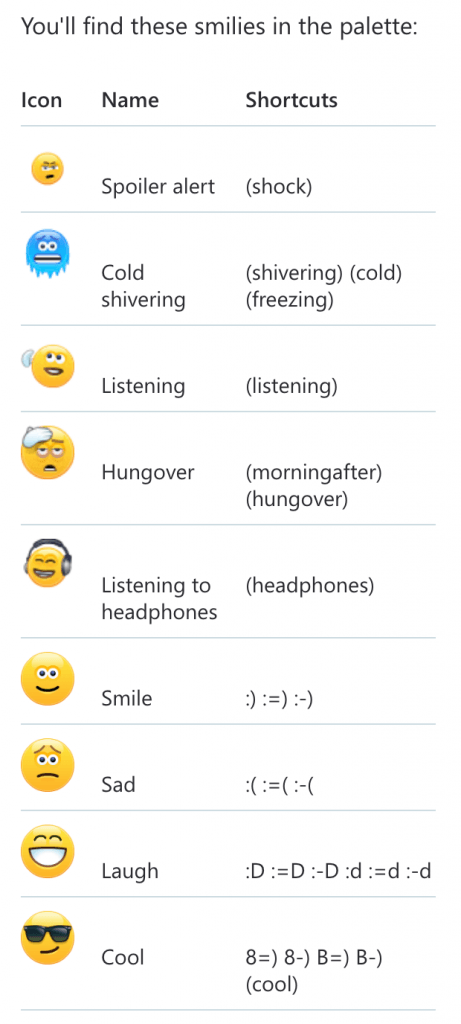 Skype has loads of visible emoticons to choose from but here are some surprising ones:
Hidden Emoticons: You won't see these secret emoticons on the menu, but if you know the keyboard shortcuts you can surprise your friends with them.
Try out the (gottarun) hidden emoticon – amusing – especially if you "really" do have to run 🙂

Country flags: Flags are a great way of letting people know where you are or where you're going.
Mojis: Mojis are short video clips you can use to express yourself in your instant messages – for those times when words or emojis just aren't enough.
According to Microsoft, it has scoured the archives and handpicked the funniest, craziest, and most iconic moments from some of the best TV and movies out there.
Mojis categories currently available include Hollywood, BBC, the Muppets, Bollywood, Angry Birds, Spring and Love.
Here's an example of one of my favorites: "Pull yourself together."
___
Using Slack Emoticons
Slack uses the standard emoji codes found at Emoji Cheat Sheet. You can quickly add emoji to your messages by typing in the code.
Slack will automatically change common emoticons such as 🙂 to an equivalent emoji:

Slack also allows you to create custom emojis for your team! Crestfallen by the lack of a certain emoji? Fret no more: Whatever your emoji needs, your team can make it happen with custom emoji.
As seen on Product Hunt:

___
Pokemon Go Emoji Keyboard
Unless you've been off-planet for the past couple months, you've probably heard about the huge success and popularity of Pokémon Go.
Not surprisingly, two French designers are working on developing a keyboard of emoticons that allow people to communicate using 'pokémoji'. The flattened icons, rendered in a simple color palette and illustrated without three-dimensional effects, will bring your favorite comic characters to your fingertips.
→The pokémoji keyboard will bring the uber popular pokémon emoticon to your fingertips.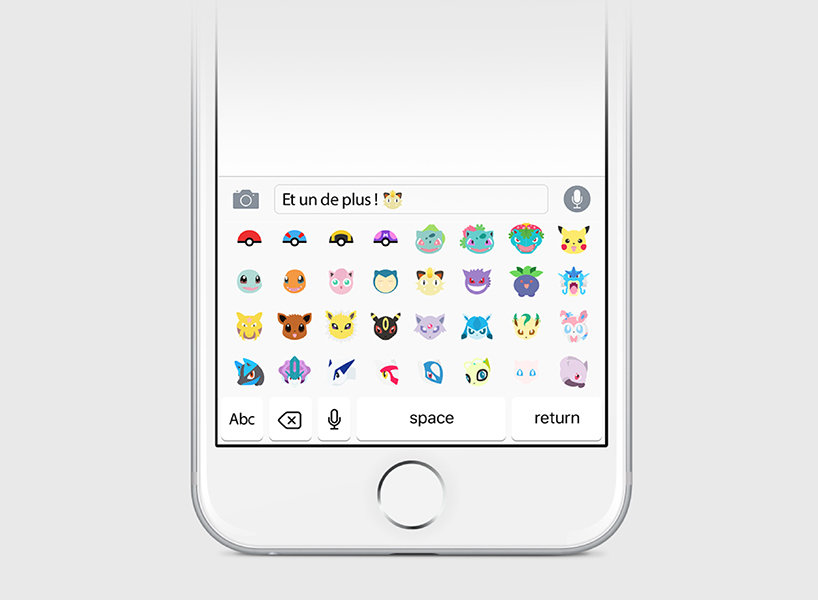 For now, you can use Insta Emoji for Pokémon Go – Pokemoji Photo Editor Add Cool Emoticon Yellow Stickers to your Photos.
___
What are a few of your favorite emoticons? How about smiley faces or funny emoticons? I've shared mine. We would love to hear from you.
Debra Garber
VP of Finance & Operations, Chief Content Contributor, and backyard chicken farmer. I happily share my experiences traversing the wilds of social media. Will trade social media tips for fresh organic eggs. Motto: "Live the life you love, love the life you live."